The Fed should really consider looking at a momentum oscillator some time. It seems that the market reaction after the Fed makes announcements is largely dependent on the short term overbought/oversold condition of the market.
To elaborate, at the September 2012 Jackson Hole meeting, the FOMC on May 22nd of this year, and the most recent FOMC release on September 18th, the Fed made announcements that should have boosted the market, but instead they each occurred at, or near, short term tops (NYSEARCA:SPY). Why? They made these announcements when the market was already severely overbought. See the chart of the DJIA (NYSEARCA:DIA) below for examples.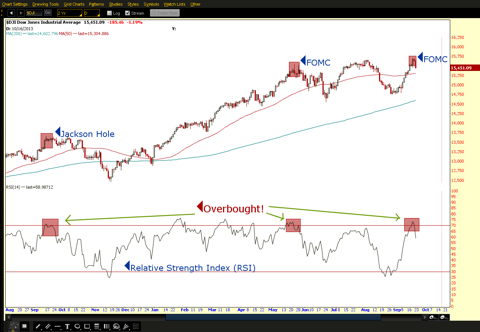 Before delving into this, I will never say that buying an overbought market is a bad strategy. In fact, some of the lowest risk short term opportunities come from overbought markets (TSLA?). However, to understand why these short term tops occurred, we need to take a look at the dynamic between supply and demand during these news driven moves.
After an extended short term decline, most of the sellers (in the short term) have had already sold. Conversely, after an extended rally, most of the buyers have already bought. So, when there is a positive news event after an extended rally, demand is most likely already exhausted, so prices cannot go much higher. Everybody welcomes the bullish news, but does not buy, since they have already bought. You get the super high volume on one or multiple days with little price movement as previous buyers sell into the any rally that develops. That is characteristic of an exhaustion move.
On September 18th, when the Fed announced their would be no taper, NYSE total volume skyrocketed over 70% above its 50-day average, giving the day the ominous appearance of an exhaustion rally. After follow-through was weak on the next day and a powerful, high-volume selloff ensued on the day after that, we mostly have a short term top in place.
In conclusion, exceptionally high-volume, news driven rallies, like we saw on September 18th and May 22nd, should be regarded with caution. This is especially true when these rallies have little signs of continued strong buying in the days after. I will most likely be shorting the weakest sector ETFs (currently XLE and XLU) on a test of the Sept. 18th high, if it occurs, with a very tight stop in case I am wrong.
Disclosure: I have no positions in any stocks mentioned, and no plans to initiate any positions within the next 72 hours.