I thought it would be appropriate, since we are now in the midst of a broad market correction, to go over some of the common Elliott Wave corrective patterns. While I always say that trading solely off of Elliott Wave is a difficult, if not impossible skill to master, understanding how you can identify the specific patterns can help us grasp an understanding of how the market works.
These patterns, with the exceptions of "triangles" are different than the traditional technical analysis patterns (head & shoulders, flags, horn bottoms, etc). Let's dive in.
Below is a chart of the S & P 500, Take a look at the areas circled.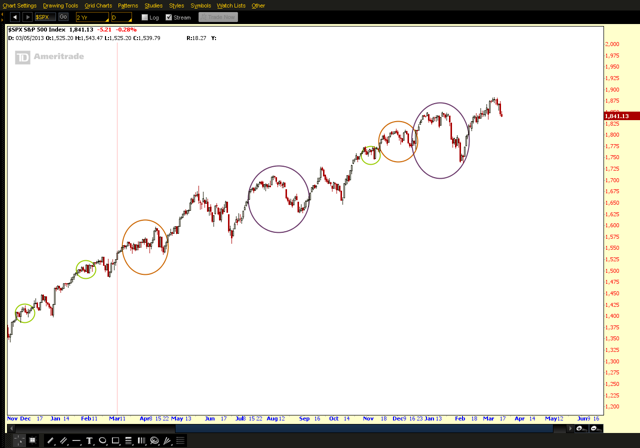 All of the patterns circled resemble patterns called either a "flat." or "expanded flat." The general corrective pattern has three "waves" (down-up-down) before concluding. The selling, as in all corrective patterns, is most intense toward the end of the correction. Even if you don't believe in Elliott Waves, understanding that previous sentence could save you from making a lot of mistake. Anyway, here is the "flat" pattern.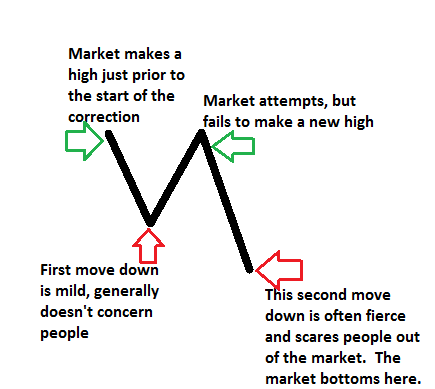 Like I said, down-up-down. That's a standard-issue "flat" pattern. The second type of "flat," the "expanded flat" is only slightly different, but tends to catch investors much more often. In this pattern, the market manages to squeak out another new high before falling.
So down, a little more up than a normal "flat," then right back down. While all flat patterns are tricky to deal with, the expanded flat is the most difficult to trade. Why? The market makes a new high, it's a break of a prior resistance level. This pattern, from a price perspective, tells us to sell, while traditional technical analysis is yelling at us to buy. So how do we know if we are getting tricked into buying in the middle of that fake out "up" wave in between the two down ones? We need to look for divergences in other indicators.
Repeat after me. If price is deceiving you on a chart at a specific time, it will also deceive you on an indicator, so don't use price linked indicators (momentum, RSI, stochastic). You would be much better off using a short term volume or breadth indicator instead, such as the percent of stocks above their 10-day moving average. While the market is doing its "fake out" rally, this indicator will most likely decline, telling you that the rally is internally weak.
Okay, application time. Are we in a flat correction? Let's take a look. The chart below is of the NYSE Composite Index overlaid with the percent of stocks about their 10-day moving average.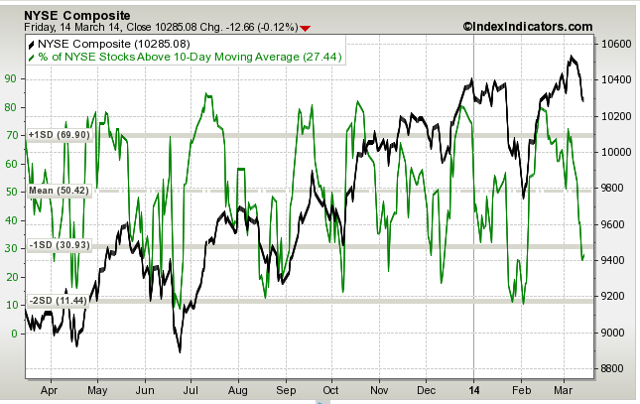 Yes, it is difficult to read, but IndexIndicators.com is one of the few sites out there that makes this indicator available to the public. Look to the right of the image. The rally has been weakening and a big divergence is evident between the late February and March highs. That means that we are most likely in the middle of an expanded flat. If that is true, then it also means we are in the second "down" wave, which, after intensifying, precedes the conclusion of the correction. So, what are we looking for in this probable last down wave? Panic, calls for a new bear market, oversold readings, etc., then it's time to buy the dip.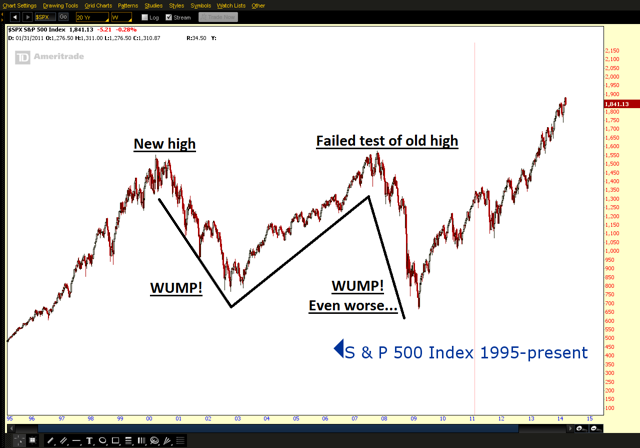 So tell me, since Elliott Wave corrective patterns, and all Elliott Wave patterns for that matter, apply to all time frames, what kind of pattern is this?