You're back in the glory days of college and standing outside of the biggest frat party on the block. You've been invited, but you know that the frat house is routinely raided by cops and you also know that the members themselves can sometimes be a bit...we'll just call them (on this professional site) "fratty."
You look around, with the "fear of missing out" at the forefront of your mind, so you wait and observe. Five minutes go by and a group of people are leaving smiling and laughing. Another five minutes go by and two people are leaving, seriously ill. It seems like a gamble in which you have no idea what the odds are of a good or bad outcome, so you decide to play it safe and go home.
This is what I call the thoughtful, "I don't know" when it comes to people's attitudes regarding markets. The odds of winning or losing are not known, so the conclusion is made. It's a thoroughly evaluated conclusion, however, and not an sign of apathy and stupidity.
Evaluating the current market, I think a thoughtful, "I don't know" is warranted and sticking to the sidelines is probably the best idea. Why? Let's see what the odds are of the market going up or down in the short term, using a couple factors.
Momentum - Flat
Valuations - Slightly elevated
Breadth - Terrible among domestic small caps
Global strength - More than half the world markets peaked at least several months ago
Sentiment - No signs of extreme euphoria or panic
Greece - Completely unpredictable
Short term money flows (proprietary) - Soggy - See chart below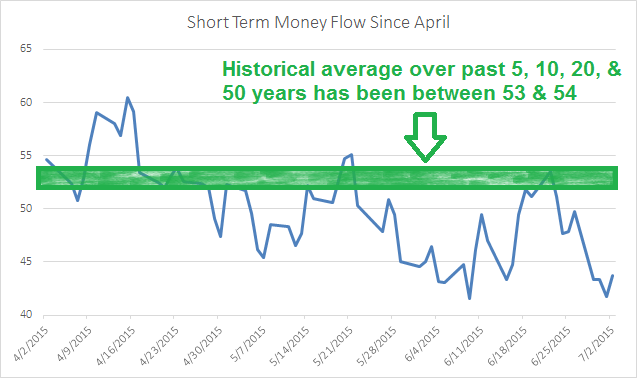 The bottom line is that, evaluating the circumstances, a thoughtful "I don't know what's going to happen next" seems most appropriate. We don't know the odds of betting, so assume the worst. Thus, staying on the sidelines until at least one of these variables turn one way (either decisively positive or negative) seems appropriate. If you must invest, however, as I've mentioned before, dollar cost averaging is likely the best approach.
Disclosure: I/we have no positions in any stocks mentioned, and no plans to initiate any positions within the next 72 hours.