​By Chris Diodato
​In the past two months, the major indices have been a dream for momentum analysts. Take a look at this chart of the Dow Jones Industrials (NYSEARCA:DIA).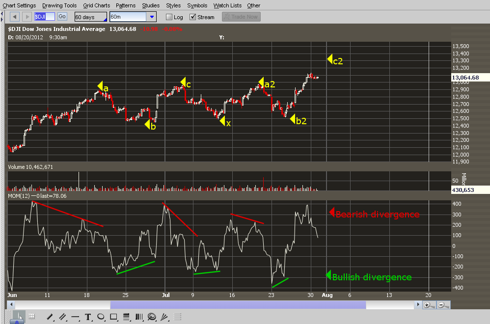 The market seems to make a momentum peak about three days, on average, before the actual peak in stock prices. This pattern is very well defined in the last six minor tops and bottoms. Now, let's take it one step further and add overbought and oversold zones to the momentum.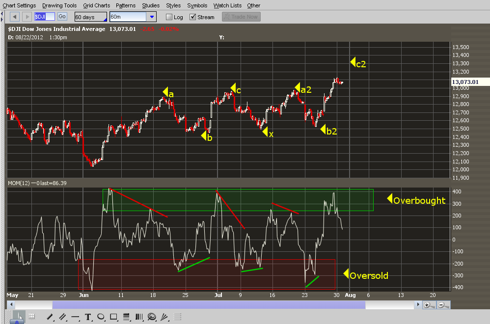 Note that momentum always peaks in the "overbought" zone. So now, with our charts labeled, we can forecast. If we continue in this "sideways range," then we should assume that the maximum overbought momentum reading was placed last Friday, and the market should advance slightly higher until later this week, while the momentum diverges downward. Eventually, price will also reverse downward. I have several market pivot times set to occur specifically on August 2nd.
Until then, the Dow looks ready to touch 13,300 and the S & P (NYSEARCA:SPY) close to its May high!
Happy trading!
Disclosure: I am short SPY.