With the breakout movement last week, it is beginning to look like the bulls are in control of the market. Classical analysis says that the Dow has a short term active target of 13,400, Elliott Wave says it can go up as high as 13,331, (if that level is surpassed, the next target is 14,368), but I still don't like it.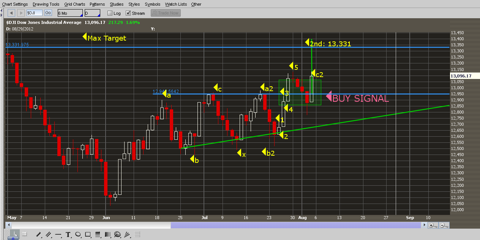 Why? Breadth. Ever since January, the small cap index (NYSEARCA:IWM) has been forgotten, the Dow Transports ($DJT) have been forgotten, and since Apple's earnings miss on July 26, the Nasdaq (NASDAQ:QQQ) has been forgotten. CNBC chants "new highs!" while only looking at large and mega caps (NYSEARCA:SPY), (NYSEARCA:DIA). These "forgotten indices" have not been making new highs. In fact, they are making lower highs.
Here are the five indices since the July 2011 market top
Now, here's a similar comparison chart since the April 2012 market high.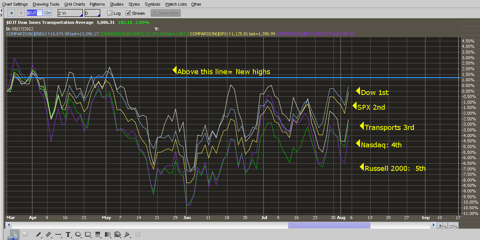 Even the Nasdaq, hailed as the hero since the 2009 bottom (thanks to Apple), has now given up its strength too (once again, thanks to Apple).
If a new surge is around the corner to our 2007 highs, it is expected to be narrow, with small caps, transports, and tech lagging. And if it does happen, overvaluation will be extraordinary. So what will it take to confirm the new up leg technically? We need about a 2% move upwards on all indices confirmed by high volume and good news. That will activate the following technical targets.
Dow Transports: Move from 5100 to 5500 (descending triangle upward breakout)
Dow Industrials: Move from 13,100 to 14,368 (very preliminary target)
Nasdaq Composite: Move from 2975 to 3300 (channel + Fibonacci time resistance)
S & P 500: Move from 1390 to 1535 (catapult point & figure breakout target)
Not even going to mention the Russell since it will be lagging so much
But remember, no signal is activated without these specific movements, and preferably with strong volume. Even worse, toward the end of bull markets, most signals fail to reach their targets, leaving everyone with losses. How could you profit off of a new nonconfirming bull swing? Pairs trade. Short the Russell 2000, long the Dow. Short the Nasdaq, buy the S & P. Buy the strong, sell the weak.
Disclosure: I am short SPY, IWM.
Additional disclosure: Short positions will be closed if a new high is made