The debate is over. Facebook Inc (NASDAQ:FB) is the crowned king of social media. Gone are the days when people used to ponder over which company would win the social media race. There were many - friendster, myspace, orkut, twitter, google plus and literally hundreds of others. And now, some of these live like zombies, some are struggling to stay relevant and very few are thriving. Facebook Inc on the other hand, has more than 1.46 billion active users and is still growing. Its a testimony to its differentiation from others that it has withstood all these networks and is still growing. An entire generation of people have uploaded and shared their most cherished memories, exposed their most personal thoughts and laid bare their most profound personal tragedies on this site. From igniting revolutions to catching dumb thieves, from reuniting panic stricken parents to their children to ensuring communications during earthquakes; Facebook has done it all. Even though its users have shown some signs of social media fatigue, it still is without a doubt very much a part of everyone's personal and public lives.
This company is evolving so rapidly and trying to innovate so quickly, that it is exceptionally difficult to frame a discussion without being flung in all sorts of different directions. A simple search on Facebook in Seeking Alpha gives a mindboggling array of articles that cover every tiny aspect of this company in meticulous detail.
So, my goal here is to identify some of the biggest and most significant macro themes that will define the direction this company will be taking in the future. So let's begin.
Virtual Reality
Facebook bought Oculus VR, the leader in virtual reality technology in March of 2014. When this buyout announcement was made, Mark Zuckerberg had this to say in his post;
When you put it on, you enter a completely immersive computer-generated environment, like a game or a movie scene or a place far away. The incredible thing about the technology is that you feel like you're actually present in another place with other people. People who try it say it's different from anything they've ever experienced in their lives.
Not many people realize that Facebook Inc is truly the first example of the successful meshing of one's real self and one's online self. All the pre-Facebook attempts at interacting socially online with other people seem more like a parody of sorts (Remember those ghastly yahoo chartrooms!). Virtual reality is arguably the biggest technology leap after the PC and the internet. Some of the biggest tech players understand this and have made big bets on it. Sony Corp's (ADR)(NYSE:SNE) Project Morpheus VR headset, Microsoft Corporation (NASDAQ:MSFT) with its Hololens, Google Inc (NASDAQ:GOOGL) with google cardboard and its investment in an augmented reality company called Magic Leap; and it has also been rumored that Apple Inc.(NASDAQ:AAPL) has been hiring virtual reality specialists over the past couple of years. There are several more players, but these are arguably the biggest ones.
Facebook has all the ingredients to leverage its community of users into interacting virtually. The possibilities are endless - virtual meetings anyone? Or watching sports in a stadium with ringside virtual seats, or how about catching up with all your old school buddies at your old hangout (virtual of course..) As with all things science fiction and futuristic, we can go completely crazy in predicting all sorts of incredible things.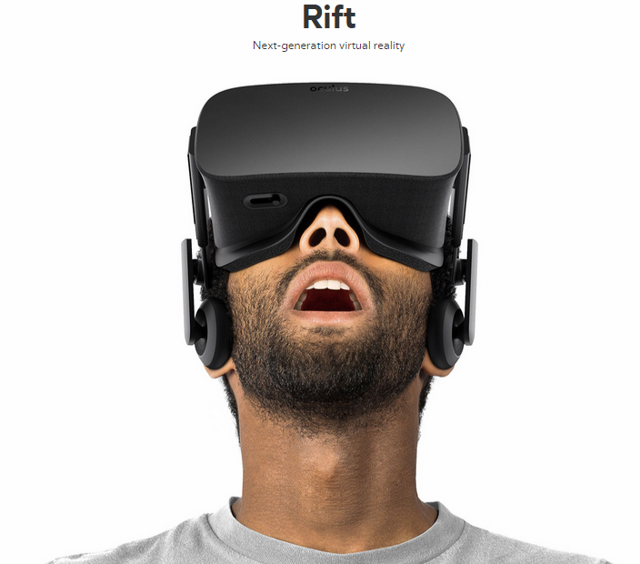 Facebook is planning to ship the Oculus rift to consumers in the first quarter of 2016. Most of the early adapters are likely to be gamers. In a crucial development a couple of months ago, Oculus announced a new partnership with Microsoft where the Oculus Rift will be bundled with the Microsoft Xbox One wireless controller. Along with the controller, players will also be able to stream several Xbox games with the rift and essentially the device will be consumer ready with an existing pool of games to dip into. On top of this, Oculus has started experimenting with the Oculus Story Studio for the creation of virtual reality content and this year it is planning to release around five movies. This will also unleash a wave of newer applications in immersive technology to launch the next era of innovation in communications and entertainment.
Instagram, Whatsapp, Messenger
Three of the biggest properties of Facebook are Instagram, Whatsapp and messenger. Let's take the first one - Instagram. Instagram was launched pretty late in the social media game in October of 2010. Before the competition could realize it, the site exploded to 1 million users in two months, and grew tenfold in just 10 months. Facebook snagged it way back in 2012, when it had almost 100 million active users. Today, it boasts of more than 300 million monthly active users, more than 30 billion photos shared and with an average of 70 million photos shared per day it is still going strong. The company first started initiating advertising in 2014 and has gradually has been ramping up its capabilities over the years. Earlier, the company had limited itself to experimenting with only a select group of major brands like Mercedes Benz and Levi's. In a major shift three months ago, the company opened up advertising to all enterprises, big and small, by launching its API and integrated Facebook ad buying interfaces where businesses will be able to leverage Facebook's user data for better targeting.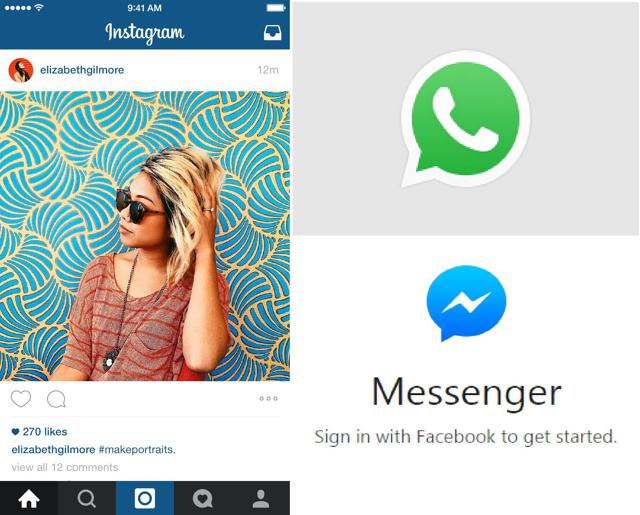 Now let's shift to the other two. Whatsapp with more than 900 million active users and Facebook's messenger with more than 700 million active users are the other two biggest properties for Facebook. Whatsapp today has the distinction of being most globally popular messaging app and well on its way to hitting the billion user mark soon, and messenger is firmly embedded inside the Facebook ecosystem and will also likely hit the billion user soon enough. None of these two properties have been adequately monetized yet. In true Facebook style, the company is taking its own time for these applications to become firmly entrenched in the user's lives and mindsets before it starts monetizing them.
During the previous quarter's conference call in July, when asked about the monetization strategies regarding messenger, Mark Zuckerberg harked back to the early days of 2006-2007 when investors were constantly egging him on to plaster the site with all sorts of banner ads which he flatly refused to do. His major complaint was that these kinds of ads are inorganic and hinder the user experience. In his opinion, Facebook would be better served by using organic interaction between people and businesses as a starting point. The company intends to use the same playbook for monetizing these two messaging assets.
This is what Zuckerberg had to say regarding Facebook's intentions -
We have a number of other things that we're working on across Messenger and WhatsApp. But the long term bet is that by enabling people to have good organic interactions with businesses, that will end up being a massive multiplier on the value of the monetization down the road when we work on that and really focus on that in a bigger way. So we'd ask for some patience on this to do this correctly, and the game plan will be more similar to what we did in Facebook with News Feed.
As a first step, the messenger is now a software platform where app developers and third party content developers can write applications that can be installed directly from messenger. As a second step for potential monetization, Facebook is planning to partner up with businesses to use it as a communications tool to directly interact with customers. As a third step, Facebook has rolled out its payments system which will later likely be integrated into the Facebook ecommerce ecosystem in the future. If its payments system catches on, it will make users a lot more engaged with their messenger application.
Compared to Instagram, Whatsapp and messenger are way behind in terms of their monetization learning curve. But that's the whole point, because if they play it right, this will become a fantastic long term revenue driver for the company for years to come.
The future of commerce is social
A certain Facebook executive had confidently stated this way back in 2010. It was going to be a new era for ecommerce, a reinvention of sorts for online marketing and was going to be a big revenue stream for the company. Then of course, it flopped. Although the vision of social based commerce is a tough one to challenge, it has been a difficult one for anyone to implement. In the initial years, after having built large followings on Facebook, lots of big reputable brands like Gamestop, Gap Inc., J.C. Penney Co. and Nordstrom Inc opened their first Facebook stores. However, practically none of these stores got the needed boost or return on investment from this exercise so they all shut their stores down or considerably scaled back their Facebook store operations within six months to a year.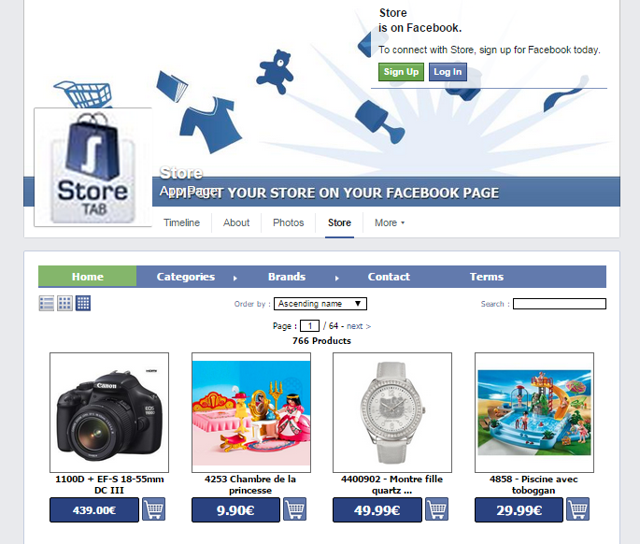 Several reasons have been hypothesized regarding Facebook stores never taking off. One of the reasons was that there wasn't enough differentiation between just shopping online on retailers websites and shopping on Facebook. So customers simply went back to the retailer's websites rather than using Facebook. Another hypothesis was that the existing Facebook infrastructure and design was never optimized for direct buying and selling. There were several more reasons, but these two are the most prominent ones.
Every retailer and every marketing guy understands the power of word of mouth recommendations. And these word of mouth recommendations have been used by retailers to great success to drive traffic to their own websites. However, Facebook's ambitions for raking in the moolah haven't come to fruition.
As with all things Facebook, the company went back to the drawing board and has tried to figure this one out. One constantly keeps on hearing about experimentation with newer stores or payment systems. In its latest shot at ecommerce, the company is allowing a limited set of enterprises to embed shops into their Facebook pages. This will allow entire transactions to be completed on Facebook itself.
I have no clue on whether Facebook will be successful in making inroads in the ecommerce space anytime soon. I suspect, it will keep on trying different things until they figure out a formula that works for both retailers and users. However, until then the very fact that they have a keen eye on e-commerce as a macro growth theme, should make investors happy.
Artificial Intelligence & M
Artificial intelligence is already present in lots of subtle and unrecognizable ways, and it's at a very primitive stage. I will give some very basic examples - A simple 'spell check' on Microsoft word or the autocorrect function in your chatting application is an example of AI software. Every time we shop on Amazon and see a list of recommended buys is also an example of AI software. There are literally millions of pieces of code that trying to predict what you are thinking and planning to do.
Recently, Facebook Inc launched M, its first digital assistant to challenge Google Now, Microsoft's Cortana and Apple's popular Siri. It has been launched inside the Facebook messenger app and is currently rumored to have been tested only for about a couple hundred users. Although Siri, Google Now and Cortana use artificial intelligence only, M will be driven by a combination of artificial intelligence and actual humans sitting at the other end. The biggest differentiator between all these other services and Facebook's M is that M can actually complete tasks on your behalf. This makes it vastly different. M will rely on both, machine learning and human supervision from individuals called M trainers to complete these tasks.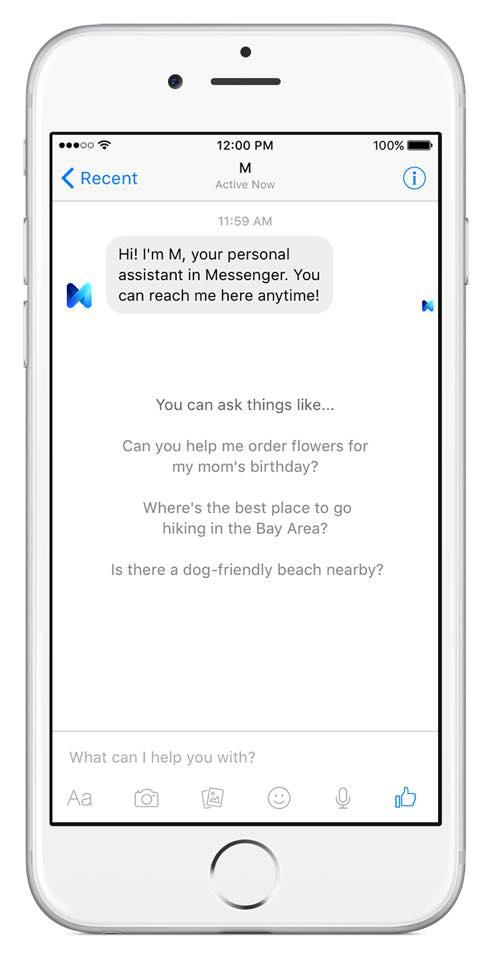 Its important to differentiate between M and AI as a whole. M is being tried as a personal digital assistant and is very much an experiment that will be going on for a long time. When Mark Zuckerberg was asked about the company's initiatives and research for AI, he replied -
Most of our AI research is focused on understanding the meaning of what people share
In my opinion, the biggest monetary impact from AI for Facebook Inc (NASDAQ:) would be better ad targeting for its myriad users and I suspect it will also have a major role to play in the ecommerce space. I actually don't know whether AI will outwardly enhance the overall Facebook experience, but I am willing to bet that it will keep subtly chugging along in the background trying to figure out what the users need, want to share and are actively looking for.
The key takeaway for Facebook Inc investors is this - AI will define Facebook's staying power in the social sharing space. Growth in this entire area is going to be incremental and gradual. The company understands this and is slowly developing its AI credentials.
The Internet is a Utility
Here are some stats just to get the big picture on where the internet stands. Today, less than half of the planet is on the internet, roughly 40 % or so. Put another way, there are still more than 4.1 billion people yet to come online. Once they do, all the existing major players - Facebook, Google, Twitter, all sorts of sundry websites and blogs are going to gain massively from this. Here is a cool site that tracks all the major internet metrics online. Take a look. If you are trying to understand the online world thru numbers, this website is as good as any.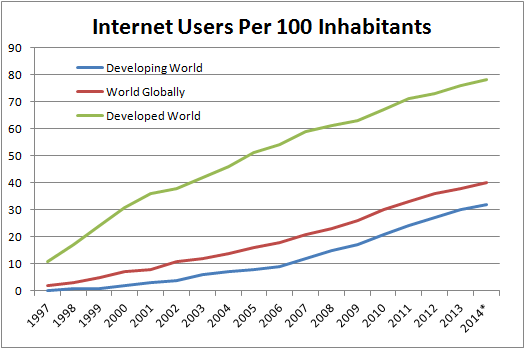 Growth in worldwide internet usage
The notion of the internet being treated as a utility like electricity or water is here. What this essentially means is that it will be treated as a basic necessity and governments will be doing all that they can to make it easier for its citizens to access the internet. And once this notion has spread all over the planet, the entire gamut of internet companies ranging from Facebook Inc to Google Inc (NASDAQ:) to relatively smaller players like Twitter Inc(NYSE:TWTR) will gain. Companies that realize this have launched their own initiatives to spread the internet across the planet. Facebook's www.internet.org and Google Inc's project loon are two of the most prominent examples of this. Off and on you also hear about cities and local governments giving away wifi to its citizens free of cost.
Facebook's www.internet.org initiative is hugely controversial. However, its long term success is perhaps irrelevant. It is after all a part investment - part philanthropic effort. All that investors need to understand is that the macro theme of internet as a utility is very much alive and isn't going anywhere for our entire lifetime. If internet.org does well - great, if doesn't then it probably won't matter because the long term macro theme is intact.
Conclusion:
In my opinion, Facebook has passed the ultimate test for a social network, which is that it doesn't need to be 'cool' or hip anymore in order to be a valuable part of people's lives. It fulfills a basic human need; that of emotionally connecting and sharing at both personal and societal levels. Something that no other company has been able to successfully do. In the near term, expect increasing monetization of Facebook's properties of Instagram, Messenger and Whatsapp. Additionally, if Facebook does well even in one of the other three macro themes of virtual reality, ecommerce, and artificial intelligence, it will be making sure that it stays relevant and thrive profitably in the next decade. The fifth macro theme of the internet as a utility is here and is a generational change that more than half of the planet is yet to experience. Facebook can only gain from it. With a user base, that even after all these years is gradually increasing, a terrific management with a great eye for acquisitions and a futuristic worldview of communications and ecommerce; Facebook is solidly set to be one of the most impactful companies moving forward. I rate it as a buy.
Disclaimer: Opinions expressed here are for informational purposes only. Please do your own independent research and analysis and talk to a qualified investment advisor before making any investing decisions. The author is not responsible for any investment-related decisions made on the basis of this article. Data and information used in this article mostly have been taken from third party sources and are not guaranteed to be accurate and have not been independently verified by the author. This article may still contain some unintentional factual or calculation errors or mistakes. Please do your own independent fact checking on all data and information presented.
Disclosure: I/we have no positions in any stocks mentioned, and no plans to initiate any positions within the next 72 hours.
I wrote this article myself, and it expresses my own opinions. I am not receiving compensation for it (other than from Seeking Alpha). I have no business relationship with any company whose stock is mentioned in this article.