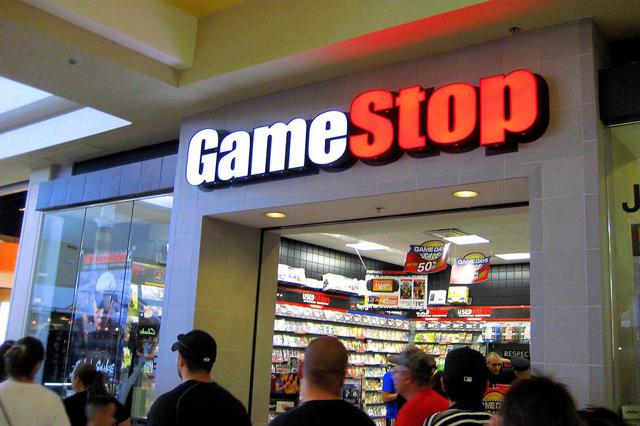 March hasn't been a good month for GameStop Corp (NYSE:GME); shares are in the red and declining revenues failed to impress Wall Street. Although earnings for the world's largest video games retailer for this fourth quarter came to about $2.15 per share, with revenues plummeting from $3.68 billion to $3.48 billion, investors should comfort themselves with the fact that while GameStop has been largely considered the underdog in the market, things CAN and WILL improve for GameStop.
Hanging on for dear life
In a world where digital distribution of games via Microsoft's (NASDAQ:MSFT) XBOX Live or Sony's (NASDAQ:SNE) PlayStation Network is prevalent among new generation gamers, many naysayers are surprised that GameStop is able to hold on for so long. Coupled with the news that Best Buy (NYSE:BBY) and WalMart (NYSE:WMT) each want a chunk of the pie with their own used game trade program, it's a wonder that GameStop didn't die out already. There's more tension in the gaming retail world than the insides of a high pressure shaft but GameStop isn't about to give up just yet.
Unimpressive growth? Look again
How's here GameStop earnings before interest and taxes (EBIT) growth looked like from 2011 to 2015.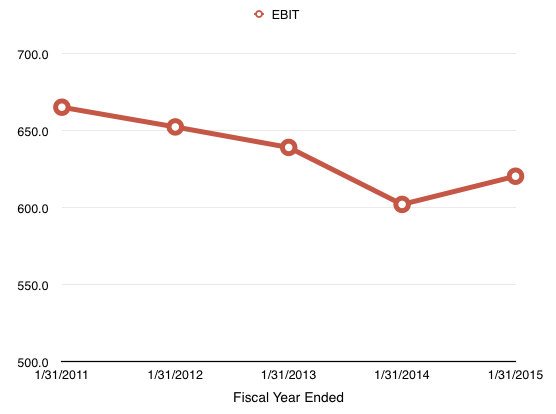 Even a layman can see that the graph looks rather unimpressive. GameStop's 5-year compound annual growth is pegged at a -0.4% while its EBIT is a low -1.4%. It will not take a gaming fan very long to look at the dates and come to the conclusion that the company's stagnation occurred towards the end of the XBOX 360 / Sony PS3 console cycle. This was a bad time for GameStop because people refrain from buying consoles in anticipation of next-gen ones.
Despite all this, GameStop successfully held on and delivered decent growth for investors. Let's see how this underdog company managed to do so.
Legit growth
Remember the same chart you saw above? Let's take another glance, but this time we shall amend them to revenue and operating earnings on a per share basis: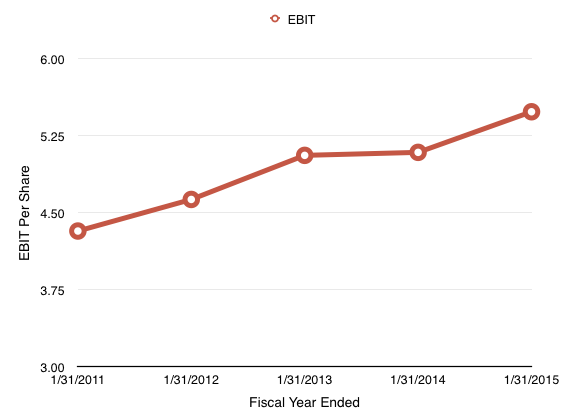 This seems more reasonable! By adjusting to per share values, we can clearly see how GameStop increased its earnings for the past half decade at a compound annual rate of 5.9% whereas EBIT increased at a 4.9% compound annual rate. Any analyst will tell you that a company experiencing 5-6% growth rate is indeed one to look out for!
The secret of share buybacks
So, what strategy did GameStop employ to soothe investors over the years? The secret: buying back a substantial number of its undervalued shares for the past half decade.

GameStop successfully found the perfect formula in which they executed buyback programs while a stock is demonstrably undervalued. It was made even more viable when GameStop funded their buybacks strictly with free cash flow instead of going into debt (like WeightWatchers did when they landed themselves a billion dollars in debt in order to fund a buyback at $80).
In conclusion, investors should seriously consider GameStop stock as this company proved that shareholders can still enjoy substantial growth without having the company grow prominently.
Disclosure: The author has no positions in any stocks mentioned, and no plans to initiate any positions within the next 72 hours.