In the valuation creation cycles of Google (NASDAQ:GOOG), LinkedIn (LNKD), Instagram (owned by Facebook (NASDAQ:FB) after their billion dollar purchase), Whatsapp, which is rumored to be in acquisition talks with Google at a $1 billion dollar price tag and Pinterest, which recently raised $200 million of venture capital at a $2.5 billion dollar valuation, the best entry point for venture capital investors was when they spotted early rises in user adoption. User adoption almost always precedes revenue and valuation.
The reason stand-alone mobile apps such as Instagram have a hefty price target after users adopt them is because in the mobile ecosystems, much larger companies can unlock massive amounts of value and turn unrealized revenue into realized revenue. The valuation of these companies doesn't pertain to old income statements or balance sheet metrics, but merely what is that user's worth in the future to company X.
In the web-based world, we view Google as the gateway to the internet. The power of helping people find what they're looking for and selling advertising to companies wanting to reach this audience has turned into a business that did more than $50 billion dollars in revenue in 2012. With billions of users, Google is a case study in maximizing the value of user data. Very few companies have a better business model.
Today and even more so in the future, websites will turn into apps and traditional ways of helping people find what they're looking for will change, as well as methods of accessing powerful user data.
There's an interesting company named Mimvi (MIMV.OB) that's just now exiting the development stage and entering the revenue producing arena. The stock has been utterly crushed on recent financings down to the current market cap of $8.1 million here at the PPS of .118, but it certainly appears this has come to an end, as the company's CEO stated in Mimvi's first-ever conference call on April 16th, "We now have resources for the next several quarters." Translation in my book as a professional ? Once the last of the shares have been sold, MIMV can set its sights as high as it wants and Kasian Franks (company's Founder) has made it clear he sees a path to an eventual billion dollar valuation for the company. You look at Quixey with a current valuation of $150 million versus MIMV's $8.1 million and there's just no comparison, as Mimvi is growing like wildfire and probably not far from turning its first-ever profit. Investors look at Mimvi's recently filed 10-K and say, "Oh my God that's ugly," but what they don't pay attention to is that the company has now exited from the development stage and has several world-class products set for launch. One needs to look no further than the company's Alexa web traffic ranking to realize how fast the growth really is. Many speculators talk about a buyout and while it's rather early for that, it's certainly a possibility on down the road and we're not talking about years based upon what appears to be warp-speed user adoption. Mimvi recently launched their app in the Android store. Mimvi is based in Sunnyvale, CA, not far from Google's Mountain View headquarters. Like Google, Mimvi is also in the business of search and recommendations, except they focus on helping people find and discover mobile apps. They have a proprietary technology platform that has its basis in the Human Genome Project at Lawrence Berkeley National Laboratory, where Mimvi's Founder, Kasian Franks, developed a breakthrough genomic algorithm for gene comparison. This is the inspiration behind Mimvi's proprietary search and recommendation technology.
The number of downloads in the first week of launching their app has been astonishing. The app has even been featured on the first page of "Trending Apps" in the Google app store.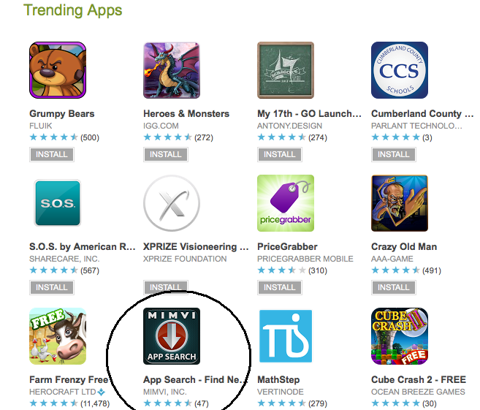 In addition, I love the new look of their search results, which went live last week.
Imagine going back in time and being an early investor in Google when user adoption was just on the uptick in the most important sector of the next decade. Assuming Mimvi's user metrics continue down this path and looking at the mobile world as the next hot sector, I am very excited about the prospects for Mimvi in the future. The questions become .... how much are each of their users worth, those who are "searching" for a mobile app and how many users can they garner over the next year ?
Disclosure: I am long MIMV.OB. I wrote this article myself, and it expresses my own opinions. I am not receiving compensation for it. I have no business relationship with any company whose stock is mentioned in this article.