Summary
*Presentation slide that disappeared signals enormous upside.
*U.S. Bank or another debt facility is in the on-deck-circle for a big non-dilutive transaction.
*Multiple new product launches that are each potential game- changers.
It was just over a year ago in March when I read an unusual 8-K that prompted me to write a speculative article about Bucha, Inc., fka American Brewing Company, a self-IPO trading at .40 cents, known today as New Age Beverages (NASDAQ:NBEV), with a recent uplisting to Nasdaq and 16-fold rise in the stock already under its belt. The 8-K filed by a tiny and totally unknown OTC company indicated they hired a new CEO to lead their company with a market cap barely over $3 million, but this new hire wasn't just anyone, it was the Former #2 Executive at beverage giant AB InBev (NYSE:BUD) and a Former Coca-Cola (NYSE:KO) President of North Latin America, overseeing 20,000 employees and 35 manufacturing plants, growing his division's income greater than 40%, launching a new distribution system that broke 50 years of competitive stalemate, leading to share growth greater than 20% and the creation of 30,000 new small businesses. Willis' success in Latin America resulted in Coca-Cola implementing his ideas worldwide.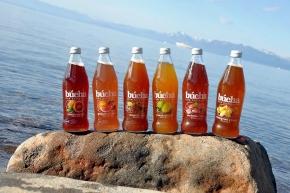 In taking charge of the small kombucha maker with a proprietary process for eliminating the awful vinegar after-taste associated with all kombucha drinks, beverage pro Brent Willis wasted no time in creating shareholder value when less than two months later he struck his first accretive deal right out of the gate, not only by acquiring a profitable company over 20X its own size with $50 million in annual revenue, but in the clever manner in which he engineered the deal.
Willis convinced the owners and financier of New Age Beverages to sell their business for just $20 million in cash and stock. Sound crazy? Maybe, but brothers Tom and Scott Lebon realized that the transaction would free them from the principal and hefty ongoing interest payments owed to the Founder of Pizza Hut and New Age Beverages financier, Dan Carney. Willis convinced the Lebons and Carney that he could streamline the business, create many synergistic opportunities in a short time and grow profitable revenues to a whopping $400 million by the end of 2019 and thus create the largest healthy functional beverage company in the world, leaving the stock they were to receive worth multiples of the issued price, which was $1.60 a month later and according to the prior 30-day VWAP.
The Lebons had great products in existing brands Xing Tea and Aspen Pure PH with a new launch of Xing Energy along with a successful distribution business, but the majority of their profits covered interest payments and pursuing growth wasn't an option. Willis made their decision much easier to sell when he secured a $10.7 million non-dilutive loan from U.S. Bank at 3.7%, thus the Lebons and Carney knew right away that Willis was all about keeping a tight share structure and making great accretive deals with little dilution involved and thus their stock would obviously begin to appreciate.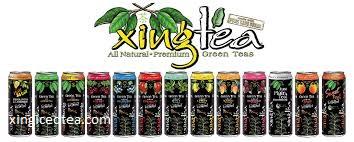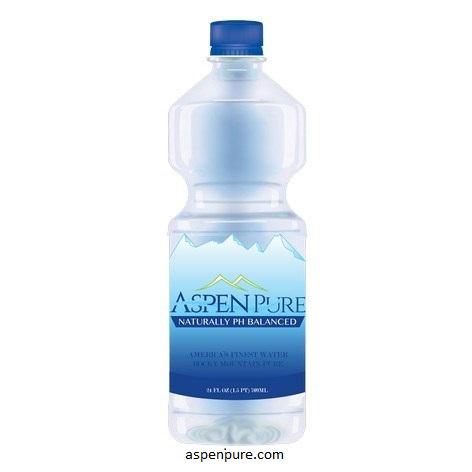 In his first webcast conference appearance since becoming CEO, Willis made it very clear to attendees and listeners in June of last year that he would never talk about specific future accretive deals until such deals were actually signed. This also included new distribution of product. For instance, it wasn't until the Nov. 15, 2016 Q3 earnings release and subsequent conference call that NBEV disclosed they had placed product in Giant Food Stores, but this was only disclosed when questioned on the call.
Willis also disclosed that NBEV had entered into a sales, marketing & distribution partnership with Marley Beverage Company, a rapidly growing RTD Coffee, Sparkling Water & Relaxation Tea business with a significant east coast presence that NBEV ultimately purchased outright for less than 1X sales. A surprising revelation made during the Q4 earnings conference call was that Marley actually invested $1 million in NBEV before they were acquired.
On the Q1 earnings call, Willis stated that Marley's annual revenue run rate was currently near $10 million while operational income was break-even, but that's without full integration and synergies dropping to the bottom line. It was also noted that the Marley acquisition should close within a couple of weeks and approximately half of Marley's revenue will be consolidated in the Q2 numbers.
Willis seemed rather giddy when disclosing Marley's had new products launching within 30-45 days and he wasn't just talking about new flavors, adding that the new products will have a significant positive impact to the top and bottom line. Marley Beverage Company was created in partnership with the family of Bob Marley, an iconic figure boasting over 73 million soon-to-be leveraged followers on Facebook. That's beyond impressive when you compare it to Starbucks' 36 million Facebook followers.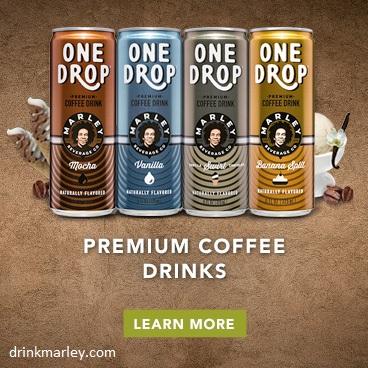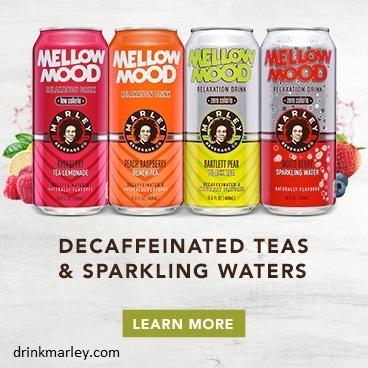 Immediately after NBEV filed its 10-K, they announced yet another acquisition in buying the Coco Libre brand for cash and stock. In snapping up the coconut water company at less than 1X sales, NBEV added another category to their healthy functional beverage portfolio. Acquired beverages include Organic Coconut Water, Coconut Water + Protein, Sparkling Organic Coconut Water and new product launches are coming soon. In addition, NBEV's new PediaAde product will be made with coconut water. It's interesting that Coco Libre's CEO prior to the acquisition was Candace Crawford, the former CFO & COO of ZICO Beverages that was bought out by Coca-Cola in 2013.

Just two days after the Q1 earnings conference call, NBEV announced its third accretive acquisition this year, scooping up Premier Micronutrient Corporation for NBEV's new Health Sciences Division.
PMC was acquired because it's an absolutely perfect fit with NBEV's new physician developed PediaAde, an organic coconut water-based rehydration drink. It's also a perfect fit with soon-to-be launched Enhanced Recovery, an immunonutrition beverage to lessen surgically induced stress and speed up recovery time.
Investors wouldn't know that the launch of Enhanced Recovery is in conjunction with the Mayo Clinic and Cleveland Clinic unless they read this article in a major beverage publication, as this extremely significant news can't be found in any company press release or conference call.
Both of these major product launches involving PediaAde and Enhanced Recovery open up several channels of distribution, mainly medical and pharmaceutical. With PMC's many patents and micronutrient formulas created for Health & Wellness drinks that have endured 14 successful clinical trials involving humans and animals in conjunction with the Department of Defense and NASA along with cooperative R&D from the U.S. Navy and U.S. Army, NBEV plans on redefining what "Healthy Functional Beverage" actually means, steering away from "Less bad" and 'Less sugar" towards beverages that can make a fundamental difference in the improvement of health.
The Presentation Slide That Disappeared
On the morning of March 15th, I visited the Roth Capital Partners website to see if there was a link to NBEV's webcast later that day at the 29th Annual ROTH Conference. I found this link that led to NBEV's PowerPoint and the slide below was included. A few minutes later, the slide was pulled from the presentation, but someone had already copy and pasted the slide on Investorshub. Why was the slide pulled ? My guess at the time was that NBEV's CEO decided to stick to his guns in not revealing or talking about future specific events until they actually happen. What was the significance of the slide? It lists five accretive acquisition targets, the beverage category of each, the current annual revenue of each, the current EBITDA of each, the projected synergies of each, the fully integrated profits of each and the cost of each acquisition, whether it be cash, stock or a combination of both.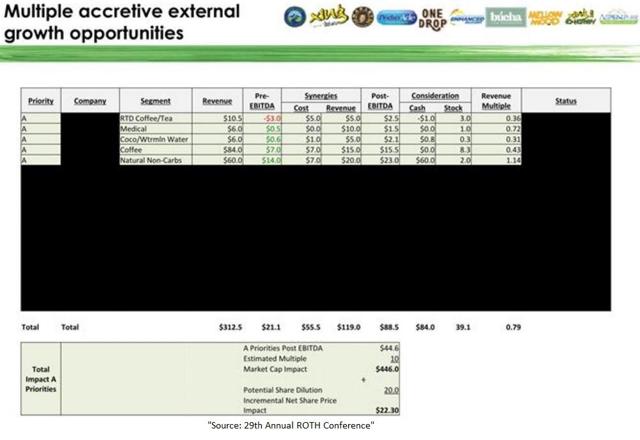 What makes the slide so compelling is that the three acquisitions this year almost identically match the first three listed targets, leaving two remaining targets on the list. Those two targets represent $144 million in revenue, pre-integration EBITDA of $21 million and would bring the current revenue run rate up to $229 million and over halfway to Willis' $400 million goal by the end of 2019. If the two remaining acquisitive targets are indeed acquired, NBEV's annual run rate could triple with organic growth of 12%. This also assumes there aren't any other targets besides these two, but that said, Willis told the ROTH audience that there are several LOI's in the hopper.
The coffee deal looks like it's to be paid for in stock, but the Natural Non-Carbs deal is where I think U.S. Bank would come back into play with another non-dilutive loan after they were just paid off for the acquisition of the Xing and Aspen brands. Why? Because you can see above that the deal calls for 2 million shares, but also calls for a whopping $60 million in cash and NBEV currently has a little over $4 million in cash and no debt. It was already hinted at the ROTH Conference at the 4:30 mark of the webcast that U.S. Bank is once again in the on-deck circle, yet I haven't heard a single investor that has spoken one word about this and this type of non-dilutive financing is what rocketed the stock from .40 cents to over $2.00 when the Xing and Aspen brands were acquired, yet the Natural Non-Carbs loan would be 6X that size. NBEV has an Accordion line of credit with U.S. Bank at Libor +2 that rises as high as NBEV wants based on inventory and receivables.
The Interviews
I recently spent some time on the phone with both Tom Lebon and Dan Epstein, inquiring about the decisions they made to be acquired when approached by Brent Willis.
For Tom Lebon with his Xing and Aspen brands, the decision to hook up with Willis was easy, as Lebon told me he first knew Willis when he was hired to turn around Cott Corporation, a carbonated beverage company that was dying a slow death. Lebon liked Willis' "About-Face" military style attitude that he learned while at West Point. Willis made immediate, drastic changes during his brief stay at Cott, abrupt changes that ruffled the feathers of Cott's complacent Board of Directors before they let him go, but changes away from carbonated beverages that ultimately led to the revival of Cott into a $2 billion dollar company. Lebon says things are "Outstanding" since Willis' arrival in Denver, noting that morale is at an all-time high, with most employees referring to Willis as "Superman." With regard to PediaAde and Enhanced Recovery, Lebon stated that these products could "Revolutionize the Medical Industry."
For Dan Epstein and Marley Beverage Company, their decision to tie the knot with Willis took a little longer, as they decided to first enter into a sales, marketing & distribution partnership that would allow both sides to further vet each other. Epstein referred to Marley's as a "One in a Million Opportunity" and wanted to make sure Willis was the right fit. Epstein went on to say that the partnership worked out great and that the relationship with the family of Bob Marley is very strong. He pointed out that he ultimately bought into Willis' vision that NBEV must always look towards innovation, growth and leverage of scale.
Catalysts
To say there are multiple catalysts for massive upside would be an understatement. Trying to keep pace with what Brent Willis has up his sleeve for the next move is an impossible task, but let's examine the obvious.
1) If the Natural Non-Carbs company is indeed acquired via 2 million shares and a $60 million non-dilutive loan as the slide seems to indicate, the fully diluted outstanding share count would rise to approximately 38.5 million and this is separate from the coffee deal. NBEV's last loan was at 3.7% interest, so we'll even use 4% this time. With EBITDA of $14 million, we'll use a very conservative blended Federal & State tax rate of 40% that includes depreciation and amortization. We would back out $5.6 million for taxes and back out $2.4 million in interest and then divide the remaining $6.0 million by the fully diluted share count of 38.5 million, giving us pre-integration EPS of .155 cents for this one acquisition alone. Using the slide above, we can see that 12-18 month fully integrated EBITDA equals $23 million, so after backing out interest and taxes, we arrive at EPS of .30 cents. If this transaction occurs, I would expect an initial pop in the stock of around $4.68 based upon the P/S remaining at 2.8 with an additional 70% in revenue.
2) If the coffee company is indeed acquired via an all stock 8.3 million share transaction as the slide seems to indicate, the fully diluted outstanding share count would rise to 44.8 million and this is separate from the Natural Non-Carbs transaction. With EBITDA of $7 million taxed at 40%, that leaves us with net income of $4.2 million or pre-integration EPS of .106 for this one transaction alone. Using the above slide again, we can see that 12-18 month fully integrated EBITDA is projected at $15.5 million and after taxes at 40% (no interest for this transaction since no loan), we arrive at EPS of .20 cents. If this transaction occurs, I would expect an initial pop in the stock of around $6.60 based upon the P/S remaining at 2.8 with an additional 98.8% in revenue.
3) Launch of the world's first shelf-stable Probiotic Water with Walgreens ? On page 11 of last week's B. Riley Institutional Investor Conference presentation, NBEV included the logo of Walgreens on the page titled "Roadmap." We know that Willis has been saying in recent times that the largest pharmacy chain in America is going to take Aspen Pure Probiotic Water nationwide and during the Q&A portion of the Q1 earnings conference call, Willis guided probiotic water revenues at $5 to $10 million in 2017, far above analyst estimates of $1.5 million. With 60% margins, this in itself is a game-changer. In the meantime, NBEV's Probiotic Water has been launched within its own DSD network, adding 500 new accounts in the first 30 days.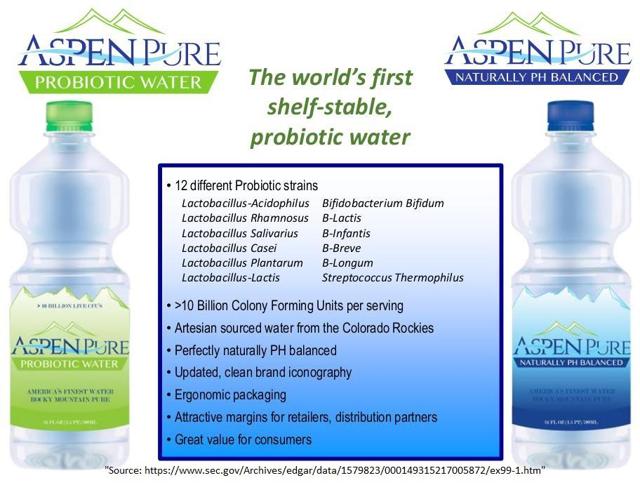 4) Launch of Enhanced Recovery in conjunction with the Mayo Clinic and Cleveland Clinic, a coordinated launch that absolutely no one is aware of unless they read this recent article in a major beverage publication, as the involvement of both clinics hasn't been discussed in any press releases or conference calls. The credibility this adds to NBEV, it's acquisition of PMC and its Health Sciences Division is tremendous.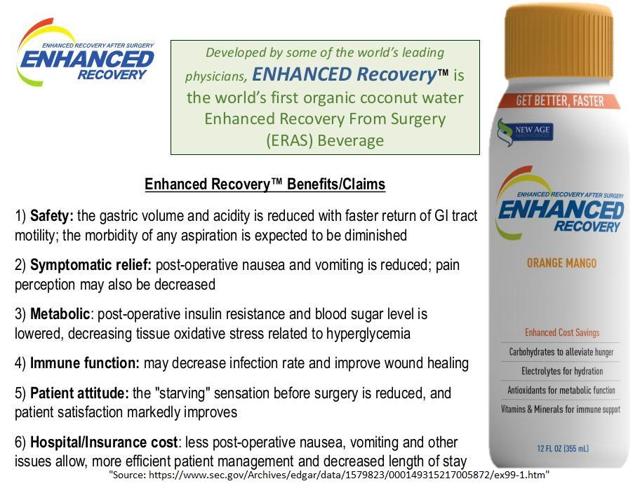 5) Launch of PediaAde, but with whom if anyone? We received clues about this from the Q&A portion of the Q1 earnings conference call when Brent Willis told analysts that the company was in talks with pharmaceutical distributor powerhouse, McKesson (NYSE:MCK) along with another major distributor. I'll use the word giddy once again in describing Willis' tone on the call with regard to competing head to head in this category against Abbott Laboratories' (NYSEMKT:ABL) Pedialyte, posting this comparison below between PediaAde and Pedialyte. If a distribution deal for PediaAde is struck between NBEV and a McKesson-like company, it gives NBEV enormous credibility and can possibly turn the category upside down if successful.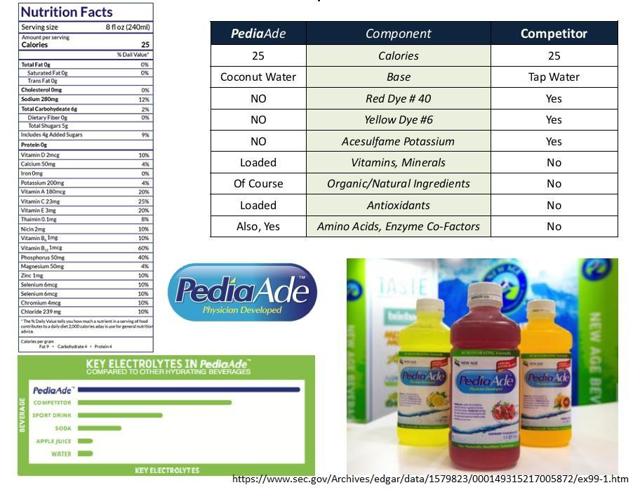 6) The recent disclosure of a new product from the Marley side of the business, Organic Marley Yerba Mate with flavors such as "Jamaican Me Mango, Be Jammin' Berry, One Love Lemon & Ya Mon Mint." A very clever move in now taking on California's booming Guayaki Yerba Mate, a drink I tasted just yesterday, personally classifying it as nothing short of awful.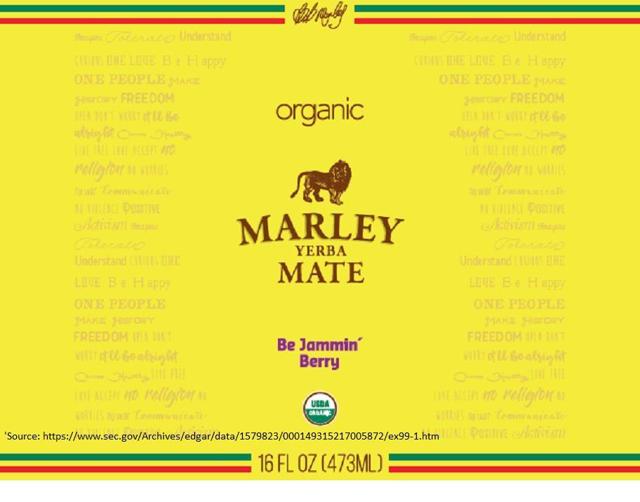 7) Accretive acquisitions that Willis might have under his belt besides the two mentioned above. He stated back on March 15th that he's approached by at least one private company each day looking to fit in with his master plan. Willis noted on that day that he had rejected the last 25 companies or so that had approached him, citing that any marriages must be nothing less than a perfect match.
8) Continued acceleration of gross margins, as NBEV began at 22% in the middle of last year, rising to 26.5% by end of Q1, ultimately aiming for 40%. Increasing margins in the beverage business isn't an easy task, but Willis continues to shed OPEX at every turn. One example of this was seen when NBEV disclosed that they reduced the cost of a glass bottle of Bucha from .34 cents down to .19 cents.
9) Continuation or improvement on NBEV's annual organic growth target of 7% to 10%. NBEV's Bucha products lead the way with a 45% increase in revenue in Q1 YOY.
Conclusion
In the beverage sector, the preferred valuation metric is P/S and at NBEV's current PPS of $6.72 as I type, the stock trades at a P/S of 2.8, over 2X less than that of its peers as seen below.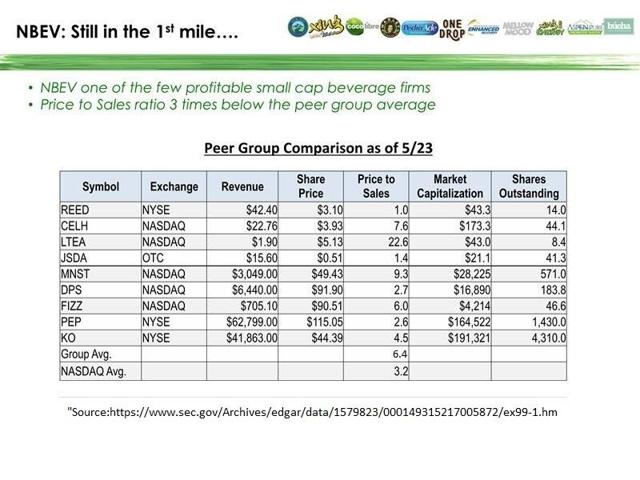 At NBEV's current annual run rate of $85 million comprised of Xing, Aspen PH, Marley's, Coco Libre, Bucha & PMC, you're not only getting these brands at a very steep discount with months of integration synergies remaining that will drop to the bottom line, you're basically getting Aspen Pure Probiotic Water, Enhanced Recovery, PediaAde and the new Organic Marley Yerba Mate products, all for free and each one a potential game-changer, not to mention any new incoming accretive acquisitions.
From day one upon Brent Willis' arrival, he has done everything he said he would do and way more than anyone expected. I'm sure there were many who were more than skeptical when Willis first announced the goal to attain $400 million in revenue by the end of 2019, becoming the world's largest healthy functional beverage company and very profitable at that. Some of those same skeptics are now convinced that Willis will not only hit $400 million by year end 2019, but much sooner.
Personally, I think Willis emerged back into the beverage space because he knows his former colleagues at Coca-Cola and other beverage giants are starving for growth with declining carbonated beverage sales for the last 12 years. It's my belief that upon reaching $400 million in sales with several trendy products, Willis will hand over the reigns to a beverage giant at approximately 6X sales, a number that's respectable and in the neighborhood of other recent healthy functional beverage transactions. It's a number that results in the stock trading at several multiples higher from where we are today. NBEV now has products growing at 5% to 45% in each of the top five beverage categories, so they would be an attractive target, especially if they can hit their goal of $400 million in revenue by the end of 2019.
Kombucha and Sparkling Probiotic Water company, Kevita, was recently bought out by Pepsico (NYSE:PEP) for an undisclosed amount, but most say that the price was between 5X to 7X sales. Antioxidant beverage maker Bai Brands was bought out about the same time by Dr. Pepper Snapple (DPS) for $1.7 billion and based on 2016 revenue projections in the $300 million range, that translates to a P/S in the area of 5 to 6.
After Willis completed his first extraordinary deal in acquiring a company over 20X his own size, some were joking about NBEV becoming the next Monster Energy. It's very possible that in a year from now, NBEV could be at an annual revenue run rate equaling 10% of Monster's, or slightly above $300 million, so maybe it's not a joke. One thing is for sure. Watching and anticipating Brent Willis' every move is going to be a thrill.
Disclosure: I am/we are long "NBEV".