Hell hath no fury than a woman scorned
Let us make no mistakes about it, what is happening in Brazil is a coup and nothing good can arise for Brazil if this impeachment process goes ahead and Ms. Rousseff is removed from office.
Brazil has had a hard fought battle for democracy throughout its history where many fought, bled and died for the manifestation of its ideals. If it does not protect it now then we will continue to see instability in this great nation and in the wider South American region for years to come.
Ms. Rousseff is the democratically elected President and in a perverse way, she has emerged as the only one with clean hands within the political establishment, the interim President and many in his cabinet has been mentioned in a number of documents as having given or received bribes.
The President has not committed a crime, the only grounds for an impeachment is a reallocation of funds in a manner that is done in every country in the world, it is obvious to the world that this is politically motivated.
If she had done anything wrong and needs to be impeached, it should have been put to the nation in a national referendum because it is the people that elected her and if they vote to impeach her then it will be the will of the people, this will prevent any instability in the interim.
The uptick in the Brazil real is evidence that the market approves of the move to impeach the current President but what is the basis for such market confidence in Mr. Temer and his ability to aid the economic and social recovery of the nation of Brazil.
Financial markets tend to react favourably to change in any form based on an erroneous belief that the change will make the situation better. Certainly, Ms Rousseff was not perfect, she like many other politicians around the world made good and bad decisions in the course of managing the nation.
Nevertheless, the current woes in Brazil has not been because of Ms. Rousseff's policies but primarily because of Brazil's over reliance on commodities so when the price of commodities collapsed, the country's economic output and prospects also fell.
I have said many times that as investors, we must learn to be patient and realistic with our political leaders. Managing a nation is like managing a great ship, drastic moves cannot be done because there will be many unintended consequences. Rather change has to be done incrementally and for a nation like Brazil to move from primarily a commodities exporter to a production and manufacturing nation can typically take about a generation.
Perhaps the problem is our short democratic cycles which does not give time for any national leader to make any meaningful change but nevertheless has conditioned investors to expect fast turnaround in the economic fortunes of nations.
For Brazil to have balanced growth, there has to be a strong economic base for the nation as for too long, the majority of Brazilians were economically marginalized.
Fernando Henrique Cardoso, one of the former Presidents began a series of social projects to eradicate hunger and lift people out of poverty. This was extended by Luiz Inácio Lula da Silva who was the succeeding President.
Lula as he is known aggressively rolled out the Fome Zero and Bolsa Familia programs as well as the Programa de Aceleração do Crescimento which is a growth acceleration program to invest in infrastructure projects.
There is also the Minha Casa, Minha Vida (my house, my life) which was created to move Brazilians out of the favelas into their own homes.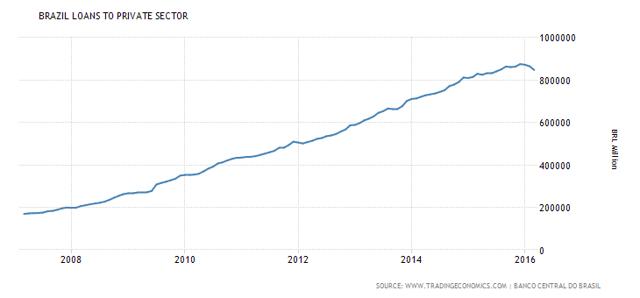 The graph above shows the expansion in loans to the private sector since 2007 and it is apparent that there has been a dramatic expansion year on year.
All of these programmes has been investments designed to lift the majority of the population out of poverty so they can become economic actors that are able to take part in Brazil's future.
My concern is that a Temer presidency will undo all of the work that has been done for the last 15-20 years and set Brazil back. As he has not been democratically elected, this will restrict his ability to make critical decisions.
He has made the economy his priority but has not given any real answers of how he will balance the budget for Brazil an export-oriented economy still heavily dependent on the shipments of raw material (46 percent of total exports) and manufactured goods (38 percent) especially when the country is facing significant headwinds in the form of a weak global economic outlook and weak commodities price.
It is also a concern for me that the Temer cabinet does not reflect the diversity of the nation, it will be a handicap for them because it will significantly narrow their perspective on critical issues.
Furthermore, even if Rousseff is impeached and asked to leave office, she still has an extensive support network both in the political establishment and throughout the wider nation because Brazil is a very populist nation.
It is my belief that they will conspire to be a thorn in the flesh of Mr. Temer with the net result of this being a political civil war and a split political establishment.
I strongly suspect that we will see a repeat of 2013.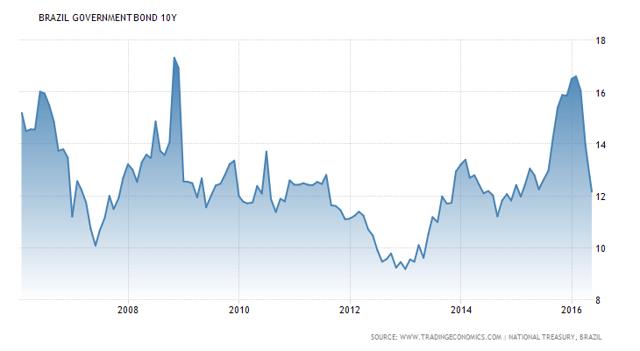 We will also see higher interest rates on the real denominated Brazilian government bonds because of Brazil's lower credit quality as a result of the deepening political crisis as well as a falling Bovespa.
Although the markets does not see this now but within six months, they will have changed their outlook on Brazil when then the reality of the impeachment becomes clearer.
Conclusion
I have nothing good to say about the impeachment process because in my experience of emerging markets, democracy and self-determination are very special gifts that should be jealously guarded at all costs and not sacrificed at the altar of one man's ego and personal ambition.
This is especially important in a nation that is so instrumental to the peace and stability of the South American continent. With Brazil in political crisis, Argentina still very fragile and a Venezuela on its knees; it is time to begin to pull money out of South America because the worse is yet to come.