BrainChip Holdings (BRN.AX) is a really, really interesting tech name which I came across recently. In fact, it might be the one of the most interesting ideas in tech I've ever come across. Those who've followed my tech coverage at Seeking Alpha know that I don't make that claim without taking it very seriously. And I am serious about how interesting BrainChip is and can be.
Actually, coming across BrainChip wasn't an accident by any means or even as accidental as I might have made it sound above. You see for the last several years - since CES two years ago - I've been following the evolution of what are called "neuromorphic chips". To be clear, I've been following the evolution of the entire space.
Now, it is true that I've been following the space - a space in which chips are being developed with the capacity to learn - from a position of genuine, sincere interest. It is interesting. I mean, we're talking about the next evolution of artificial intelligence. A development that could make the jump between artificial intelligence and just intelligence. I'm talking about chips that, as Qualcomm put it at a conference a few years back, "blue the lines of silicon and biological processes". I know, it sounds "science-fictiony" but it isn't. This is the real deal. So yes, I've been following the space because of all of this. But mostly I've been following the space from the standpoint that it appears to be very, very lucrative if developed much further from where it is now.
BrainChip has been taking strides into doing just that and with an over-the-counter listing coming in January it might be able to accelerate its neuromorphic chip development with the help of public funding. (I'm still a bit unsure on the specifics of the company's jump from the ASX to the OTC here in the US but I'm fairly certain this will be available for trading in January - stay tuned for updates). Currently BrainChip trades under the ticker BRN.AX on the ASX.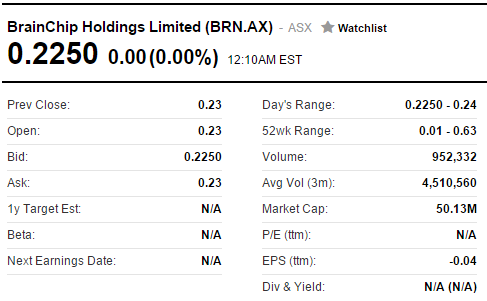 Spatially, and maybe this helps my bull case (maybe it does nothing), there are quite a few big name, big tech players in the space. Most notably these are names like Alphabet, the above mentioned Qualcomm, and IBM. Outside of these Big Tech players there are just as capable but less household brand players in HRL Labs, Brain Corp., Numenta, and the Human Brain Project (an organization with access to global Universities (heavy presence in EU) and their respective R&D/IP).
The problem with the publicly traded names that have a neuromorphic presence - Alphabet, Qualcomm, and IBM - is that they're huge. Yes, I agree with Bill Gates' analysis that a breakthrough in AI/Machine Learning/Neuromorphic Chip development would be worth "ten Microsofts" and I agree that adding "ten Microsofts" to any market cap would do wonders for an equity price. Sure, I agree. But even that type of monetization event gets spread more thinly across a mega-cap than it would, say, a microcap. That's where BrainChip comes in.
BrainChip has a neuromorphic chip that it's developing, which it calls SNAP (short for Spiking Neuron Adaptive Processor). But maybe more importantly for me as an investor - this is all it is developing. That means the company is being valued at very little market cap and based on nothing else (for instance Alphabet has a laundry list of assets contributing to its overall value). BrainChip is a neuromorphic pure-play in a space that I think could get really hot, really fast.
SNAP, along with the other tech-players' chips, has multiple vertical potential as well as IP protection potential. Remember, neuromorphic chips are going to be the same foundation for essentially whatever they are deployed within in the same way that the non-neuro chips are now. Put simply, the iPhone isn't very useful without the A9 inside. Devices and their respective capacity/use cases are only as extensive as the chips doing the heavy lifting. Qualcomm's chip, which is inserted into a Pug-sized robot named Pioneer, has already evidenced it can "learn" just from watching or being told to do something one time. I mean it literally learns. This is VERY fascinating to see in demo. SNAP has this same ability to learn autonomously, evolve and associate information just like the human brain.
Where's the differentiation then? That's a question that BrainChip has an answer for and boy is that an important question. First, BrainChip has one granted patent in the US and one granted patent in Australia. BrainChip's US patent, for those interested, is 8,250,011. A second patent, on retaining and reusing learned tasks has been examined and BrainChip is responding to the examiner through its patent attorney. BrainChip expects this patent to be granted within the next 3-6 months. Since this patent was filed within a few months of the first granted patent it should be able to claim an early priority date which helps move the timetable along.
Second, BrainChip is working on additional patents related to the "communication method within the network and on secure communications between networks". With its core business model intending on being an IP-licensing model securing IP is going to be key. Smartly, BrainChip realizes that because of its size and the "speed to market" advantages its chip will bring those possessing access to it that the strategy of choice should be to essentially become a "SNAP toll-road operator" in collecting licensing fees for usage. Alphabet or Qualcomm or Apple can create massive and deeply penetrating distribution channels much more effectively than BrainChip. That will mean rapid and sustained ramp up in licensing revenue as I think there's going to be a huge "first mover" advantage in this space. I like this model and I want that noted.
Finally, because of SNAP's hardware only design (which I'm not going to get into in super detail) it's faster, operates at 1/1000 the power consumption, and can be worked into standalone or co-processor configurations. All of these matter. All are going to matter in exponentially larger fashion if BrainChip can have anything of success in further building out its patent portfolio.
There's a lot more to be told about this story and there's a long road further for BrainChip to go before becoming the next great microcap but I like the start that the company has. I'm going to continue to drill down into the company - maybe I'll chat with management prior to the shares making the jump - and continue to put together research so that I'm ready to make a decision on shares or not come January. I'll update readers as I make any new conclusions.
Stay tuned.