NOTE: This note contains information regarding an enterprise currently listed "over the counter", which brings with it inherent risks of illiquidity, highly-inefficient pricing, volatility, potentially lower reporting requirements, as well as reduced shareholder rights. This note will also cover an enterprise with operations in a foreign country - Argentina - which brings with it its own set of non-traditional risks. Please consider any investment in "over the counter" opportunities higher risk than opportunities on "listed" stock exchanges, as well as please be sure to consult a financial advisor as to the suitability of any "over the counter" investment.
Algodon Wines & Luxury Development Group (OTCQB:VINO) is marketing an 8% Series B Convertible Preferred offering. The offering, which it is unknown how much has been claimed at this point, is a revision from its Series A designation; not an additional tranche. In total, VINO is offering up to 902,670 shares of Series B Convertible Preferred. While the Series B Convertible Preferred [referred to as the "Series B" from here forward] is meaningful in itself - especially given that VINO has rare access to Argentinian luxury assets and has access to PubCo equity and debt markets as funding vehicle - it's the terms and features of the Series B that I find worth further discussion and breakout.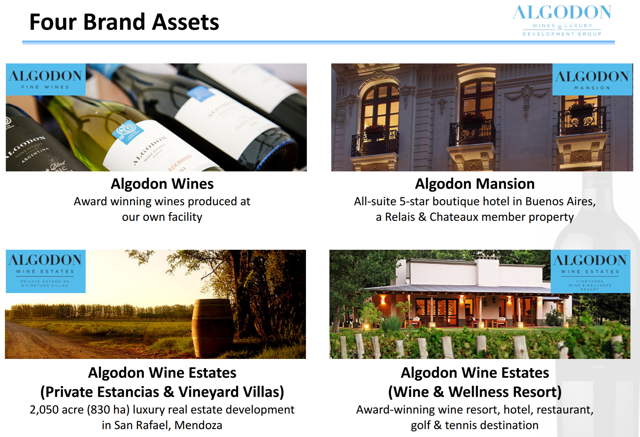 First, I was somewhat shocked at the coupon assigned to the Series B; which while in-line with other recent high-yield issues is much, much lower than I would have expected for an enterprise at the maturation level of VINO [given a lack of comparable peers investors should assess VINO-credit risk from the standpoint of being sector agnostic - SEE: data-visual #8 within link]. I was anticipating VINO need to pay in the range of 11%-13% to execute a funding round. That it did NOT speaks highly of [1] the overall credit risk of the firm [VINO] AND [2] the assets collateralizing the Series B [effectively collateralizing, via a liquidation preference senior to the common stock].
In fairness to VINO and in an effort to be transparent to readers, I scrutinize VINO [as a result of its immaturity, liquidity, and macro- risks] in a pricing category with credits of similarly apparent risks within my coverage universe. This isn't to say that VINO is in fact similar in risk with these other credits [in my coverage universe], in fact I'd say it's not even bottom quartile, but this is the level of scrutiny at which I assess microcap enterprises with international-based assets. Clearly, in execution, the market agrees with my assessment - that VINO isn't like, say, a high-yielding, bottom-quartile Energy credit [in risk]. This, apparently, is what led to the lower coupon payment.
Secondarily, I think the Series B itself should [1] close in its entirety fairly quickly [given the terms] and [2] allow for a more sophisticated equity holder to take position in VINO. VINO's Series B has an attractive 8% coupon, which is paid in cash [not PIK], and which is paid quarterly. This, given the current thirst for risk-adjusted yield, should allow for the offering to close in the immediate-term; and to provide a capital injection to VINO in the immediate-term [to which, given deployment into strategies outlined in a recent shareholder letter, should derisk the investment even further].
The Series B is also a 24-month obligation; AND thanks to conversion terms tethered to an uplisting - which is something that management has hinted at in prior presentations and filings - might even be shorter term than that. Given the secondary liquidity routes, via the conversion features, the Series B will allow larger entities wanting to take a position, but prohibited from doing so efficiently in such an illiquid stock, to take a position. This becomes especially true if these institutions want what would effectively be "pre-IPO" shares - or shares that would be on-book prior to an uplist to a major exchange. For those unfamiliar, an "over the counter" microcap executing an uplisting is a milestone event when it comes to liquidity and shareholder diversification. I will be very closely watching follow-on filings [post-Series B closing] for new shareholder revelations.
It should also help entice sophisticated family offices and microcap funds that VINO did effectively collateralize this offering and that VINO gave very attractive shareholder rights to buyers. VINO granted Series B owners a vote on "all matters" [per its associated 8-K filing] and granted Series B owners a separate voting privilege which would allow Series B owners to block being primed [or jumped in liquidation preference and/or right to recovery value in a default scenario] by a more senior preferred tranche. Both allow for governance optionality that I believe is valuable to investors familiar with illiquid, micro-Series investing.
VINO's Series B is revealing of its credit risk - which is lower than I believe currently priced into its valuation - and is revealing of the future plans at the firm. VINO, as evidenced clearly by this offering, wants to go faster rather than slower when it comes to development and growth.
VINO is a U.S.-based public company that owns and develops luxury real estate assets in Argentina. VINO is among the first real estate developers in Argentina to report on a U.S. stock market and its non-levered assets provide one of the few public vehicles for participating in the anticipated growth in value of Argentinian real estate. VINO is also the only publicly-traded luxury development brand with unlevered real estate, premium wines, and luxury lifestyle assets currently focused on Argentina.
Disclosure: I/we have no positions in any stocks mentioned, and no plans to initiate any positions within the next 72 hours.
I wrote this article myself, and it expresses my own opinions. I am not receiving compensation for it (other than from Seeking Alpha). I have no business relationship with any company whose stock is mentioned in this article.