JP Morgan reined in earnings estimates for some bulker owners as capesize rates move lower. But the lack of new vessel orders sets up the sector for healthier years ahead.
Analyst Noah Parquette says the drop in bulker freight rates during the second quarter "tempered sentiment that was getting red hot in the first quarter."
Parquette notes that new vessel orders increased in the second quarter, but they remain modest relative to the size of the fleet. He says the ratio of secondhand prices to newbuild prices has leveled off at 74%, which should keep newbuild ordering to a minimum. 
"This has largely helped prevent large scale new vessel orders," Parquette said. "As such we are more confident that 2018, and likely 2019 as well, experiences very low fleet growth."
The equity researcher also lowered his outlook on capesize rates for the year due to the large stockpiles of iron ore in Chinese ports. He sees capesizes averaging around $12,800 per day this year, a drop of $2,300 from his earlier forecast. But he has maintained forecasts for 2018 freight rates and boosted his rate outlook for 2019. 
Earnings forecasts for several dry bulk firms were also trimmed for 2017. But Parquette was actually a bit more bullish on 2018 with several companies expected to report better earnings or lower losses.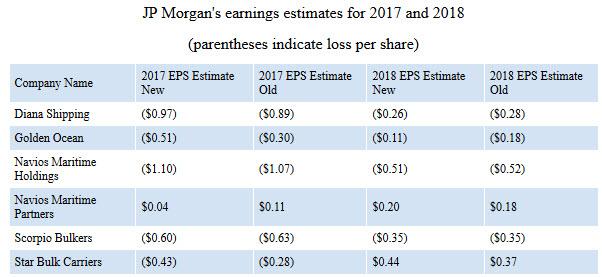 Disclosure: I am/we are long NMM.