Energy sources and conservation
Apr. 22, 2011 12:58 PM ET
Please Note: Blog posts are not selected, edited or screened by Seeking Alpha editors.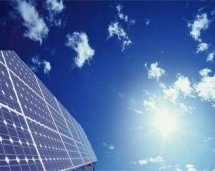 Energy sources and conservation
Our energy sources should not be limited to PV/Solar.
It should be a combination of PV/Wind and many instances Geothermal.
There are also Tidal and Wave Energy, Thermal, Fuel cell, etc.
You could also use renewable energy to convert water into hydrogen which would give you fuel to power generators and cars. We should utilize renewable energy for desalinization and transport the water to its ultimate destination.
People have to realize that in order for this approach to be successful.
We need everyone on board to work together for this common goal.
The Government, Corporate America and the people of the United States must make a commitment to this cause and pursue it relentlessly.
Above all that people have to concentrate on energy efficiency.
"It is cheaper to save energy than make energy"
Many people have to monitor their habits and be conscience of their daily habits in the use of energy and utilities. In changing your daily habits peoples can cut their energy costs between 30-60%, without any physical modification. Tests have proven for this to be correct. Imagine how much more you can conserve and save if you made some minor physical modifications.
There are many programs available to anyone which helps achieve these goals.
It is educating the public to conserve and not waste that will make the difference.
As a nation United States consumes more resources than any other country in the world.
Today's economic crisis should serve as an impetus to implement a mission of conserving resources for all of the people in the United States. Conserve resources for our sake and the sake of future generations.
Developing Renewable Energy sources should be the "Manhattan project of the 21st century"
Thank you
YJ Draiman, Director of Utilities & Sustainability
Draiman is a candidate for Mayor of Los Angeles 2013
PS
"It is not the critic who counts: not the man who points out how the strong man stumbles or where the doer of deeds could have done better. The credit belongs to the man who is actually in the arena, whose face is marred by dust and sweat and blood, who strives valiantly, who errs and comes up short again and again, because there is no effort without error or shortcoming, but who knows the great enthusiasms, the great devotions, who spends himself for a worthy cause; who, at the best, knows, in the end, the triumph of high achievement, and who, at the worst, if he fails, at least he fails while daring greatly, so that his place shall never be with those cold and timid souls who knew neither victory nor defeat."
Seeking Alpha's Disclosure: Past performance is no guarantee of future results. No recommendation or advice is being given as to whether any investment is suitable for a particular investor. Any views or opinions expressed above may not reflect those of Seeking Alpha as a whole. Seeking Alpha is not a licensed securities dealer, broker or US investment adviser or investment bank. Our analysts are third party authors that include both professional investors and individual investors who may not be licensed or certified by any institute or regulatory body.