With Mannkind's (NASDAQ:MNKD) valuation sliding below $1B MKT Cap, shorts have won their bet that Afrezza would fail like its predecesors
Alexza Pharmaceuticals (NASDAQ:ALXA) is another underperforming company that manufactures inhaled therapeutics and has struggled to commercialize their products worldwide
Ultimately, Shareholders and analysts overestimated the market segmentation of an inhaled insulin product because they assumed a consumer bias in drug delivery would shape the market; not pricing, availability, and side effects
Introduction: Current Financials and History of Inhaled Insulin Products
Currently, Mannkind loses about $30M a quarter on over 400M shares outstanding with over 100M short, but I'll hit on the numbers throughout the article. According to Yahoo Finance, Mannkind holds a solid 1.98 Beta, which puts them in a good range for risk and reward. However in 2007, Pfizer lost $2.8B on its inhaled insulin venture, Exubera, and yanked it off the market after only a year. Mannkind's goal while entering into this therapeutic market was to deliver insulin seamlessly, without injection, and with minimal side effects. So far, Mannkind has made a product the does deliver insulin seemlessly with minor side effects. But after signing a $925M collaboration and commercialization deal; Sanofi has not been successful in selling AfrezzaTM in Europe and America. Analysts assume this is mostly because of patch pump competitors (NASDAQ:PODD) and continuous glucose monitoring systems (NASDAQ:DXCM). Even oral pills that also have somewhat different minor side effects have taken a larger share of the market than Afrezza (0.10% Mkt Share). Contrary to Goldman Sach's peak sales predictions, financial results from 2015 would indicate that $1B in annual sales is going to take global marketing from Sanofi and a longer lasting Afrezza. Sanofi's lack of success in selling the physical inhaler Rxs, and Mannkind's failure to license out their technologies (production, drug delivery, etc...) are worrysome because of their mounting debt ($121M Q3 2015 according to Schwab). If Mannkind is going to be successful in competing with longer lasting injectables and cheap pills they will need to expand their sales force (hire a veteran commercialization chief), and then build out a pipeline that complements their production technology to enhance shareholder value over the long term.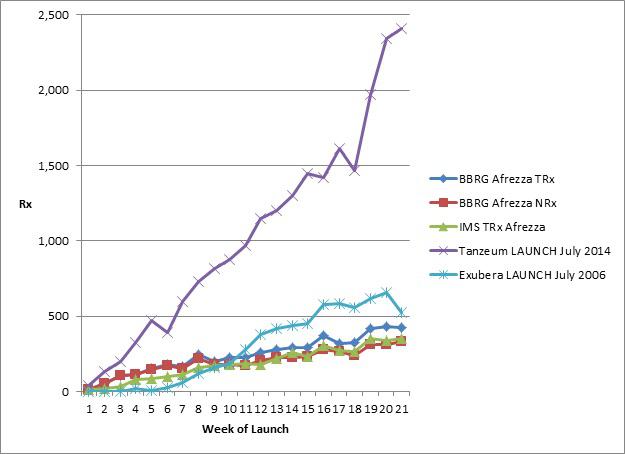 Afrezza: Pricing, Side Effects, and Competition
Unsurprisingly, inhaled insulin is more expensive than injectable and pill form competitors. Actually, Sanofi's own injectable costs half as much per day (7.54/day compared to 3.14/day). Despite Sanofi's failure to distribute Afrezza, they atleast realized the price difference and offer patients the first prescription for free with a savings card as a sort of loyalty program. Certainly Mannkind is in the high priced end of their drug market, inrespect to the price of its insulin inhaler. This pricing strategy isunrealistic in the long run, but a smart move because insulin is truly inelastic. However, insurance companies and patients have theoption for cheaper alternatives, which is where the larger market lies($42B Globally). Afrezza sales of under 20 million dollars in 2015,with declining Q/Q revenue, shows that with Sanofi's marketingbudget must expand to see results, and that Afrezza istoo impractically expensive to take a large share of the multi-billiondollar insulin market.
Patients are supposed to take Afrezza with every meal, just like an oral pill. However, Afrezza is not for all diabetics, diabetics with COPD or lung diseases cannot inhale Afrezza. Also, Afrezza patients need to take a lung test called spirometry (FEV1) that is not readily available and is expensive before they can even have access to it from their healthcare provider. In short, its a hassle to get Afrezza, and it may lead to different adverse effects in lung function causing a marginal increase in coughing and throat pain. AstraZenenca has launched their oral drug in direct competition with Afrezza in Type 2 diabetes. Thankfully they marketed the product without mentioning the warnings for patients with lung diseases, which is evidently the fixed segmentation in the market as Afrezza is a complement to a long acting insulin in most cases for Type 1. Farxiga has different side effects, but can lower blood pressure and help patients lose weight which are huge advantages to type 2 diabetics as they usually struggle with both high blood pressure and obesity. On the injection side of the market, Novo Nordisk dominates with a long lasting pen injectable, Levemir, and complements it with Saxenda and Victoza (27% MKT Share). Controlling blood sugar is an expensive task for patients and they consistently have chosen options with minimal side effects even if they do not prefer the delivery method.
Industry Analysis: Inhaled Therapeutics. Where are the profits?
Obviously, the largest market for inhalers is for the treatment of asthma and other lung diseases. In addition to lung diseases, cardiovascular diseases such as Pulmonary Arterial Hypertension are treated with inhaled therapeutic mediums, and the demand for such inhalers is growing quickly.
With Only One Drug, How Can Mannkind Generate Long Term Shareholder Value?
Mannkind is in a sticky situation right now when it comes to shareholder equity (-125. Since mid 2014, they have lost over $2B in shareholder money through equity devaluation. Amazingly, Somehow, interim CEO and Chairman Alfred Mann is still barely a billionaire. The good thing for Afrezza is that inventories ($25M) still have not risen more than total 2015 sales ($25M). With global comercialization not in full effect and sales not fulfilling expectations it seems that Afrezza's profit potential has been significantly reduced. Maybe Mannkind should just sell a pill, but clearly they need to do something and focusing solely on Afrezza for another year is not the answer. An advisor to the firm might say they should look for opportunities elsewhere through new investments to start some sort of back up plan. In short, Mannkind should look into reaching milestone goals and investing their cash flow into a new pipeline that complements their current Afrezza production, and with the stock in free fall executives need to find something fast.
Could Mannkind Commercialize Alexza's Pipeline?
In December 2012, Alexza's ADASUVE (loxapine), a bipolar and schizophrenia medication became FDA approved (Collaboration with Teva). This year in November, after investing heavily in sales to mental hospitals, Teva decided it was not worth their money to commercialize ADASUVE worldwide. In 2015, Alexza and Mannkind both have reported awful sales for their inhaled therapeutics, especially when compared to pills and injections. On the possibility front, with its current cash balance Mannkind could acquire Alexza. However this acquisition would lead them into a totally different drug market, which is risky because Mannkind would be taking on another commercialization task along with clinical development obligations. On the otherhand, Alexza is interesting because they take existing (FDA Approved) pills and turn them into inhaled products. The manufacturing of CNS drugs clearly is not directly a synergy with insulin production, however the drug to safe powder production techniques Alexza has could be an advantage to Mannkind for further development into new therapeutic markets. With Mannkind's scale and superior technology, they could manufacture Alexza's late stage assets of approved drugs for cheap leaving them a hefty profit margin to compete with other CNS drug manufacturers. In addition to technological synergies, Alexza Pharmaceuticals is pursuing worldwide sales exposure; something that could benefit Afrezza worldwide sales. At Alexza's current $17M valuation, this acquisition would be profitable, if not for Alexza's $60M in debt obligations. The fact that they lost their guaranteed money with Teva, increases the risk involved in the deal. Any company with liabilities greater than the value of their assets is something Mannkind should in 2016. Even with their drug delivery technology Alexza is definitely a sinking ship by itself. Because of Alexza's late stage assets and near term revenue potential, Mannkind could establish itself as the leader in all types of inhaled therapeutics with an acquisition of their business, but it is a long shot that they can generate efficient synergies with the amount of capital they have to expend on a venture of this kind.
Is Pulmatrix a better takeover target?
By leveraging its technology, Mannkind can afford to produce powder drugs more efficiently for indications like COPD. With $100M (Q2 2015) in cash and equivalents on the balance sheet this quarter, Mannkind can make atleast one acquisition or even make a significant investment through a collaboration deal to compete in the already inhaler lead drug market for the treatment of lung infections and rare diseases. Currently, the sales leaders for lung disease drugs are GlaxoSmithKline and Pfizer. Pulmatrix has already leveraged their iSPERSE technology to Mylan N.V. for 3 indications. If a collaboration deal is out of the question for Pulmatrix, Mannkind should work to make a deal with Mylan or acquire Pulmatrix and fulfill their commitment with Mylan. Mylan is a large generic drug manufacture and could be a great partner in creating cheaper alternatives for COPD patients. Some executives other than Alfred Mann might say, that Pulmatrix would be a great target for them to consider because its a company that is valued under the $100M mark and operates at less than a $10M loss in clinical development. One could argue that Pulmatrix's pipeline is worth more than $100M because of the size of the COPD, CF, and IPF (Idiopathic Pulmonary Fibrosis) markets. In terms of short term news from the pipeline, its stacked with a late stage asset (Phase 2), an NIH awarded formula ($1.7M grant), and positive preclinical data (NYSE:CF). In terms of immediate value added, along with its COPD drug, Pulmatrix has hard asset value in its technology and offers shareholders an efficient pipeline that could easily complement Afrezza's side effects. Lastly, Pulmatrix is well positioned and will actually be capitalizing on a market that is seemingly growing worldwide and acquiring Pulmatrix would give Mannkind the opportunity to offer solutions to the side effects of Afrezza.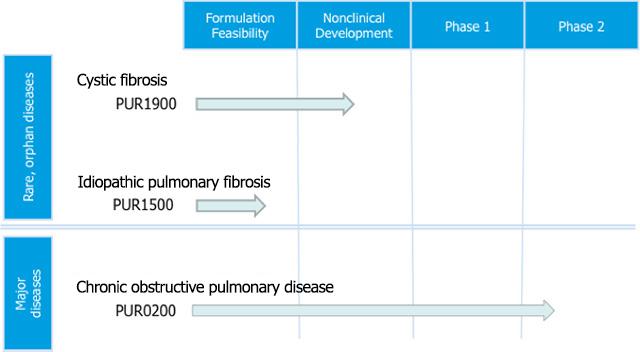 Is Aradigm a better complement in the short term?
Another takeover target in the same industry that Mannkind could look into acquiring is Aradigm (NASDAQ:ARDM). The company has 2 late stage assets (Phase 3 & 2), Pulmaquin and Lipoquin. Not only does Aradigm hold the key to the rare disease market of Cystic Fibrosis; they are targeting the huge market of Bronchitis (24M Americans). Analysts also expect to see huge growth in demand for chronic lung disease therapies outside of the U.S. mostly due to air pollution and awful air quality (China). If these trends continue, Aradigm could be one positive clinical trial away from launching a very successful inhaler. For valuation sake, CF drug maker Vertex Pharmaceuticals has 50% yearly revenue growth on revenues of over $500M a year and is valued at over $30B. Not only does Aradigm have a valuable pipeline, ($58M Mkt Cap) they hold technology patents for drug delivery that other large companies like United Therapeutics (NASDAQ:UTHR) would pay a premium to acquire. Drug delivery is a huge technological advantage for Mannkind, and they should consider developing a moat in this area to protect themselves from competitors or license out their technology in exchange for assets.
Is Mannkind a buy after a disappointing 2015? If so, what are the projections?
Because the market for insulin is so large ($32B global + 12.5% CAGR), the global commercialization of Afrezza could definitely generate value for shareholders in 2016 and beyond. Large markets have room for competition, even with patch pumps and pills dominating the market, Inhalers could penetrate the market in certain parts of the world. Based on common sense one might think, patients would prefer a monitoring system that told them when to use an inhalation device instead of using a pump injection. For instance, someone could fit in as just another person with asthma, and not have to worry about breaking their expensive pump while playing sports. Afrezza is viable drug, however it may not be as valuable to patients for its price because of side effects and . If Mannkind is going to scale manufacturing for global commercialization they need to directly compete on price and pre-authorizations to gain market share.
Are there any 2016 Catalysts on the horizon?
Immediate catalysts like management changes, short squeezes, and collaborations have already saved even more major losses in Mannkind. Management changes have given some investors hope for a company turn around. As recently as last month, Alfred Mann said he will step down and hand over his baby to former Insulet CEO, Duane DeSisto, with Edstrom out and Mann taking a step back into medicine, DeSisto can focus on maximizing revenue and jumping over Afrezza's many hurdles.
Disclosure: I/we have no positions in any stocks mentioned, and no plans to initiate any positions within the next 72 hours.