The number of shorts in big pharma rocketed higher in last quarter of 2015.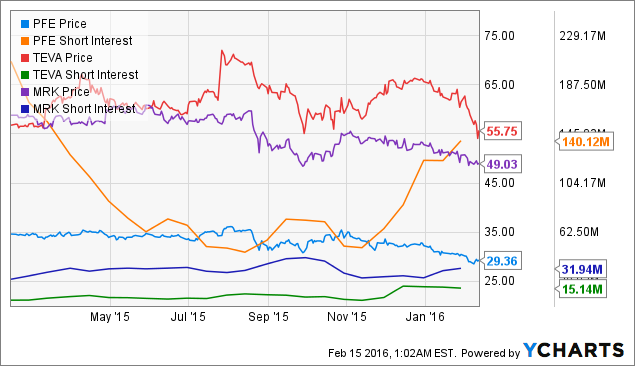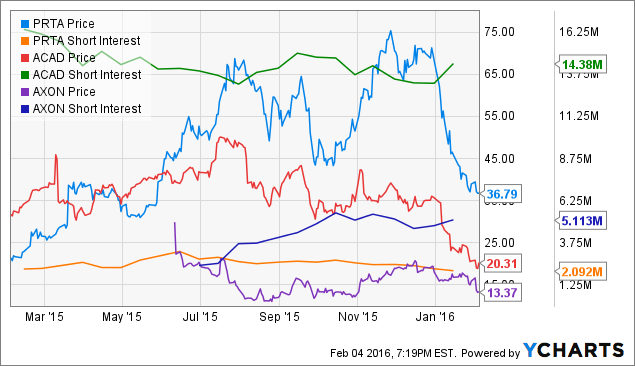 As expected Biotech positions followed this trend, adding insult to injury for YTD returns in speculative pharma.
From a management perspective, this phenomenon usually leads to companies raising capital for cover due to thinking they too would be shorted heavily at their sky high valuations while recording 0 2016 expected revenue and profit. Also, shorts have to eventually cover to relinquish their short position; which they are likely to do while betting on a company with valuable assets and potential growth catalysts. Delivering massive returns in 2015, Prothena (NASDAQ:PRTA) and Acadia (NASDAQ:ACAD), now trade at or close to 52wk lows with room to run closer to book value by the end of Q2 as they have no immediate revenue or FCF to save their fundamental values. In Q1, the companies raised a combined half billion dollars through offerings of 2.25M and 6M shares. This dilution effects loss per share positively and secures a higher asset value through accumulation of current assets like cash. Both companies still lost a single digit multiple of the half billion they raised in their market valuation, but one could credit these management decisions for protecting the depth of their downside. Cash is not considered a hard asset, but it definitely will help Acadia commercialize Nuplazid their phase 3 drug that is up for PDUFA in March. The drug could be a blockbuster for its parkinson's indication if approved.