After submitting a BLA for their 3rd gen MACI an autogolous cell therapy for cartlidge defects in the knee, Vericel moved above the $2/shr mark again validating itself as a strong Russell 2000 micro-cap.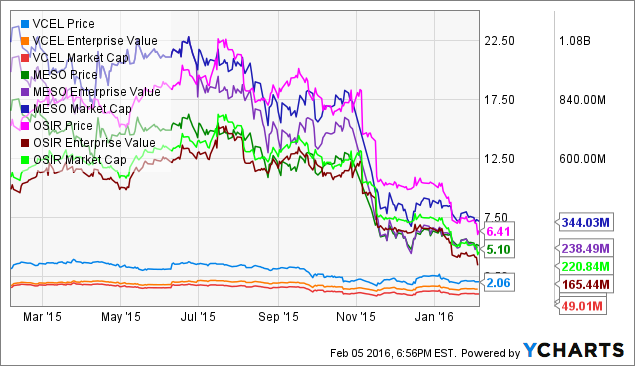 With OSIR and Biolargo raising hundreds of millions of dollars, investors really have to wonder why Vericel is still a micro-cap with a -2.5 p/e ratio. They had one sales rep in 2015 and 2 last gen products, Epicel and Carticel, and still did $40M in revenues. Osiris therapeutics makes a small profit in the wound care business, however has less cash and equivalents on their balance sheet than even a small player like Vericel. It took until half way through 2015 for wall street to even notice how ridiclously they were valuing these speculative regen med companies. With a price correction taking place the best thing to look for in these names is upside and Vericel and Mesoblast have a lot more than their competitors because of their pipeline and the indications they are targeting.
Pipeline Progress
Vericel is performing an on going Phase 2b study for a Dilated Cardiomyopathy (DCM) and Chronic Limb Ischemia (NYSE:CLI) therapy that is called ixmyelocel-T. The size of the DCM and CLI markets is substantially larger than the market for skin regeneration and critical wound care.
Disclosure: I am/we are long VCEL.
Additional disclosure: Wrote this one in February. VCEL broke out this month. Sorry for not publishing this on time.