This week's article marks the conclusion of series of pieces on trends in the global economic landscape. In this edition, we outline the main investment themes and opportunities that have been created by what might be the biggest bubble in recent memory: The financial crisis of 2008.
Please, click the following link for part I of our piece on asset bubbles.
Please, click the following link for part II of our piece on asset bubbles.
Please, click the following link for part III of our piece on asset bubbles.
What goes up must come down
– Sir Isaac Newton (1642-1727)
It is likely that we are transitioning from a period of declining inflation to a period of rising inflation, similar to what happened in the mid- to late 1970s. While this may take some time to play out, the thesis is built on the following:
1) Governments and central banks have "solved" a crisis created by excess liquidity (the credit crunch) by spending and borrowing even more. History has shown that the only outcome of reckless fiscal and monetary policy is higher prices. In other words, printing money to boost growth at any cost will trigger rises in inflation.
2) The credit crunch will limit capital investment, meaning that capacity constraints will become more of a threat, and thus raise the likelihood of rising inflation.
3) The "easy money" from globalization has already been made, and we have run out of countries with declining unit wage costs to outsource to, which is also inherently inflationary.
In addition, because of the credit crunch access to debt and securitized debt issuance will be limited going forward, meaning that there will be less leverage in the corporate sector. Because the global economy is built on debt, expect several years of lacklustre growth, particularly in the developed world. The next cycle will be all about survival, so corporate health will hold the key to who emerges a winner.
Keeping all of this in mind, crisis breeds opportunity, and although it will be difficult to grow your wealth via investing in a "stagflationary" environment (low growth with high inflation), there are several ways that one can at least preserve their wealth.
1) Focus on "real" assets… Be really picky in real estate
Simply put, in the current environment, rising commodity prices will lead prices for essential items such as food and gas. In an effort to counteract rising costs of living, investors should buy into food, energy, and precious metals. Already, gold has broken out to new highs in recent weeks, and oil has more than doubled since bottoming almost a year ago. There is potential for more upside, however, especially in precious metals. As we have highlighted previously, after adjusting for inflation or growth in the money supply, gold is still cheap from a longer-term perspective. Property normally also does well in an inflationary situation, but for those who wish to buy real estate the key will be to make purchases in places that have not experienced a boom/bust (such as Germany).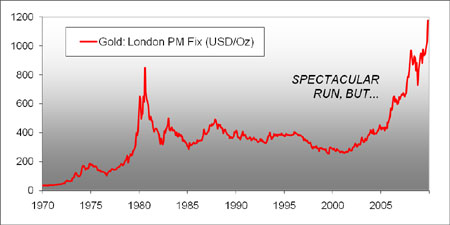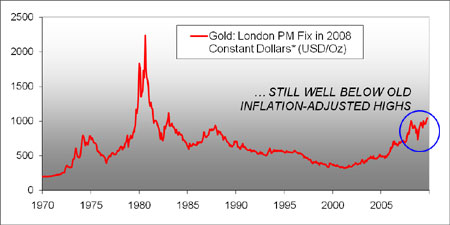 * Prices deflated by U.S. Consumer Price Inflation
2) Favour stocks in companies with strong balance sheets
Credit will be much harder to come by in the future, and should one be "fortunate" to be able to borrow, the terms will likely be materially less favourable that they have been in recent years. Following this logic, companies that are less levered (to debt) will have the best chances of survival, and even better if they have positive net cash positions.
Our ranking system is designed with this in mind, and selects companies with solid balance sheets and growth prospects. Click here to learn more…
3) The U.S. dollar is toast
With the exception of during periods of economic and financial market stress, the U.S. dollar has declined materially over the last decade. This is reflective of the sloppy fundamentals of the U.S. economy: A persistent current account deficit, record fiscal irresponsibility, unfunded pension liabilities, defunct housing market, excessive leverage, and so forth.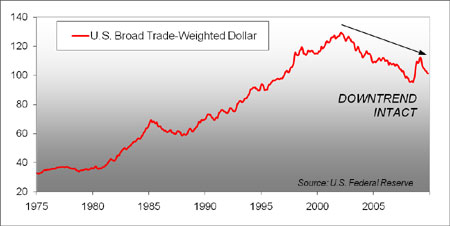 With the above showing no signs of changing anytime soon, this is no time to be "bottom-fishing" the greenback. The banking system is in a shambles and it will be years before credit problems are resolved to a degree that will permit a steady expansion of the U.S. economy. Continue to avoid banks and consumer discretionary stocks, but stay in commodity- and export-related plays as they may continue to benefit as the dollar weakens further.
4) Favour cash over bonds. For fixed-income investors, shorten duration and avoid spread product and most corporate bonds.
Higher inflation means higher interest rates and lower bond prices (one way to counter this may be to invest in real-return bonds). Higher rates also mean slower growth, which adds an additional dimension of risk to corporate bonds. Furthermore, the level of disenchantment with fixed-income products is extremely high, and will take several years for the stigma surrounding this asset class to dissipate. Quality is the key word here, and the only sector with the potential to make money is high-quality (top-notch investment-grade) corporate bonds in real industries: The value is there and has the highest chance of outperforming other types of bonds. Spread product in the U.S. is flat out worthless after controlling for the value of the U.S. dollar: The country is bankrupt, so risking your principal for a few extra basis points does not make sense in this environment.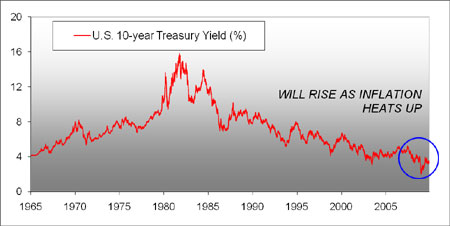 Happy trading,
Jason F. Moschella
Consulting Editor

Disclosure: No positions at the time of writing.
Disclosure:
No positions