Yesterday Atwood posted their intended presentation for the Goldman Sachs Energy Conference. A very worthwhile read that discusses expected industry rebalancing by 2018, a full year before ATW first Debt Maturity.
Of special interest to readers should be Page 5, where ATW adds substantially to the deal pipeline guidance. ATW tends to very cautious when providing guidance on pipeline so these disclosures are revealing. Notable changes:
Strong affirmation that one jackup will be coming into service by H2. Was partially insinuated on the last conference call, now it is affirmed.
Atwood Admiral continues in a good position to start working in Brazil upon delivery
Atwood Advantage is now drilling in Israel with possibilities of follow-on work materializing. This matches with December reports out of Israel where they are said to be drilling Tamara-8 and may soon begin with Leviathan 5.
Atwood Condor prospects for follow-on work have improved
Atwood Achiever is indeed expected to be positively impacted by Kosmos Energy / BP Transaction as speculated.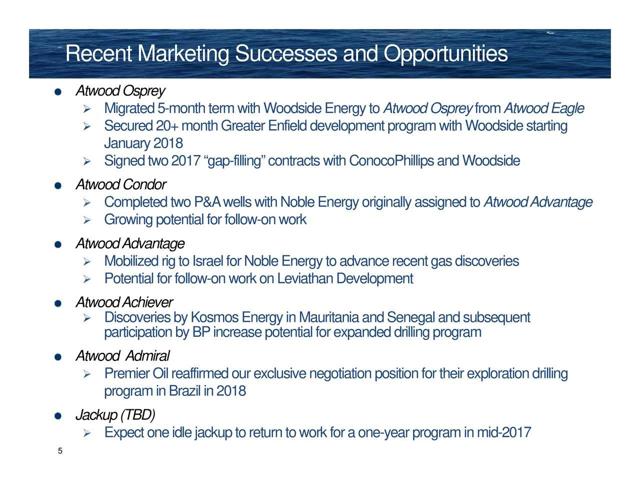 Page 9 includes the now traditional Liquidity presentation. End year Liquidity projection for 2017 improved from $752 million to $762 million with regards to the November 29 numbers presented at the Jeffries 2016 Energy Conference.
Supporting Documents
Disclosure: I am/we are long ATW.
Additional disclosure: I wrote this article myself, and it expresses my own opinions. I am not receiving compensation for it. I have no business relationship with any company whose stock is mentioned in this article.