RANDSTAD
Good to know them
Temporary staffing
History of temporary staffing started in 1948. Two american lawyers, Elmer L. Winter and Aaron Scheinfeld, searched for a short-contracted secretary. While they were searching for an employee they figured out there is general demand for short-contracted workers for services and industry. So they developed an idea and founded Manpower Inc.
Randstad
Dutchman Frits Goldschmeding followed their example twelve years later and founded Randstad Holding N.V. in 1960.
Today Randstad is Number 2 in temporary staffing branch worldwide. They operate in around 39 countries. In 2014, they achieved a turnover of € 17,2 billion and a net income of € 460 million.
Randstad is listed as RAND on the AEX of Euronext, Amsterdam.
Biggest shareholders are:
Founder Frits Goldschmeding himself

Stichting Randstad Optiefonds

Massachusetts Financial Services Co.

ING Investment Management Advisors BV

Capital Research & Management Co.

Norges Bank Investment Management

FIL Investments International

ASR Nederland NV

Métropole Gestion SA

MFS Investments
Free float is about 62 percent. 40 percent of free float is in american hands.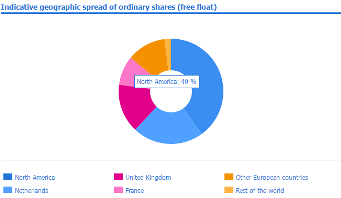 If we take a look at company's geographic revenue spread we figure out: Europe is responsible for almost 70% of revenue (69,333%) in all three Randstad-branches - staffing, professionals, inhouse services. (Randstad Annual Report 2014, Page 75)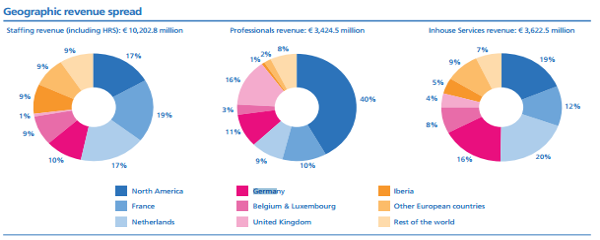 This is geographical spread of Randstad-EBITA: 76 percent of EBITA is achieved in Europe.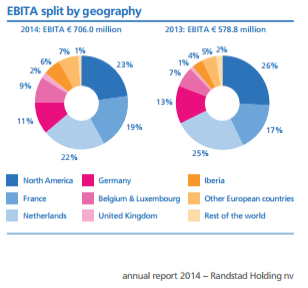 Legal regulations for temporary staffing differs from country to country. There are countries with liberal regulations like the United Kindom or the Netherlands. Furthermore, there are countries with stricter regulations, Germany being one of them. It is a remarkable fact that, whether being strictly regulated or not - temporary staffing branches try to elude such regulations.
For example: Referring to the European Union Temporary Agency Workers Directive, there are default temp-to-perm rules for temporary staffed people by their borrower. Temp-to-perm rules become valid after an appointed time period. Additionaly, the temporary staff must receive a takeover bid from their borrower. Consequently, temporary staffing agencies therefor withdraw their employees to elude this task: Just before the appointed time period ends, they hand them over to another borrower for a few months and, finally, send them back. Last but not least, an appointed time period starts over again.
Why should temporary staff branch do something like that? With temp-to-perm they're not just losing one single employee. They lose his job, too, because former temporary worker remains on his working place. So temporary staff branche lose revenue (around € 30.000 per employee and year).
Situation in Germany: Growing numbers of illegal employee assignment
German regulations are somewhat average compared to other countries but there are some strict legal regulations for temporary staffing.
Officially, temporary staffing is not allowed for longer time periods but there is no clear definition for a "longer time period" until now. But the government of Germany is working on that matter.
Moreover, there are different wage agreements between temporary staffing branches and trade unions in Germany.
Randstad Germany is signer of DGB-BZA wage agreement but they regularly try to avoid agreement, developed new ways of working models which are not affected by this agreement.
This new working models lever out trader union agreements, wages up to 50 percent can be saved. These new working models are called "contract for work-solutions".
Those new ways are not regulated until now because normally there is no need for: Most developed contract for work-solutions are only just barely legal if delimination between employee assignment and contract for work would be good.
In reality neither Randstad nor their market competitors are capable to install required deliminations: Proper delimination is very complicated. There is need to install independent structures and this will usually be more expensive than complying wage agreements. Contract for work projects must take liability for defects and damages caused by their employees. In contrast to this borrowers of temporary staff have all liability risks caused by them.
If there's either no or defective delimination this kind of contracts are illegal - Germans call this kind of illegal employee assignment "Scheinwerkvertrag".
So whole temporary staffing branch is gambling: German law doesn't know class action lawsuits; any person has to bring action at law. Many affected people can be intimidated, most of the rest don't gamble; they take little money and action at law can be stopped without judgement.
What are legal consequences of a "Scheinwerkvertrag"?
Section 266a (German Criminal Code): Non-payment and misuse of wages and salaries

Section 370 (Fiscal Code of Germany): Tax evasion

Section 267 (German Criminal Code): Forgery (often part of 1. and 2.)
Other consequences are several administrative offences related to fines, additional payment obligations for tax, social contributions and wages plus compensations.
If this is fact, why is it so dangerous?
This year a new law came into force - minimum wage law. There's one section (section 13: liability of ordering party) which makes "Scheinwerkverträge" more dangerous. General contractors are liable for all damage caused by offences of their subcontractors related to wages and salaries. You can find similar regulations in other european countries. Other european countries have far more strict regulations. Next to this german Federal Minister of Labour and Social affairs Andrea Nahles is working on a law. Referring to her plans German Customs shall control contract for work-projects to stop misuse. New law shall be passed until end of the year.
"Scheinwerkvertrag": Isolated or methodical incidents?
Referring to a survey of german trader union IG Metall North Rhine-Westphalia there are suspected cases of illegal employee assignments in every third company of automotive, metal and electrical industry. Referring to other trader unions there are almost similar numbers in other german economic sectors.
Randstad and illegal employee assignment
Yes they can and, of course, they do! Illegal employee assignment allows higher profit rates and cheaper prices. Other methods to raise profit rates are usage of complicated and periodically incorrect payrolls, lower salary classifications and dubious offsetting rules for salary surcharges.
Evidences against Randstad
First time I received notice of Randstad malpractices was by coincidence in early 2012. I fell in with a Randstad internal employee and he told me about his job and everyday work. I checked his informations by internet sources and found hundreds of complaints of temporary Randstad staff and some reports of former Randstad Internals which confirmed informations of this man.
I forged out a plan and infiltrated Randstad Company. I interrupted my studies of economics for this project. I worked 18 months for them and collected evidences for statutory violations. Evidences incriminated Randstad and the borrower I worked for, german branch office of french VALEO Automotive Group.
I let evaluate circumstancial evidences and evidences of several statutory violations, used for this law students in phase of graduation I knew from my old University. Their legal opinions have been checked twice. First time by Prof. Dr. Ralph Weber from University of Greifswald. Second time by Prof. Dr. Peter Schüren from University of Münster. Both confirmed results of my project work and associated legal opinions.
I gave it all Randstad and Valeo Management Board in August 2013. First they ignored, then they laughed, then they fought against me without any success. I wrote a book ("Vergewaltert") about that. How I infiltrated, screwed and defeated Randstads Management Board by usage of Sunzis "The Art of War". This book is a serious danger for Randstads Executive Board because it shows how easily full-time strategists were defeated by a single boy.
Both companies lost in this case several millions of Euro until now. Legal authorities as well as german domestic medias are still investigating this case.
Summary
Cases of illegal employee assignments like this one are the rule rather than the exception.
I revealed this one although companies tried to pressure and intimidate me. One-man-shows like mine won't be neccessary in future because section 13 of minimum wage law (liability of ordering party) and german Federal Minister Nahles new customs control law are an effective way to combat misuse and illegal employee assignment.
Randstad share
The Randstad stock is on a all time high at the moment. Todays closing price was at € 56,60.
Yearly high 2015 was € 56,64, yearly low 2015 was € 37,93. Market capitalization is 10,20 billion Euro (source: Bloomberg).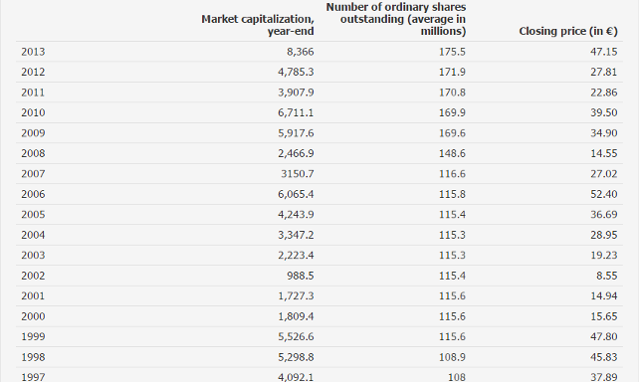 Randstad Germany achieves 13 percent of Randstad Holding Total Revenue and 11 percent of total EBITA. Average of achieved revenue by one employee is € 30.000. Numbers of employees increases and decreases. Each employee less means € 30.000 revenue less.
A short view on latest Randstad-related announcement
Budapest Business Journal reported on Feb 19th 2015: Randstad Hungary plans to raise staff.
German trader union IG Metall Bayern made a report about temporary staff situation in Hungary. They're planning to support hungarian main trader union VASAS to remarkably improve hungarian temporary employees situation. We can exsprect remarkably escalating costs for hungarian temporary staff business...
Sales and profits forecast
With reference to new german law situation, high numbers of suspected cases of illegal employee assignments, high numbers of suspected cases of other infringements (Example: Randstad/Svarovski incidents, Randstad/Telekom/Tecops incidents, Randstad/Amazon incidents, Randstad/Procter&Gamble) and serious threat of domestic media scandal in my own case I exspect for german branch of Randstad Holding NV significant losses in sales and profits.
Reasons:
legal and compliance costs going through the roof

administrative penalties related to fines

additional payment obligations for tax, social contributions and wages

compensations

image damage (would YOU entrust such a Strategic Management Board with anything else but an army in "Age of Empires"?)

The "dust bag law": If one dirty little company secret gets into public many dirty little company secrets follow

Part of Randstad clients will end business relations to avoid harm and bad PR (one single working place (employee) less means € 30.000 revenue less -> clearly recognizable raises of total debt (german law doesn't allow "hire and fire"-practises: Even if clients and working places are lost - the employee remains...)

...
Share price forecast
Randstad share is too much overvalued and will crash down soon. There is no reason for this weird flight of fancy. With reference to my sales and profits forecast I strongly recommend short selling of Randstad shares. Much profit can be made and should be made!
Pension funds and life insurances neither like risks nor bad PR in their investments, so they will be first which would drop them out of their portfolio...
RANDSTAD
Good to know them
by
Disclosure: The author has no positions in any stocks mentioned, but may initiate a short position in RANJF over the next 72 hours.