Introduction
There are equities on the market that track the movement (or inverse) of certain indexes such as treasury bonds, oil prices, and REITs. These equities are called leveraged ETFs, and they are composed of futures, credit default swaps, and other instruments to achieve a .99 to -.99 correlation to their underlying index. Each "leveraged ETF" utilizes a certain amount of leverage to maintain that correlation. This leverage greatly affects their daily volatility. The three amounts of leverage offered are 1X, 2X, and 3X. 2X and 3X short ETFs are designed to multiply the returns (or inverse returns) of the daily performance of an underlying index. For example, a 1X short ETF is designed to inversely correlate 1 for 1 to the underlying index. Each leveraged ETF offers its own risks and rewards that any wise investor ought to be aware of. If used correctly, leveraged ETFs can be hugely beneficial to any wise investor.
Benefits and Costs of 1X Leverage
1X leverage is meant for conservative investors who want to invest in the movements of a particular market. 1X leverage avoids the erratic volatility inherent with multiplied leverage. 1X leverage also, avoids much of the compounding and tracking errors that occur with 2X and 3X leverage. Inverse leverage is designed to track daily performance, and since returns compound over time, it may produce returns greater or worse than expected. I included a chart to show how tracking error affects each range of leverage.
Leverage Tracking Error
Daily performance can eat away at range-bound returns.
| | | | |
| --- | --- | --- | --- |
| Time Period (Gain/Loss) | 1X Short | 2X Short | 3X Short |
| Start Day 1 | $1,000 | $1,000 | $1,000 |
| 10% Gain | $100 | $200 | $300 |
| Day 2 Balance | $1,100 | $1,200 | $1,300 |
| 10% Loss | $110 | $240 | $390 |
| Day 3 Balance | $990 | $960 | $910 |
| Return (Loss) | -1% | -4% | -9% |
| Deviation | 0% | 3% | 8% |
Range Bound Returns in a Volatile Market (Graph)
To visually show how each short ETF reacts in a range bound market, I included a chart expressing 1 year returns of TBF (red 1X), TBT (blue 2X), and TMV (orange 3X).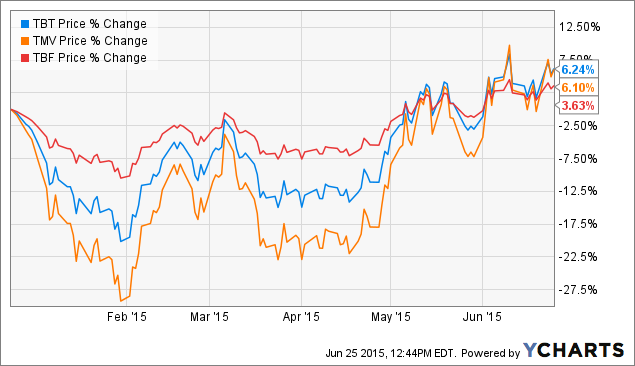 Compound Returns in a Trending Market
Leveraged ETF's perform very well in trending markets
| | | | |
| --- | --- | --- | --- |
| Time Period (Gain/Loss) | 1X Short | 2X Short | 3X Short |
| Start - Day 1 | $1,000 | $1,000 | $1,000 |
| 10% Gain | $100 | $200 | $300 |
| Day 2 Balance | $1,100 | $1,200 | $1,300 |
| 10% Gain | $110 | $240 | $390 |
| Day 3 Balance | $1,210 | $1,440 | $1,690 |
| Return (NASDAQ:GAIN) | +21% | +44% | +69% |
| Deviation | 0% | 23% | 58% |
Returns in a Trending Market (Graph)
Since treasury yields are largely range bound (which dictates the performance of each short ETF), I chose two leveraged oil ETFs to compare. I chose the PowerShares DB Oil Fund (NYSEARCA:DBO) and Velocity Shares 3X Long Crude Oil ETN (NYSEARCA:UWTI). WTI oil is a good benchmark because it has been trending downward for a year and it bolsters my point about compounding returns over trending market conditions. When leveraged ETFs trend downward (or upward), 2X and 3X ETFs have worse (or better) than average returns. UCO is 1X and tracks its underlying index almost one for one and UWTI is 3X levered and performs at a 3X multiple. Over the last year, investors in UWTI have seen returns far worse than those who owned DBO because UWTI's negative daily returns compound over time. However, if oil were to trend upward, UWTI would realize gains, potentially higher than 3X the market, because of daily compounding returns.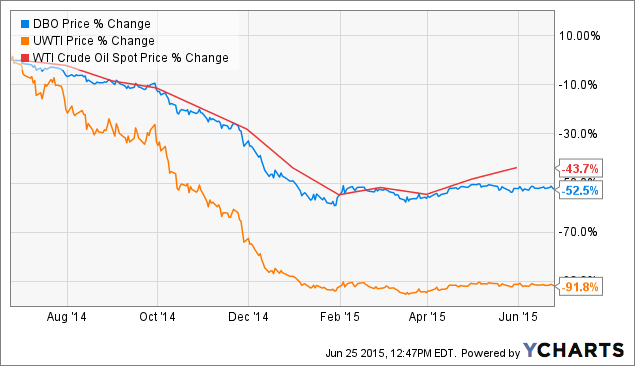 Analysis
Choosing an ETF, long or short, is dependent on and individual's market outlook. If an investor believes strongly that an index will move in one direction, then a 3X levered ETF may produce optimal returns. If an investor is not completely confident in their own market outlook, but they want to make an investment based on what they think a market will do, then a 1X levered ETF would be ideal. On the same note, conservative investors would probably prefer 1X leveraged ETFs and aggressive investors would probably prefer 3X leveraged ETFs. Since leveraged ETFs produce daily returns, they are recommended for investors who are only investing over shorter periods of time. For example, UWTI could be used to hedge against expected short term fluctuations in oil prices. On the same note, TBT could be used to hedge against rising interest rates. It is important to understand the risks and rewards associated with leveraged ETFs. An investor that understands the potential upside of these instruments could make a lot of money.
Conclusion
Choosing a leveraged ETF is reliant on an individual's risk aversion. Those who are very confident in a trend and can stomach risk well would be better off investing in a 3X leveraged ETF. 3X leverage valuable for managing daily risk. For investors who cannot stomach risk well, but want to make an investment based on their own market predictions, ought to invest in 1X leverage. Those who are want more exposure than 1X but cannot stomach 3X would be best utilizing 2X leverage. In the end, it all boils down to risk vs. reward. Leveraged ETFs are valuable tools when used responsibly.
Disclosure: I/we have no positions in any stocks mentioned, and no plans to initiate any positions within the next 72 hours.