"Wall Street Bonuses Rise as Big 3 May Pay 
$30 BILLION
... 
GOLDMAN SACHS GROUP INC.
, MORGAN STANLEY and 
JPMORGAN CHASE & CO.
's investment bank... are set to pay 
RECORD BONUSES
 this year."
www.bloomberg.com/apps/news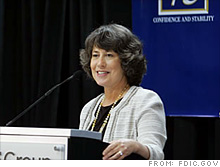 money.cnn.com/2009/05/12/news/fdic.guarantee.fortune/index.htm
"FDIC boss: Big banks still aren't lending enough"
www.google.com/hostednews/ap/article/ALeqM5ihGL-g1dipOGgJtBCmtse9O8GdiwD9BSVA081
Really?  Wasn't Ms. Bair the one who could have specified how money raised via TLGP must be used?
Evidently bonus-happy Wall Street, in addition to the FDIC, all forgot the true purpose of this bond guarantee program:
"The FDIC adopted the Temporary Liquidity Guarantee Program on October 13th because of disruptions in the credit market, particularly the interbank lending market, which reduced banks' liquidity and impaired their ability to lend. The 
GOAL
 of the 
TLGP
 is to 
DECREASE
 the cost of bank funding so that 
BANK LENDING
 to consumers and businesses 
WILL NORMALIZE.
"
www.fdic.gov/news/news/press/2008/pr08122.html
List of top TLGP participants and the amount of capital FDIC helped each raise: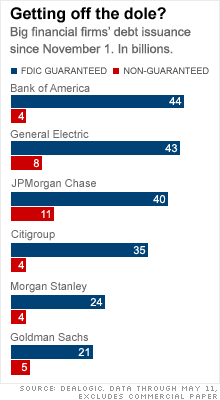 money.cnn.com/2009/05/12/news/fdic.guarantee.fortune/index.htm
How about retiring those FDIC-guaranteed bonds before handing out billions in bonuses, since you big banks haven't been doing much lending anyways?
"Citigroup
 and 
JPMorgan Chase
 are
hoarding cash
... The four largest U.S. banks by assets -- 
Bank of America Corp.
, JPMorgan, Citigroup and 
Wells Fargo & Co.
 -- have
increased their combined liquidity by 67 percent to $1.53 trillion
as of Sept. 30 from $914.2 billion in June 2008... In the third quarter, the
four biggest U.S. banks
posted a
combined 2.1 percent decline
from the previous quarter in net interest revenue --
what they earn on loans
and investments minus what they pay out on deposits and borrowings."
www.bloomberg.com/apps/news
"While the
smaller commercial banks were increasing their loan portfolios
during the last four weeks, large banks and foreign-related institutions were reducing theirs. For example, in the last four week period,
large commercial banks reduced total loans by almost $52 billion.
For the last 13-week period these banks have reduced all loans by $139 billion. And the decreases were all over the balance sheet: commercial and industrial loans were down by $27 billion; real estate loans were down by $40 billion; and consumer loans were down by $10 billion."
seekingalpha.com/article/172219-a-positive-trend-in-small-bank-lending
By the way, here are the latest from OIG and COP:
"FDIC's 20% Shorter 'Merit' Reviews Preceded Banking Failures... More banks subject to Merit exams may have been among the 120 institutions closed by the FDIC this year, the most since 1992, according to Deputy Inspector General Fred W. Gibson."
www.bloomberg.com/apps/news
"Taxpayers could have faced 'enormous losses' from the guarantees... The report reviews asset guarantees extended to Bank of America and Citi, the Federal Deposit Insurance Corporation's (FDIC's) Temporary Liquidity Guarantee Program and the Treasury's Temporary Guarantee Program for Money Market Funds."
www.risk.net/risk-magazine/news/1561596/moral-hazard-mispricing-arise-guarantees-cop
Right before our eyes, the once venerable FDIC gradually degenerated into an immoral conductor of the greatest wealth transfer in history, often at the expense of all American taxpayers that included depositors, investors, and creditors.  Its random and inconsistent decisions and actions are killing community banks and small businesses by sabotaging their attempts to remain independent and by destroying the credit and bond markets.  Its reckless involvement in TLGP and PPIP has severely weakened the strength of its insurance reserve specifically meant for deposit protection.  Worst of all, to compensate for its poor foresight and inadequate supervisory effort, the agency has proposed extra assessment fees and prepayment, hurting even healthy banks in order to save its insolvency.
Speaking of insolvency, GMAC is in trouble again.  Seriously, just how much riskier would it have been for FDIC to help CIT raise money than GMAC?  
"Fed Says All Banks Except GMAC Meet Capital Deadline"
www.bloomberg.com/apps/news
No wonder Zero Hedge congratulated FDIC for wasting billions on GMAC:
"Thank you Sheila Bair for putting another $2.9 billion of taxpayer money in harms way and with a virtually 0% probability of recovery."
www.zerohedge.com/article/cash-sink-hole-gmac-catches-last-tlgp-train-out-station-29-billion-free-issue
Make no mistake.
"The 
FDIC is protecting the too big to fail banks by giving them free money and letting them buy failed banks at unbelievable terms and prices
."
caps.fool.com/Blogs/ViewPost.aspx
"In 1998, the 
five largest U.S. commercial banks
 held 19 percent of total domestic deposits. In 2004, they held 27 percent. And since the Federal Reserve brokered marriages of the largest banks last fall, it is now 
40 percent
... 
Citigroup, Bank of America, Wells Fargo, and J.P. Morgan Chase don't even make the top 25 in highest savings interest rates provided
."
www.thedailybeast.com/blogs-and-stories/2009-11-02/how-big-banks-fleece-you/
Let me ask AGAIN: when is everyone going to wake up?
*imho*