Dear Most MSM In America: why are you allowing Ms. Sheila Bair to destroy this country by not covering her disastrous missteps as the head of the FDIC, Congressional mandated guardian for the life savings of all taxpayers, even the poorest ones?
No wonder they say love is blind, and beauty is in the eye of the beholder.  
Jamie and Sheila                                         Tiger and Elin
(Both happily married; but
we know FDIC loves JPM)
GOOD-BYE BANKS
GOOD-BYE LADIES
FDIC Sales:
Rumored Mistresses:
No Transparency/ 
Transparency/
No Trend
Cocktail Waitress Trend
   Latest Puget article                                              Rachel
  reported Wamu was
solvent and had lots of
cash, contrary to FDIC
   "liquidity pressure"
   reason for seizure;
  sold to JPM for $1.9
   billion; FDIC TLGP 
guarantee for JPM~$40
   billion; bondholders
   wiped out; ~10,000
    employess laid off                                                                     
     Expedited death                                                Jaimee    
  by FDIC's decision to 
      wipe out Wamu
 bondholders; originally
  forced by Ms. Bair to 
     sell itself over a
   weekend for $1 per
    share to Citigroup
 even though FDIC was
not the primary regulator
        for WFC or C
  (FDIC picked the very 
  same C that ended up
  receiving and has yet
paid back $50 billion TARP
money, $35 billion via TLGP
from FDIC, and over $300
billion in asset guarantee
    from government)          
"Flowers' Higher Bid for                                           Kalika 
BankUnited
Assets                                                   
 Lost to Kansas Group...                                 
[instead] the two sides
[FDIC/ Kansas Group]
ageed to share losses
   on $10.7 billion of                                 
      of assets;" not 
   least cost solution
          for FDIC                                   
www.bloomberg.com/apps/news?pid=20601087...
    A clear example of                                               Jamie     
   regulatory failure at
prompt corrective action;                                   
delayed seizure by FDIC                                 
AND COUNTING..
.
despite a self-reported
  negative core capital 
 ratio;
Guaranty Bank
       sold to foregin 
BBVA with FDIC entering
a $9.7 billion loss sharing
          agreement                                                                     
market-ticker.denninger.net/archives/128...
money.cnn.com/2009/09/24/news/companies/...
  Shocked by sudden and
    earlier than expected
  seizure in April; cost to
          FDIC ($191.2                              
  million) could have been
avoided had OTS and FDIC
     not ignored their own
    June 30, 2009 deadline
given to
First Bank of Idaho
     management to raise
               capital
www.fdic.gov/news/news/press/2009/pr0906...
www.idahostatesman.com/business/story/76...
FBOP
failed because of
 its heavy investment in
 FNM/FRE, not reckless
 or corrupt management
   practices; originally
promised TARP assistance
but due to rule change was
no longer eligible; funding in
place but proposal "has not
   been approved;" all 9
     banks sold to USB,
including two that did not fail,
because FDIC favored to sell
the whole franchise; USB now,
however, plans to break FBOP
  up and sell its three Texas
     banks; "Park National
     Bank didn't fail.  It was
    ambushed... the FDIC is
handing over to another bank a
reported $2.5 billion to take on
    Park National's assets."
www.wednesdayjournalonline.com/main.asp?...
http://archives.chicagotribune.com/2009/nov/03/business/chi-tue-fbop-nov03
http://www.fdic.gov/news/news/press/2009/pr09195.html
archives.chicagotribune.com/2009/oct/29/...
milwaukee.bizjournals.com/milwaukee/stor...
"New investments topped the
 $27 million [needed by
San
Joaquin Bank
to avoid failure]
mark that Friday afternoon" but
was seized and sold anyways,
   wasting FDIC $103 million;
"Shutting down a successful local
business bank does not strike me
as being in our community's best
interest. It is all the more puzzling
because the bank, in a heroic effort,
raised the capital needed to meet
  the FDIC's formula for liquidity."
http://www.finreg21.com/news/san-joaquin-banks-final-hours-bank-earlier-campaign-might-have-made-difference-0

http://www.fdic.gov/news/news/press/2009/pr09185.html

bakersfield.com/opinion/letters/x2990760...
  "U.S. regulators blocked
      the Chinese bank
  Minsheng from acquiring    
United Commercial
 Bank
in a deal that could
 have saved $1.7 billion in
   taxpayers' money and
insurance;" instead FDIC sold
  UCBH to another TARP
recipient East West Bancorp
 (who has yet paid back its
  own $300 million TARP 
money) and agreed to share
  losses on $7.7 billion of
               assets
www.reuters.com/article/rbssFinancialSer...
www.marketwatch.com/story/anointed-by-fd...
bailout.propublica.org/entities/146-east...
bailout.propublica.org/programs/1-capita...
AND COUNTING...

It took National Enquirer and TMZ to uncover Tiger's " transgressions."
Would it also take these tabloid news agencies, instead of the highly respected New York Times and Wall Street Journal, to reveal and discuss in detail the numerous mistakes made and unfair actions taken by our FDIC chairwoman, Ms. Sheila Bair?
At least Tiger issued an apology for allegedly cheating on his wife.
When does Ms. Bair plan to issue hers for:
1.
underestimating the severity of the financial meltdown while blasting Bloomberg for trying to warn her about the inadequacy of her insurance reserve last September, before the economic crisis was in full gear
;
---"Bloomberg reporter David Evans' piece ("FDIC May Need $150 Billion Bailout as Local Bank Failures Mount," Sept. 25) does a serious disservice to your organization and your readers by painting a skewed picture of the FDIC insurance fund. Let me be clear: The insurance fund is in a strong financial position to weather a significant upsurge in bank failures."
www.fdic.gov/news/news/press/2008/pr0808...
2. seizing and selling Wamu when it was neither insolvent nor illiquid (translation= bank robbery made legal, even from pension funds);


---"Now, further investigation reveals that, contrary to regulators' assertions at the time of the seizure, WaMu had sufficient liquidity and capital to meet regulatory standards and survive."
seattle.bizjournals.com/seattle/stories/...---"The Washington State Investment Board's funds will lose about $47 million because of the failure of Washington Mutual"
www.kirotv.com/money/17566614/detail.html
"

•

The administration board's total unrealized or 'paper loss' from WaMu holdings:
$195 million


•

Pension Fund (Florida Retirement System): $42.18 million in Wamu holdings; $8.8 milion was in stock


•

Florida Hurrican Catastrophe Fund: $41.28 million, all bonds and related securities, no stock"
cftlaw.com/news.php?category=Insurance+I...

"At least seven pension funds lost their private equity investments in Washington Mutual, following its failure and subsequent purchase by JPMorgan Chase... Investors in the $19.8 billion TPG VI include CalPERS, New York State Common Retirement Fund, Illinois Teachers' Retirement System, Washington State Investment Board, Los Angeles City Employees Retirement System and the San Francisco City & County Retirement System."


www.pionline.com/article/20080929/PRINTS...
3. inexplicably picking an "on-the-verge-of-collapsing" Citigroup to "rescue" Wachovia and in total contrast to her earlier actions in the Wamu fire-sale, saving WB bondholders and endangering billions of tax dollars to guarantee toxic WB assets
;
---"Citi will acquire 'the bulk of Wachovia's assets and liabilities,' the FDIC statement said. Under the agreement, Citigroup will absorb up to $42 billion of losses on a $312 billion pool of loans, while the FDIC will take losses beyond that. Citigroup has granted the FDIC $12 billion in preferred stock and warrants to compensate the FDIC for bearing the risk"
www.marketwatch.com/story/citigroup-to-b...
"The head of the
FDIC
said the agency is standing behind the agreement it made with
Citigroup Inc.
to buy
Wachovia Corp.
despite
Wells Fargo & Co.
's new $15.1 billion deal trumping Citigroup's plan."
www.nydailynews.com/money/2008/10/03/200...
---"U.S. Agrees to Rescue Struggling Citigroup... Plan Injects $20 Billion in Fresh Capital, Guarantees $306 Billion in Toxic Assets"
online.wsj.com/article/SB122747680752551...
4. destroying the credit and bond markets by seizing Wamu based on liquidity pressure and wiping out Wamu bondholders in an unprecedented move, respectively
;

---"The amounts deposited with the ECB rise from a daily average of 0.09 billion euros in the week starting September 1, 2008 to a daily average of 169.41 billion in the week of September 29, 2008... The amounts deposited with the ECB start rising after the collapse of Washington Mutual when the crisis spreads outside the investment banking realm."
www.newyorkfed.org/research/conference/2...
---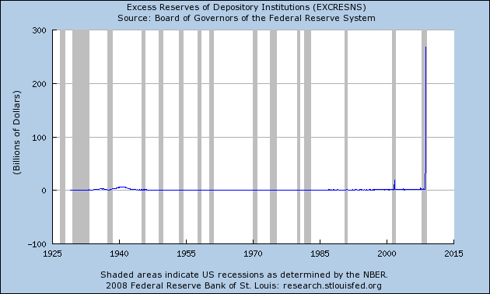 "This is a chart of the excess reserves held at the U.S. central bank.  The chart, compiled by the St. Luis Fed demonstrates that banks always lend out nearly every dime they can so as to make a profit.  They do not hold excess reserves at the Fed, sitting around making them no money.

But, notice how the blue line is flat near zero and then it spikes up to ridiculous levels close to $300 billion in 2008.  With our reserve ratio of 10%, that's nearly $3 trillion of lending that isn't being done.  Banks are scared out of their minds and are holding a huge amount of excess reserves... just in case- profits be damned.

This chart demonstrates that banks are not lending.  This chart explains why the money multiplier is contracting.  This chart explains why we have a credit crisis."
www.creditwritedowns.com/2008/12/chart-o...

5. playing favoritism;



---"Did FDIC Want CIT to Fail... Cramer pointed the finger directly at FDIC Chairwoman Sheila Bair. All the FDIC had to do was guarantee CIT's debt, as it had done for many other lenders, and that TARP money would have been safe. And get this – CIT put in for guarantees back in January, but Bair sat on the application and provided no reason why."
www.cnbc.com/id/32011061---"With the FDIC-backed TLGP program set to expire on October 31 (with a 6 month safety net optionality, whatever that means), GMAC did all it could to jump on the last train leaving the cheap taxpayer funded capital station. The government subsidized provider of car loans for cars nobody wants priced $2.9 billion of 3 year notes."
www.zerohedge.com/article/cash-sink-hole...---"Federal Deposit Insurance Corp. Chairman
Sheila Bair
said she may give banks including
Citigroup Inc.
and
JPMorgan Chase & Co.
a reprieve from raising capital to support billions of dollars of securities that firms will have to bring onto their balance sheets."
http://www.bloomberg.com/apps/news?pid=20601087&sid=aN2SJifeRtNs&pos=4
www.americanbankingnews.com/2009/12/04/f...
6. giving troubled banks deadlines to raise capital or find buyer but at the same time sabotaging their attempts to stay independent by offering better deals in secret (translation= interested parties would wait until AFTER FDIC seizure to buy these banks cheap)
;
---"Wachovia Suitors May Delay Bidding After Dimon's Deal for Wamu... 'WaMu's takeover has proven that there's an easy way, if the FDIC is involved,' said
Sean Egan
, president of Egan-Jones in Haverford, Pennsylvania. 'You kick the hell out of the equity holders and
bondholders
. That may be the new model for bank takeovers.'''
www.bloomberg.com/apps/news?pid=20601087...
---"This week potential buyers looking to acquire BankUnited (BKUNA) have asked the FDIC to put the bank into receivership prior to selling its assets.  This comes after BankUnited failed to raise sufficient capital to meet a $1 billion injection requirement by its May 4th deadline, prompting a warning by the Office of Thrift Supervision.  Now the vulture capitalists are circling in the hopes that the FDIC will put a bullet to the bank and hawk off the assets at a rock bottom price."
seekingalpha.com/instablog/407662-troy-r...


7. using TLGP (Temporary Liquidity Guarantee Program) to help guarantee billions in bonuses for Wall Street institutions that did little lending, when the program's original purpose was to improve credit crunch;
---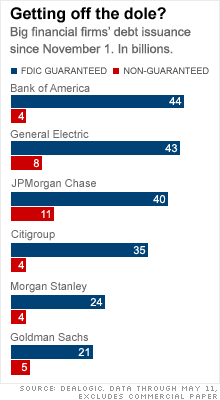 ---First-Half Revenue, Compensation and Head Count:
                                     Revenue       Comp       Employees Comp/Employee
Morgan Stanley            $8.36 bln     $5.91 bln            62,215*   $95,009
Goldman Sachs           $23.2 bln      $11.4 bln            29,400    $386,429
JPMorgan
Investment
Bank                            $15,672 bln   $6.01 bln            25,783    $232,983
*Includes 20,004 employees related to the Morgan Stanley Smith Barney joint venture with Citigroup Inc.
i2.cdn.turner.com/money/2009/05/12/news/fdic.guarantee.fortune/chart_debt.gif

www.bloomberg.com/apps/news

---"While the smaller commercial banks were increasing their loan portfolios during the last four weeks, large banks and foreign-related institutions were reducing theirs. For example, in the last four week period, large commercial banks reduced total loans by almost $52 billion. For the last 13-week period these banks have reduced all loans by $139 billion. And the decreases were all over the balance sheet: commercial and industrial loans were down by $27 billion; real estate loans were down by $40 billion; and consumer loans were down by $10 billion."
seekingalpha.com/article/172219-a-positive-trend-in-small-bank-lending

8. exacerbating lending crisis for small businesses by collecting 3-year prepayments from banks, including healthy institutions that played no part in causing this financial chaos and have actually been doing loan servicing
;
---"Ms. Bair aid that the prepayment proposal would have little impact on the ability of most banks to continue their lending businesses... Edward L. Yingling, president of the American Bankers Association... this prepayment will decrease the ability to lend"
www.nytimes.com/2009/09/30/business/economy/30regulate.html
9. terminating contracts and signing loss-sharing agreements in bank deals that ended up undermining Ms. Bair's own loan modification effort
;
---"F.D.I.C.'s October agreement with JPMorgan Chase and Washington Mutual allows Chase to pick and choose which of the city's 148 Washington Mutual branches it will keep. Chase will then turn over the rejects to the F.D.I.C. But here's the kicker: According to sources, the F.D.I.C. can then simply terminate the leases of those rejected branches, all contractual obligations void."
www.observer.com/2008/real-estate/it-s-w...---"If I'm OneWest, why would I want to waste my time negotiating through a Short Sale, when I can make the same amount of money (if not more) by just letting it go to foreclosure?  And we wonder why nobody can get a Loan Modification?  Why would OneWest approve a loan modification for this guy, when they can foreclose and make over $100k?  And, to add injury to insult, they have held this loan for 6 months!  Not a bad ROI, huh... This entire agreement between the FDIC and OneWest can be
found here
, on the FDIC website."
activerain.com/blogsview/1243528/is-the-...

10. advocating loan modification and payday loan programs without doing follow-ups on the effectiveness of these programs
;
---"Why Many Loan Modifications Fail... Chase disclosed in November that nearly a quarter of trial modifications had failed because the borrower did not make even a single payment, and that nearly half had failed to make all three payments required before the modification could become permanent."
www.nytimes.com/2009/12/04/business/econ...---"The Federal Deposit Insurance Corporation's (FDIC) two-year small dollar loan pilot program is proving to be a failure after one year, according to a recent critique of the program issued by Financial Service Centers of America (FISCA)."
http://sanfrancisco.bizjournals.com/prnewswire/press_releases/New_Jersey/2009/11/16/NY11152
11. openly violating FDIC statue;


---"Smaller banks are outraged over the one-time fee, Camden Fine, president of the Independent Community Bankers of America... Community bankers are feeling like they are paying for the incompetence and greed of Wall Street... Bair [DISMISSED] that suggestion... 'For risk-based assessments, our statute restricts us from discriminating against an institution because of size,' Bair wrote"

www.bloomberg.com/apps/news?pid=20601103...

"Big U.S. banks will shoulder a larger share of restoring the fund that guarantees bank deposits under a measure approved on Friday... Federal Deposit Insurance Corp Chairman Sheila Bair defended the formula saying large institutions deserved much of the blame for fueling the financial crisis by funding high-risk mortgages."
www.reuters.com/article/idUSN2239078120090522


12. intentionally using accounting tricks to draw positive interpretations of FDIC actions
;
---"'No-Risk' Insurance at FDIC"
www.nytimes.com/2009/04/07/business/07so...
---"New Rules!  Banks Can Lie About Commercial Real Estate Loans"
www.businessinsider.com/henry-blodget-ne...
---"Fudging Losses Is Easy When the FDIC Does It, Too... No wonder so many banks are delaying their losses. The Federal Deposit Insurance Corp. keeps showing them how, by doing the same thing with its own."
www.bloomberg.com/apps/news?pid=newsarch...

13. continuously attempting to save her ill-prepared agency and cover its dismal failure in supervision (revealed in many negative reports released by the FDIC Office of Inspector General) at the expense of everyone else besides the FDIC, including shareholders, bondholders, unsecured/secured creditors, insured/uninsured depositors, community banks, and small business owners
;
---"Ten of the 12
bank-collapse reviews
released by the Fed and Treasury inspectors general this year fault oversight weaknesses including failure to limit excessive concentration in commercial real-estate loans. Examiners from the Fed, and Treasury's Office of the Comptroller of the Currency and Office of Thrift Supervision also failed to issue enforcement orders and hold banks accountable for recommended changes... The FDIC's
inspector
general released 26 reports in the same period, citing similar concerns."
www.bloomberg.com/apps/news?pid=20601087...
www.google.com/hostednews/ap/article/ALe...
---"When Banks Fail, So Do Those Promised CD Rates... FDIC Allows New Owners to Slash Interest Payments on Deposits"
huffpostfund.org/stories/2009/11/when-ba...

---

"FDIC's Bair offers no comfort to uninsured IndyMac uninsured depositors... The bank's failure cost the FDIC nearly $11 billion."
latimesblogs.latimes.com/money_co/2009/1...
"The FDIC chairman has been an activist in bailing-out individuals in foreclosure regardless of cost or circumstance. A year ago she attempted to arbitrarily delay millions foreclosures and has inappropriately manipulated mitigation efforts within failed banks. (I note that her efforts preceded the spike in unemployment and as such were directed primarily at housing speculators and irresponsible borrowers)"

http://theaffordablemortgagedepression.com/2009/10/26/has-sheila-bair-found-religion.aspx?ref=rss

"As you can see in a liquidation depositors are subordinate only to statutory preference for employment and similar related claims; the entire capital strucutre of the firm has to be wiped out before depositors take any loss whatsoever... FDIC has not been and still is not following the black letter requirements of Prompt Corrective Action... You were, in essence, robbed by the government."
market-ticker.denninger.net/archives/155...
---"A U.S. government plan for a public-private investment fund to buy distressed assets to help clean up banks' balance sheets is likely to generate a 'healthy" profit' for taxpayers and investors, the head of the Federal Deposit Insurance Corp said on Wednesday."
www.reuters.com/article/ousiv/idUSTRE52A...
"The facts: in April, the average auction clearing price on the 331 loans the FDIC sold in January and February was 49.3%. In March, the number of loans FDIC sold in various auctions increased almost four-fold to 1,328, for a total of $470 million in book values of sales, with the average price dropping even more: the latest being at 46.4%"

zerohedge.blogspot.com/2009/05/fdic-sold...
---
"Mary Shapiro Must Immediately Investigate The FDIC's Confidential Leak Information In Another Blatant Insider Trading Case... Those questions were quickly put to rest when
it became known at 6:33 pm
that NYB would in fact receive FDIC subsidies to acquire newly failed AmTrust Bank in a transaction that would be 'immediately accretive to earnings...' No, those would conveniently be funded by Ms. Bair herself. The cost to the FDIC, and US taxpayers, to make NYB a richer enterprise: $2 billion."www.zerohedge.com/article/mary-schapiro-...
---"Ms. Bair is not happy having frozen the credit markets for months after hurriedly seizing WaMu, she wants to make sure that she freezes it forever! Her latest idea is to let the secured creditors take the fall for bank failures...

It is FDIC's job to insure banks against failures, and that job includes timely collection of premiums. If you neglected your fiduciary duty, then take the responsibility and resign from your post. But for heaven's sakes don't spew any more grand ideas. People who purchase bonds are traditionally averse to risk. If you make lending to banks risky, they will simply lend elsewhere.

Monitor banks closely and make new rules to decrease leverage, but to say that someone else should pay the price for you not doing your job, is not going to hold water."
sackbair.blogspot.com/2009/12/ms-bair-wa...
15. using the "delaying and pretending" tactics in bank seizures and sales, thereby immorally enslaving our children and grandchildren to billions of debts from future losses;

---"The FDIC is guaranteeing 9 billion in loans [in AmTrust deal]. The estimate is a bogus figure conceived by FDIC bureaucrats. They know that many of these loans will take a couple of years to default by which time they will be gone. These are the same type of loans that caused the S & L crisis."
online.wsj.com/article/SB125997349620477...
16. and WORST of all, ENGAGING IN POWER GRABBING AT THE EXPENSE OF THE INSURANCE FUND SPECIFIC FOR DEPOSIT PROTECTION, by overburdening the FDIC with billions of dollars worth of unwarranted liabilities ( i.e. TLGP, LLP, and loss sharing in bank sales)?  Why did Ms. Bair wait until early 2009 to ask for an extra $500 billion credit line increase from Congress, instead of demanding money from TARP/Stimulus Bill to help rebuild its DIF ratio that had already fallen below the Congresssional mandated minimum since June 2008?
---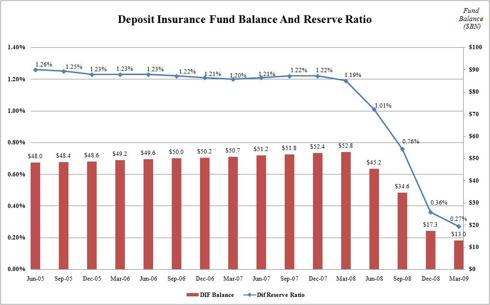 seekingalpha.com/article/140503-fdic-s-f...
Come on, MarketWatch.
Explain to America why Ms. Bair is still at the FDIC and demanding more power.
Then again, I am not an expert in economics or government regulation so humor me (and other confused average Americans) and please justify how all these actions have made her the protector for the little people and the only official who cared about Main Street.
*imho*
www.huffingtonpost.com/2009/12/02/tiger-...
www.eurweb.com/images/articles/200410/ti...
cache.daylife.com/imageserve/07NrcS4dtR1...

http://www.nypost.com/p/news/business/item_cJtqXk6HVxfgw2080oaK5I
http://bailout.propublica.org/entities/96-citigroup
http://wwwimage.cbsnews.com/images/2009/11/30/image5835082x.jpg
http://image3.examiner.com/images/blog/EXID9259/images/jamieegrubsvh1.jpg
http://files.clubplanet.com/sitefiles/ArticleImages/2187/kalika1.jpg
http://www.acc-tv.com/images/wjla/news/washingtonmututal_wamu0911.jpg
http://money.cnn.com/2009/05/12/news/fdic.guarantee.fortune/index.htm?postversion=2009051215
http://maheshkabra.files.wordpress.com/2008/09/wachovia1.jpg
http://cache2.asset-cache.net/xc/87924642.jpg?v=1&c=IWSAsset&k=2&d=17A4AD9FDB9CF19375C05EF07E24E8D623F69195DD6CCB60B01E70F2B3269972
http://www.blogcdn.com/www.dailyfinance.com/media/2009/08/guaranty-200bn080309.jpg
http://www.sunvalleyonline.com/images/member_images/articles/FBIFailsTh.jpg
www.chicagoarchitecture.info/CAI/Images/...

pinnaclecivilengineering.com/sitebuilder...
www.latimes.com/media/photo/2009-11/5034...
www.dailymail.co.uk/news/article-1233559...
*imho*