"Shareholders of Washington Mutual Inc formed an official committee on Monday to represent them in the bankruptcy of the bank holding company, according to court documents.

The committee was formed at the request of the U.S. Trustee and it comes as Seattle-based Washington Mutual is nearing what is likely the final months of its bankruptcy.

The formation of a committee usually occurs at the beginning of a bankruptcy. Equity committees have been rare in bankruptcies during the current economic downturn as companies have tended to be insolvent and weighed down with secured debt, leaving no hope of recovery for shareholders."
uk.reuters.com/article/idUKN1112058820100112
Before any of you Wamu haters started to complain about its corrupt management (yes we all knew about Wamu's infamous involvement in the subprime and option ARMs mess), this lawsuit was not about its horrible and unethical business practices.  This was a lawsuit against unfair and unaccountable government actions by financial regulators.
Wamu was seized because the OTS declared it a failure.  Where was the solvency analysis?
Wamu was sold for $1.9 billion by the FDIC because it was the least-cost-solution.  How much time did the FDIC actually spend evaluating Wamu's actual worth?
Days before shutting down Wamu and even on the official date of its so-called failure, OTS stated the bank was well-capitalized.  We also knew from court documents Wamu was most likely solvent.
In other words, Wamu "failed" not because it didn't meet regulatory standards but  because OTS/FDIC thought it was going to "fail."
Then there was the FDIC.  Throughout this economic crisis, current chairwoman Ms. Sheila Bair has continued to insist her insurance corporation was an independent agency.  If the insurance corporation were truly funded only by bank premiums, what was her logic in bragging that the Wamu-JPM deal cost taxpayers nothing, when our tax dollars should not even be relevant?
The FDIC didn't collect premiums for years, and many reports from the Office of Insepctor General clearly demonstrated it was just as a poor federal regulator as OTS, OCC, and the Fed.  The truth was, Ms. Bair's agency did not have enough money to cover the deposits in any big bank failure.  Yet to save itself, the FDIC was willing to sacrifice thousands of jobs and billions of dollars from investors including pension funds and creditors and sell Wamu at any price:
"[Jamie Dimon] noted that his company was the only bidder for WaMu's assets, saying, 'We could have paid a dollar and still won.'"
seattletimes.nwsource.com/html/businesst...
Most America assumed Wamu failure was a given and that the OTS and the FDIC saved everyone.  
Go ahead and google what the Wachovia affiliates had to say.  Go ahead and google New Frontier Bank, First Bank of Idaho, FBOP, and other bank failures and discover what those involved had to say.
The abuse of power has expanded in an astounding rate, thanks to very limited MSM report.
This was why now we have:
"Record bonus pot at JP Morgan... JP Morgan Chase is set to defy calls for constraint over bankers' bonuses this week when it delievers an expected $29 bn...for its executives."
www.telegraph.co.uk/finance/newsbysector...
Can the Executive Branch justify its role in extending billions of arbitrary guarantees without first receiving Congressional approval for the $500 billion FDIC credit line increase?

"Since the Temporary Liquidity Guarantee Program, or TLGP, took effect last November, financial firms have issued more than $330 billion worth of federally backed bonds and notes at below-market interest rates."
money.cnn.com/2009/05/12/news/fdic.guara...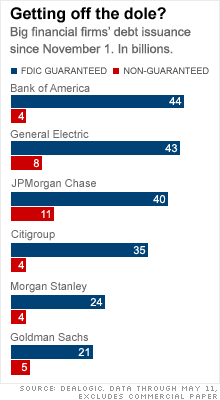 i2.cdn.turner.com/money/2009/05/12/news/...
Can the Executive Branch justify secrecy in its dealing with Wamu, a PUBLICLY-TRADED bank owned by shareholders?
"The fight for Wamu documents

"
seattle.bizjournals.com/seattle/blog/200...
"A federal trial judge in Washington on Thursday indefinitely postponed her consideration of a Washington Mutual Inc. lawsuit that seeks billions of dollars from the Federal Deposit Insurance Corp. stemming from the government's seizure of the holding company's banking assets in 2008...
The FDIC had asked Collyer to proceed with her consideration of the case and to dismiss most portions of WaMu's lawsuit.
Collyer denied those requests."
money.cnn.com/news/newsfeeds/articles/dj...
"The U.S. trustee assigned to the case last month surprised some observers when it revealed in court hearings that it wanted to explore the formation of such a committee."
www.thestreet.com/story/10657890/1/wamu-...
Can the Executive Branch justify the seizure and fire-sale of a solvent financial institution without proper compensation and accountability under US laws and Constitution???
"The new powers would be sweeping. On Tuesday, FDIC Chair Sheila Bair told CNBC the new authority would allow the government to undertake a 'controlled orderly unwinding' of a failing financial company.

'It would enable the government to come in, repudiate employment contracts, pick and choose who you want to keep, who you want to get rid of, what you want to pay them, replace the management, get rid of the boards and bring in better management,' she said."
www.msnbc.msn.com/id/29899529/wid/119157...
"I'm enclosing a few more documents filed through the BK court in regards to a declaration of Thomas M. Blake
(www.crai.com/ProfessionalStaff/listingde... ).
The declaration can be found in 103-4.pdf at
http://www.mediafire.com/?sharekey=3b830df9f3d0e6fce7c82ed4b8f0c380aff12395630f22f3ce018c8114394287
'Quoting:
12. Based on my review to date, there is no indication that the OTS performed a solvency analysis consistent with the test for insolvency specified in the Bankruptcy Code. There is no indication that the OTS assessed the fair sale-able value of the assets of WMB (or WMI). Nor is there an indication that OTS compared the fair sale-able value of the assets of WMB (or WMI) to the total amount of either company's respective liabilities. There is no indication that the OTS performed a comprehensive cash flow analysis of WMB (or WMI). Instead, the OTS found that 'WMB met the well-capitalized standards through the date of receivership.'8 Thus, without a thorough analysis of the assets, liabilities and capital of WMI and WMB, it is not possible to come to a reliable conclusion concerning the financial solvency of either entity, whether on a consolidated or stand-alone basis.'"
http://seattle.bizjournals.com/seattle/blog/2009/12/the_fight_for_wamu_documents.html
*imho*