"President Barack Obama rolled out a $30 billion small business lending program Tuesday, as the White House tried to make congressional passage of its jobs initiatives a test of Republican commitment to bolstering the weak economy."

online.wsj.com/article/SB10001424052748704022804575040722955784294.html
Excuse me, Mr. President, but something's way off here.
Remember TLGP?
Back in 2008, FDIC Chairwoman Ms. Sheila Bair made the following statement regarding TLGP:
"I expect that the industry will take full advantage of this guarantee. I'm confident that the program, working in complement with the Treasury's Troubled Assets Relief Program and the Federal Reserve's Commercial Paper Funding Facility, will achieve its intended purpose to help insured banks increase lending in a responsible way to consumers and businesses."

atlanta.bizjournals.com/atlanta/stories/2008/11/17/daily100.html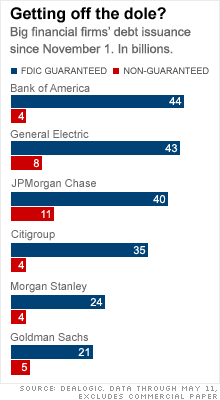 i2.cdn.turner.com/money/2009/05/12/news/fdic.guarantee.fortune/chart_debt.gif
Sorry to disappoint you, Ms. Bair. 
These banks haven't been doing much lending.
So where did all that money go?
"Major U.S. banks and securities firms are on pace to pay their people about $145 billion for 2009"

online.wsj.com/article/SB10001424052748704281204575003351773983136.html
No wonder these bankers needed to get their bonuses NOW!

"Banks Are at Risk Once Cheap Gov't Loans Dry Up... By some time in 2012, about $309 billion of government-guaranteed debt outstanding under the Temporary Liquidity Guarantee Program (TLGP) will mature...
The rise in debt costs...will implicitly reduce banks' ability to lend," said Tim Backshall, chief strategist with Credit Derivatives Research, LLC."
moneynews.com/InvestingAnalysis/emergency-funding-government-banks/2010/01/29/id/348435
*imho*