One of a kind, exclusively made in the U.S. of A.!
We gave banks TARP (NASDAQ:
TAX
) money,
freerisk.org/wiki/images/thumb/0/05/TARP_bonuses.jpg/800px-TARP_bonuses.jpg
they gave themselves bonuses,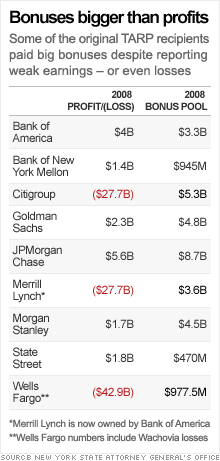 i2.cdn.turner.com/money/2009/07/30/news/companies/bonuses_tarp/chart_bonuses_profits.03.gif
stole from us, 
"

A government list of previously unidentified 'co- conspirators' contains more than two dozen bankers at firms also including 
Bank of America Corp.
, 
Bear Stearns Cos.
, 
Societe Generale
, two of 
General Electric Co.
's financial businesses and Salomon Smith Barney, the former unit of 
Citigroup Inc.
, according to documents filed in U.S. District Court in Manhattan on March 24...
None of the firms or individuals named on the list has been charged with wrongdoing. The court records mark the first time these companies have been identified as co-conspirators. They provide the broadest look yet at alleged collusion in the $2.8 trillion municipal securities market that the government says delivered profits to Wall Street at taxpayers' expense...

'If the government is saying they are co-conspirators, the government believes they have sufficient evidence that they can show they were part of the conspiracy,' said 
Richard Donovan...
The government's case centers on investments known as guaranteed investment contracts that cities, states and school districts buy with the money they receive through municipal bond sales."
www.bloomberg.com/apps/news
and then stole more, now legitimately!
"Tax-Break Battle Flares
J.P. Morgan in Talks for $1.4 Billion; Stimulus Gives $12 Billion to 250 Firms"

online.wsj.com/article/SB20001424052748704896104575139830746680218.html
*imho*