"WaMu Judge Rewards Shareholders, Susman For Fighting On"
amlawdaily.typepad.com/amlawdaily/2010/06/wamushareholders.html
Sorry.
It was more like "Wamu judge backs shareholders' demand for transparency and consistency in the bank seizure, receivership, sale, and settlement."
"The

U.S. trustee, a government officer who oversees bankruptcy cases, said he supported the appointment of an examiner to try to head off 'miring the process in protracted litigation.'"
www.reuters.com/article/idUSTRE6525YZ20100603
Yes, Wamu management was corrupt.
Yes, Wamu was a reckless lender.
No, Wamu did not fail that Thursday.
When our financial regulators, who were un-elected officials by the way, could seize solvent and well-capitalized institutions (no matter how much trouble these banks might be in) on their whim, it was a tragic blow to the American justice system.
"Second, the FDIC did not acquit itself very well in its assisted sale of WaMu to JPMorgan. Senior bond holders were
subordinated
to uninsured depositors and counterparties even though these claimants were legally entitled to be treated 'equally and without preference.' The FDIC's ability to (ignore standard bankruptcy procedures and) decide unilaterally which equal status creditors would receive 100 cents on the dollar and which would receive nothing likely spooked investors, whose analyses of
maximum potential losses
were shown to be premised on a legal stability that does not, in fact, exist in extrajudicial resolutions. Proponents of having new resolution authority outside of the bankruptcy code conveniently overlook the
enormous losses
incurred by senior unsecured creditors to WaMu and the contribution those losses had to the freeze in interbank lending."
http://www.economics21.org/commentary/all-senators-should-watch-their-claims-about-ending-bailouts
I kept on reading about how shareholders and bondholders were greedy hedge funds.
Wrong.
"The Washington State Investment Board's funds will lose about $47 million because of the failure of Washington Mutual, state officials tell KIRO 7 Eyewitness News… Florida's Pension, Hurricane Funds Have Millions In WaMu Holdings… Pension fund (Florida Retirement System): $42.18 million in WaMu holdings… Florida Hurricane Catastrophe Fund: $41.28 million… At least seven pension funds lost their private equity investments in Washington Mutual, following its failure and subsequent purchase by JPMorgan Chase… Investors in the $19.8 billion TPG VI include CalPERS, New York State Common Retirement Fund, Illinois Teachers' Retirement System, Washington State Investment Board, Los Angeles City Employees Retirement System and the San Francisco City & County Retirement System."
seekingalpha.com/instablog/387205-ppy/7349-fdic-contradictions-and-lies
To all naysayers, what if it was your bank that was taken over while others were getting billions of guarantees from the same FDIC to fight the very same liquidity pressure?
For Wamu And Wachovia
:
"Bair said regulators deemed it was necessary to act as the company had come under 'severe' liquidity pressure."
money.cnn.com/2008/09/25/news/companies/JPM_WaMu/index.htm
"FDIC officials contacted Wachovia executives and said the bank would not be able to open for business on Monday, Sept. 29, because of its liquidity problems. The FDIC instructed Wachovia to negotiate with Citi, which was the only remaining bidder for Wachovia. On that Monday morning, Steel told the company's board that it had two options: Place Wachovia into bankruptcy, or seek a government-assisted deal with Citi and the FDIC. The board voted to seek a deal.
After announcing the deal, Wachovia was under 'tremendous pressure' [ for $1 per share] to complete its merger agreement with Citi, the suit says, because the FDIC had indicated to Wachovia that it would seize the bank unless the merger documents were completed by Monday, Oct. 6."
www.bizjournals.com/kansascity/stories/2008/10/06/daily7.html
For Goldman Sachs, GMAC, and Others
:
FDIC's Temporary Liquidity Guarantee Program-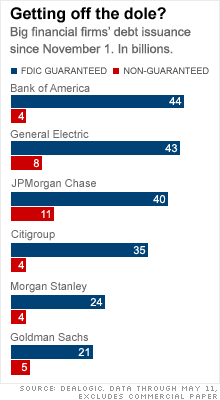 money.cnn.com/2009/05/12/news/fdic.guarantee.fortune/index.htm
"According to FDIC Chairman Sheila Bair, "The TLGP has been very effective at helping

financial institutions

bridge the uncertainty and dysfunction that plagued our credit markets last fall."
problembanklist.com/fdic-to-end-bank-loan-guarantee-program/
Yep, Sheila. 
Go ahead and credit your agency for helping your buddies, no sorry I mean "too big to fail institutions," out of trouble.
*imho*