Introduction
Apple has been criticized for over a year now for many of the issues the company has been facing. Over the past few weeks, AAPL has been flying back to current levels of around $114.92 a share. The move upward was mostly after news of the iPhone 7 release, but does this mean the worst is over?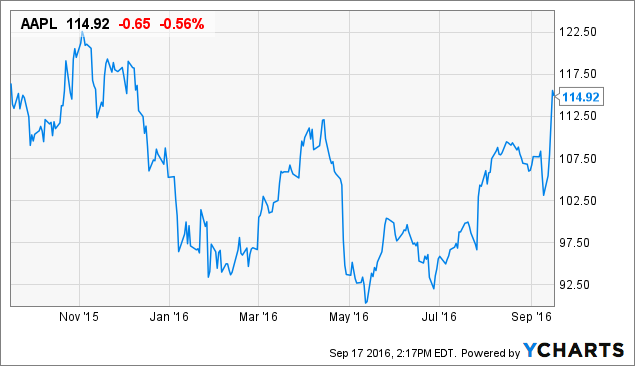 The Long Case For Apple Inc.
Everyone knows by now that Apple has unveiled the new iPhone 7 at its annual event last week. Starting at around $649, dedicated apple enthusiasts are probably already receiving their phones by now. There is one thing I can't escape thinking during a new iPhone cycle, will this be another record setting release? Some of the major changes to the phone have been attributed to the headphone jack, water resistance and an overall sleeker design. I personally think the most important catalyst for the iPhone 7 is iOS 10 and processing performance that is said to be 120 times faster than the original iPhone. This could be the iPhone of the future.
After iPhone 6 sales that shocked the world, I believe that the consumer upgrade cycle will perpetuate over the life of the iPhone 7. It has been about two years since the last model (not including the 6s) and I think that current iPhone users are hungry for what's next. This is the phone everyone has been waiting for, but whether or not it exceeds the standards is up to the consumers to decide.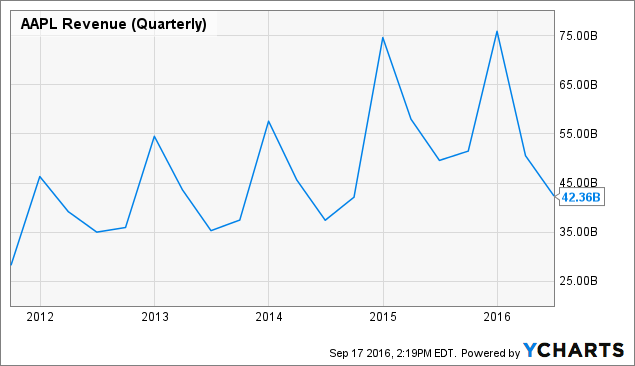 AAPL Revenue (Quarterly) data by YCharts
Alongside the iPhone 7 release was the Apple Watch series 2. Some changes to the watch included water resistance, brighter display and WatchOS 3. I am not certain if these changes will open the floodgate for mass consumer acceptance of wearable technology, but Apple will need to make major product progress in the future with iPad sales falling and Mac sales slipping.
Another category that Apple is recognizing to build upon is the services category. I believe that there is more legroom that the company will take advantage of. As of the last earnings call, Apple services have just about passed Mac sales. App store sales have grown 35% year over year and iCloud continues to expand. It was also noted by Tim Cook that Apple Pay grows by about 1 million users per week.
What to do
I have been a buyer of AAPL around $95-100 per share. I have a price target upwards of $130 per share.
Disclosure: I am/we are long AAPL.
Additional disclosure: All of the items presented in this article reflect my personal opinions. Please use your own judgement when investing.