Company Background
Gilead is a research based bio pharmaceutical company the discovers, develops, and commercializes therapeutics to advance the care of patients who suffer from life threatening diseases. It's primary focus is around HIV, AIDS, liver disease and serious cardiovascular and respiratory diseases. The most lucrative products currently in Gilead's pipeline are Sovaldi and Harvoni, for Hepatitis C patients.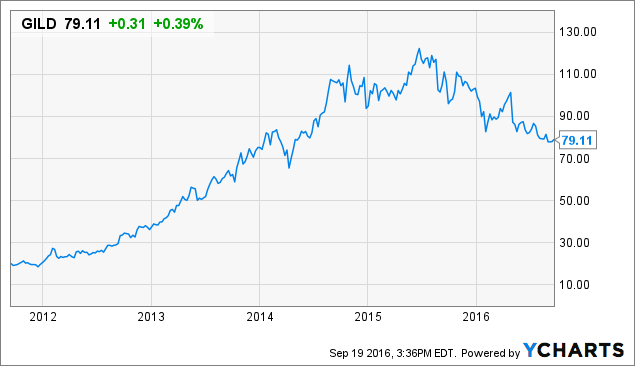 A Possible Acquisition Coming?
Gilead has been one of the biggest and most notable biotech powerhouses over the past few years. It's revenue growth has been astounding and it has been awarded for its performance, building a very large cash reserve. One of the biggest concerns that GILD is currently facing stems from declining sales from its top products, Sovaldi and Harvoni. With these accounting for the majority of its revenue, it is an important question that the company must answer.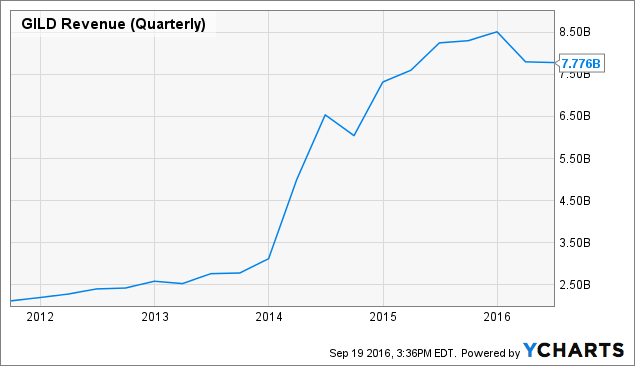 GILD Revenue (Quarterly) data by YCharts
This week, GILD has announced something that has raised some speculation among investors. The company has announce that it would price $5 billion of its senior unsecured notes, maturing between the years of 2022 and 2047. The offering is expected to close by September 20th. The company released that it intends to use the proceeds for "general corporate purposes". This vague description could involve a wide variety of activities including repayment of debt, working capital, payment of dividends or a possible future acquisition. Could this be what every Gilead investor has been waiting for? A strategic acquisition could be the boost that offsets the falling sales of Solvadi and Harvoni.
Valuation
Gilead trades at a very low valuation compared to others within its industry at only 6.74 P/E. To put that into perspective, Celgene (NASDAQ:CELG) is currently trading at 37.37 P/E, Amgen (NASDAQ:AMGN) is currently trading at 17.57 P/E, and Biogen (NASDAQ:BIIB) currently trades at 17.19 P/E.
With GILD now sitting at $29.5 billion in cash, it seems to be a very attractive investment. But whether or not they will chose to take action with their massive cash pile will be the cataylst for a move forward.
Speculation
There are endless possibilities of companies that Gilead could acquire. I think one notable stock that should be on the radar is Vertex Pharmaceuticals (NASDAQ:VRTX). This company seems like it would be attractive because of its advancements with Cystic Fibrosis and Cancer Therapeutics.
Disclosure: I am/we are long GILD.
Additional disclosure: All of the items presented in this article reflect my personal opinions. Please use your own judgement when investing.