Open Letter to Global X Lithium & Battery Tech E TF (NYSE: LIT)

Dear Global X Funds:

First of all, I would like to congratulate you on the stellar success of your fund management company. Growing AUM from $0 to $6B+ in ~10 years is an impressive feat – you have been an early pioneer of ETF investing, in particular through Smart Beta/Enhanced Indexing strategies, and have caught a fantastic wave as these investment vehicles are very much a "red bike" of our day.

                  Largest ETF Fund Management Companies ($000s)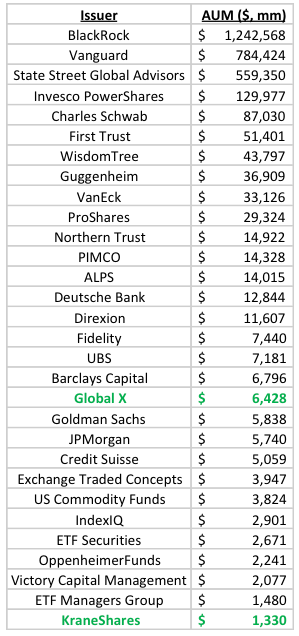 Source: ETF.com

I am a strong believer of ETF and passive strategies – Vanguard's John Bogle is a hero of mine and for much of the investing world.  Virtually every saver should have some target dated strategies with low cost passive funds for at least a portion of their retirement or college savings.

You should consider this letter as some free business advice – although, to be clear, this is NOT investment advice nor any solicitation to buy or sell any securities. I also hope it is a public service to all those who are long individual lithium equities and would likely benefit if you follow my suggestions.

Global X was a pioneer with its 2010 LIT launch during Lithium 1.0.  As we have been in Lithium 2.0 now for some 22 months, however, I observe that Global X has adjusted LIT too slowly and awkwardly given the current lithium market dynamic.

Like lithium exploration assets, or lithium social media commentary like this one, the ETF business is not one of high barriers to entry. In a hot space, low or adequate quality can do well for a while, but over time, high quality product matters.

LIT, as currently configured, is a low-quality product. It is not adequately filling the clear market void for pure-play, diversified exposure to lithium equities highly leveraged to high lithium prices – in the same way other commodity ETFs provide such exposure to those commodity prices. That you changed the name of LIT earlier this year from Lithium ETF to the Lithium and Battery Tech ETF looks to me like a doubling down against providing pure-play upstream raw materials exposure.  This is a big mistake.

It is a great accomplishment that LIT has more than tripled assets this year to $500M+ and LIT is now Global X's third largest ETF.  But it is obvious that LIT is benefiting from its monopoly position. LIT is very ripe for competition from rivals like Van Eck, or perhaps an upstart.

LIT, like the Global X Copper ETF (NYSE: COPX) or the Global X Uranium ETF (NYSE: URA) and Van Eck Junior Gold Miners ETF (NYSE: GDXJ), should be a pure-play, comprised mainly of upstream lithium producers and developers.  Investors don't need LIT for exposure to TSLA or Panasonic and 10 other smaller battery companies. Battery companies, like solar panel manufacturers, operate in a highly competitive industry with many players, the winners and long-term profitability of which is very unclear.  I see battery companies as more inversely than positively correlated to the fortunes of upstream raw materials companies who, due to existing Oligopolistic concentration, are in the cat bird seat with significant pricing power and substantial and sustainable profit margins.

I realize that the vastly disproportionate weight by market cap among the largest lithium producers is an ETF constraint – the 5 and 50% rule – as is the fact that many of the smaller companies are not yet producing.  But the same applies to uranium, which has less than 50% of the investable market cap compared to the lithium universe.  A half dozen new Emerging Lithium Producers are rising steadily in market cap which should reduce this index weighting constraint.

I realize further that two of the Big 5 producers – Tianqi (SHE: 002466 and Ganfeng SHE: 002460)-- are "A Shares" listed on the Shenzen stock exchange, which has historically been an impediment to index inclusion, but that's changed. Your 100%-China-focused peer Krane Funds seems to have cracked the code in enabling US investors great access to China-listed opportunities. They just launched another China-only ETF "One Belt One Road" (NYSE: OBOR). I expect their $1B ETF AUM will grow substantially in coming years. As it is virtually impossible for US investors to own Tianqi and Ganfeng directly, LIT would be further differentiated to provide this exposure.

If you must include some non-upstream lithium names to LIT, or if you need some larger cap names or more producers rather than too many non-producers, I'd suggest LIT use its 20% discretion to invest outside the stated lithium index objective with other upstream battery-correlated resources, rather than downstream battery makers.  For example, Glencore (OTCADR: GLNCY) for copper/cobalt. Turquoise Hill (NYSE: TRQ) for copper or Ivanhoe Mines (OTC: IVPAF, TSX: IVN) for copper and platinum. South 32 (OTC: SOUHY; ASX S32) for manganese.  Syrah (OTC: SYAAF: ASX: SYR) as a graphite proxy. Clean TeQ (OTC: CTEQF, ASX: CLQ) for cobalt sulfate and nickel sulfate pure-play exposure. Or Cobalt 27 (OTC: CBLLF, TSX: KBLT).

Within the lithium space, LIT is missing important lithium constituents. And the weightings of constituents that it does contain are not even close to a proper reflection of the lithium market.

FMC Corp (NYSE: FMC) continues to represent 25%. Seriously? Perhaps 10-15% of FMC's $12B value is their lithium business – perhaps $1.5B of value. In buying LIT, investors are getting 85-90% exposure to FMC's non-lithium businesses which are in no way correlated to the lithium or battery materials thematic.

LIT's 60% one-year performance is nothing to sneeze at and it is this performance, in addition to "red bike" lithium, that has caused LIT's 3X rise in AUM after 6 relatively disappointing years. But LIT's performance should have been better given one-year performance of Ganfeng (+203%), SQM (NYSE: SQM +142%), Albemarle (NYSE: ALB +77%), Tianqi (+99%) and Lithium Americas (OTC: LACDF, TSX: LAC + 81%) as of this writing.

LIT also had great luck with the irrational 25% FMC weighting, which saved its performance, rising 90% due principally to its agriculture chemical business (merger with DuPont's Ag business), not lithium.

LIT's 4.5% ALB weighting for $14B market cap should be much higher given 50%+ of ALB's EBITDA comes from lithium.

Your inclusion and weightings for SQM, Lithium Americas, Galaxy, Orocobre (OTC: OTCPK:OROCF), Nemaska (OTC: OTCQX:NMKEF), Pilbara and Bacanora, on balance, are reasonable. And no doubt had some meaningful impact this month on a stock like LAC: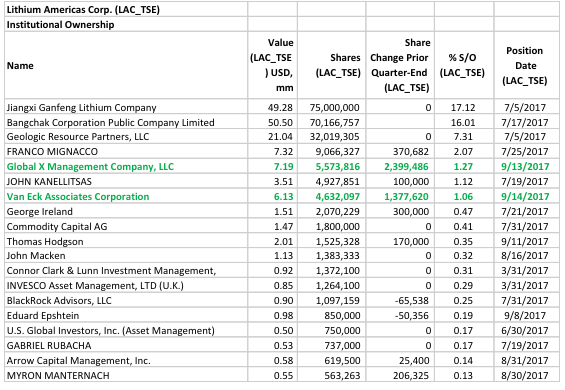 Source: Ipreo
But, in addition to missing behemoths Tianqi and Ganfeng, LIT offers no exposure to Mt. Marion, one of the biggest new producing lithium mines. $3B+ market cap Mineral Resource (OTC: MALRF, ASX: MIN) and Neometals (ASX: NMT) should be added.  Likewise, fully funded and now $300M+ Altura (OTC: ALTAF, ASX: AJM) as well as Kidman Resources (ASX: KDR) who is partnered with SQM.

Further, there are many advanced exploration and development stories with market caps not far from and in some cases above Bacanora levels. Several of these have or might – like Kidman – experience substantial re-ratings on discoveries and funding toward production.  LIT should include a large number of these to provide some diversified exposure to what is the Venture Capital end of the lithium spectrum – potential 10+ baggers.  See below a universe worthy of consideration into LIT. If of interest, I would be happy to further advise you on which ones I think make most sense.

Finally, by creating more of a Lithium pure-play, LIT will also provide investors a diversified vehicle to short. The London Metals Exchange is thinking about creating a Lithium Index, which SQM and others think are highly unlikely, so LIT has a huge opportunity to capture investors pursuing this strategy.

I believe LIT could rapidly grow another 3-5X to $2B+ if you follow the above thought process. And risk another entrant challenging your monopoly position, if you don't.

Warm Regards,

Howard Klein
aka, Lithium-ion Bull (Forest Hills)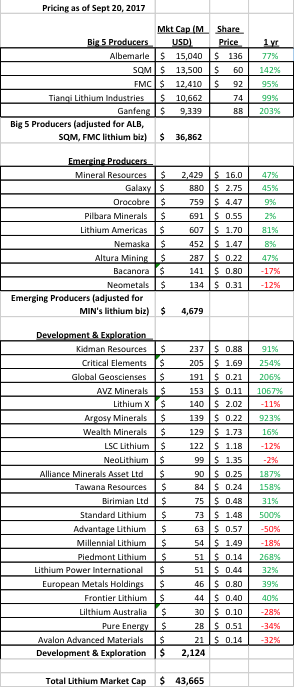 Source: Google Finance, RK Equity
Disclaimer

Lithium-ion Bull (Forest Hills) is a periodic publication, written through my advisory firm RK Equity Advisors, LLC. I may act, or may have acted in the past, as a financial advisor, or capital raiser for certain of the companies mentioned herein and may receive, or may have received, remuneration for services from those companies. I, RK Equity as well as their respective partners, directors, shareholders, and employees may hold stock, options or warrants in issuers mentioned herein and may make purchases and/or sales from time to time, subject, of course, to restricted periods in which we may possess material, non-public information. The information contained herein is not financial advice and whether in part or in its entirety, neither constitutes an offer nor makes any recommendation to buy or sell any securities.
Disclosure: I am/we are long LAC, AJM, NMT, KDR, ML, AAL, CLQ, NMX.