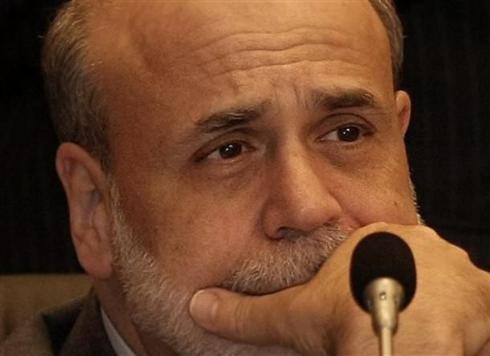 QE3? Coordinated Joint Effort? Mortgage Bonds? Treasury Twist? How Much? When?
What is Bernanke thinking???
Important questions that need to be answered for SPDR Gold Shares, GLD, iShares Silver Trust, SLV investors. Riskier investors such as double multiple ETF's ProShares Ultra Silver, AGQ, and ProShares Ultra Gold, UGL, might be praying for QE. Both AGQ and UGL are near 52 week lows. Gold mining stocks, such as Market Vectors Gold Miners ETF, GDX, and Direxion Daily Gold Miners Bull X3 Shares, NUGT, who have been hit hard for most of the year, may see the biggest returns. ETFS Physical Platinum Shares, PPLT, and ETFS Physical Palladium Shares, PALL, will benefit as well.
Chicago Mercantile Exchange Gold Spot Prices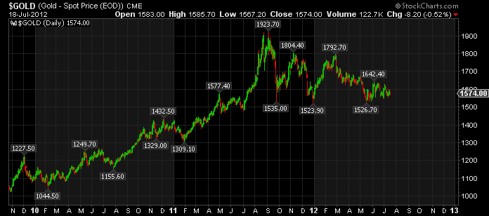 Chicago Mercantile Exchange Silver Spot Prices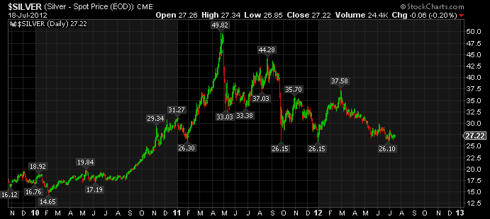 Bernanke schedule should be taped to your fridge. These dates are very important for investors all over the world. Most market moves take place shortly before or after FOMC meetings. Below is a chart and schedule of the FOMC meetings for the remainder of 2012. Bernanke will likely use one of these meetings to announce QE3. Markets will gather more volatility as each date passes by.
SPDR S&P 500 SPY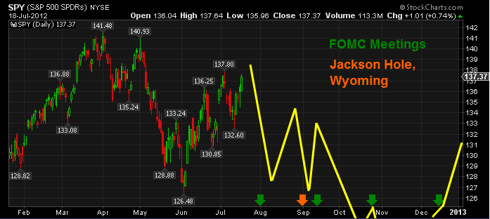 July 31-August 1 (Tuesday-Wednesday)
September 12-13 (Wednesday-Thursday)*
October 23-24 (Tuesday-Wednesday)
December 11-12 (Tuesday-Wednesday)*
* Meeting associated with a Summary of Economic Projections and a press conference by the Chairman.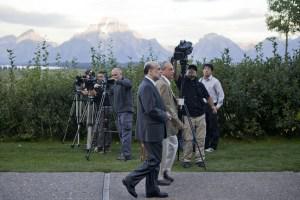 On August 29, 2010, an election year, Bernanke announced QE2 at the Jackson Hole, Wyoming summit. This year Bernanke will present the annual symposium in late August. The end of August could be the date gold and silver investors are fed some hints.
We also know many markets and economies around the world are slowing at an accelerating pace. Not only is Europe double dipping into recession territory, but so are the BRIC countries. Here are the BRIC ETF's; iShares MSCI Brazil Index, EWZ, Market Vectors Russia, RSX, Wisdom Tree India Earnings, EPI, and iShares FTSE China 25 Index, FXI.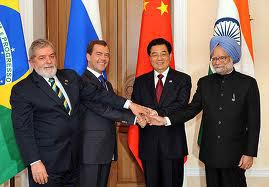 It does seem possible Bernanke might be waiting for other nations Central Banks to lower interest rates before engaging in another round of easing. That might even include smaller developing nations in South East Asia and South America. Emerging Countries that would be included are traded in both iShares MSCI Emerging Markets Index, EEM, and in Vanguards MSCI Emerging Markets ETF, VWO.
The European Central Bank (ECB) is also considering expanding its own Long-Term Refinancing Operation (LTRO). Seeking Alpha contributor Eric Parnell covers the Fed, ECB joint effort. Eric points out since the inception of the LTRO, the ECB and the Fed have coordinated there efforts to stem economic slow downs.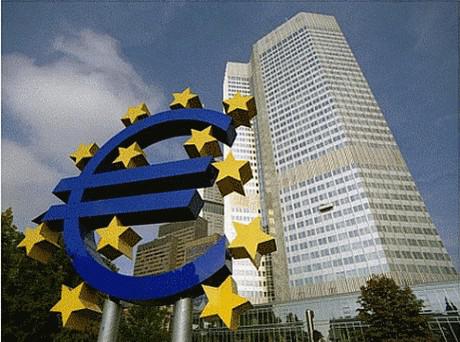 2012 dates remaining for the General Council of the ECB.
19 July 2012
2 August 2012
6 September 2012
19 September 2012
4 October 2012 (hosted by Banka Slovenije)
18 October 2012
8 November 2012
22 November 2012
6 December 2012
19 December 2012
US Dollar, rebounding since May of 2011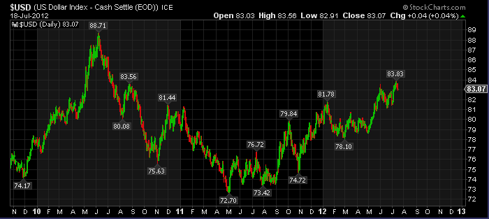 Euro, declining Since May of 2011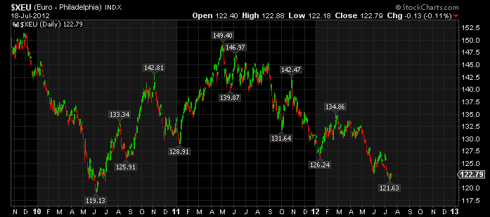 Gold and silver will not only be the prime movers with QE3. Currency ETN's will also see big action. CurrencyShares Euro Trust FXE, will move up quickly, as well CurrencyShares Swiss Franc Trust, FXF. Both Euro and the Franc are currently near 52 week lows. With QE3 PowerShares US Dollar Bullish Index, UUP, will move inverse to the Frac and the Euro. UUP's open interest and near penny prices on both puts and calls imply both high risk and big rewards. Many traders are hedging market moves with UUP options. Going long with PowerShares US Dollar Bearish Index, UDN, would be a wise move as well.
UUP Options Expiring January 18 2013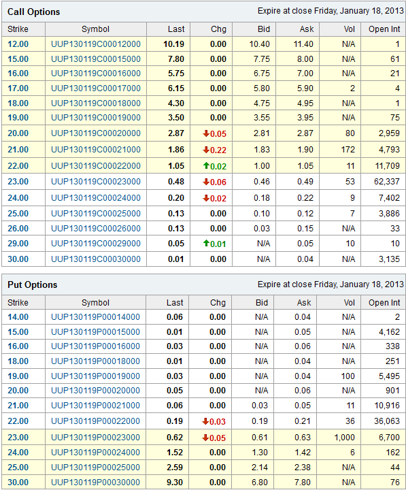 Under current law, on Jan. 1, 2013, there's going to be a massive fiscal cliff of large spending cuts and tax increases," Bernanke told the House. The trifecta of disaster; debt limit, sequestration on spending, tax cuts -- if not corrected will surely put our economy in an ugly recession with even higher unemployment than the last recession.
Bernanke is likely waiting to see commitment or no commitment from congress before deciding on QE3.
2012 Congressional Calendar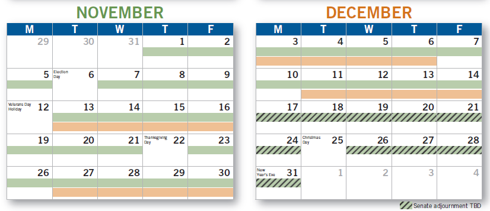 I wouldn't bet on Congress getting anything done before January 1st 2013.
I have concluded the US Federal Reserve is pinned. The world is slowing but not enough to merit any action from the Federal Reserve. Bernanke must wait and see if congress can muster out at least a tax compromise. Until we close in on 2013, Bernanke cannot possibly know how much easing the economy needs.
Right now your best bet is to sit tight. If September 15 passes by with no QE, it might be time to bet against the markets or take out some insurance versus your long positions. You have many options, two of my favorites are iPath S&P 500 VIX, VXX, or ProShares Ultra Short S&P 500, SDS. If you are going to stay put, you might want to buy some insurance. Financials will also be hit very hard without QE3, Direxion Financial Bear 3X Shares, FAZ is a safe hedge against your long positions.
Disclosure: I have no positions in any stocks mentioned, and no plans to initiate any positions within the next 72 hours.