TomTom is a company in the navigation and location industry which has faced difficult times, due to competition from Google free navigation on Android based smartphones, as well as a large debt after buying a 2.9 billion euro mapmaking company TeleAtlas, financed with debt.
Untill a year ago there has been a lot of negative sentiment driving this 'turnaround stock', after which its price seems to have bottomed and somewhat improved. Partly because Apple has become a major customer of their data. And because in a few weeks time TomTom will reach a net cash position after a long period of repayments.
It is my belief that from here, things are starting to change for the better.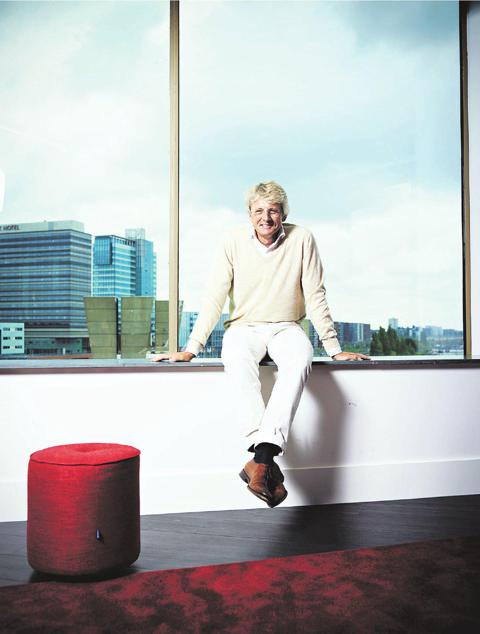 TomTom's CEO was interviewed in a Dutch newspaper this weekend (Dutch).
An interview which might again fuel speculation about TomTom being an acquisition target for a large handset manufacturer like Apple. Apple could use TomTom's scarce mapping expertise to expand and improve their Maps application and other location based services (LBS). Since LBS are a very important differentiator for smartphones and commercially relevant for local search, given how fast local searches convert to shop visits.
Some analysts suggested that Apple wants to buy the company, but the founders of TomTom were not willing to sell. In his recent interview CEO Mr. Goddijn, one of the founding father claims that he is not unwilling to sell his company if the offer is in a clear shareholders interest. "We're not going to [block anoffer and] sit here because we just like our work and enjoy the view".
He also admitted that TomTom is thinking of scenarios where the company will be split in separate parts, to release 'hidden value' in the company. Which is significant change in tune for Mr. Goddijn who untill recently seemed underwhelmed by or even disconnected to investor sentiment and the value of the company on the stock market.
Maybe he tried to disconnect to the negative, in order to remain focussed on steering the company to clear waters. Also, from his point of view investors have little understanding in the markets TomTom operates in, and opportunities in growth markets like the 'connected car' and location based services.
Now that the company is out of debt and still generating significant cash, TomToms CEO focus seems to be shifting towards creating shareholder value. A change that could be the result of sharper "conversations with investors", as stated in the interview.
Splitting the company could also attract buyers who are not interested in buying the company as a whole, but are interested in either their maps, mapping technology, traffic information service, IP, hardware business or a long list of contracts in the automotive industry.
Mr Goddijns remarks come at the same time where TomTom is becoming debt free after a 5 year struggle to repay banks after an expensive acquisition at the end of 2007. TomTom will report their second quarter earnings and show a net cash position on the balance sheet in a few weeks time.
Here are some excerpts of the interview:
On value
"The consumer side of our business contributes to the brand TomTom, but it conceals the true value of the business and our growth opportunities. It is difficult to predict the consumer market. This also partly explains are current shareprice. [...] While the market for location-based services increases. The same applies to developments in the automotive industry, where TomTom hopes to leverage its expertise in smart cars which can communicate with each other and drive semi-automatically"
On a possible split-up
Even though TomTom examines the possibilities to split the company (the Business Solutions division, according Goddijn can easily stand on its own), the CEO believes that TomTom has come into calmer waters than in 2009. "It was really scary when the crisis hit and retailers did not supplement their stocks and we had this huge loan on our balance sheet. The acquisition of Tele Atlas weighed heavily on the balance sheet." Since then TomTom has been able to bring back this debt significantly.
On potential buyers and sharp debates with investors
Goddijn remains silent when asked if there is a buying interest for TomTom. Silence. The CEO looks over the Amsterdam IJ river from the 6th floor of TomToms building. Then he says: "The acquisition of Waze by Google led to some sharp debates. This I notice in conversations with our key customers and investors. If an offer is interesting we will need to look at the interests of all shareholders, Goddijn emphasizes. We can not just sit here because... We enjoy the view. Possible interested parties, except Apple, are Samsung, LG, Sony, Facebook, Yahoo and Amazon.
On a new series of navigation devices launching this week
"We already knew we had to renew the navigation software in our products. We noticed that we could not grow with our current software." This week the new result hits the stores. Personal navigation devices that feel more like a smartphone, with 3D buildings and a greater role for traffic. A "fresh start" Goddijn claims. "Wednesday we celebrated it with a party for the entire TomTom staff."
He hopes that the new software 'NavKit' will make their existing customers of navigation devices do an upgrade. He sees promising developments in the German and UK markets. As sales volumes remain stable over there. Southern Europe is still not doing well.
On Google buying Waze and TomTom's value
"Earlier this month, Google paid to the surprise of many, more than $ 1 billion for start-up Waze. Promptly all eyes focused on TomTom. For it is a navigation specialist with a market value of about 850 million euros and an annual revenue of 950 million. A company which owns strategic geographic knowledge, live traffic information and a valuable map database. If a start-up with a staff of 110 is acquired for a billion dollars, what would happen with TomTom and what is their value?
"You can not compare us with Waze" says Goddijn. "Such start-ups have no earnings. We are a company with 3,500 employees and earn money. 22 years"
Background information.
TomTom is a company with a revenue of roughly 1.25 billion dollars, which has four major business units.
Consumer is a consumer related business unit. Revenue from Consumer accounts for just below 50% of the total group revenue. It is a business that consists of personal navigation devices. A category that is in decline by 15% per year. The Consumer devision also recently announced a new series of sports watches. A growing market where Garmin has been proving to earn significant revenue at high margins.
Business solutions is a logistics related business unit. Revenue accounts for 10% of total group revenue, with high margin 'Webfleet' subscription revenue. Services consist of specific services like job dispatch for logistics companies. It supports fuel savings, hours savings and allows for better customer support (being able to tell a customer how long a package will be underway). A segment that is estimated to grow at an annual growth rate of about 17,9%
Automotive represents 25% of TomTom revenue. TomTom's Automotive devision is a supplier of built in navigation devices at customers like Renault, Fiat and Mazda. Since recently Automotive
also licences components to car manufacturers, enabling them to build their own in-dash infotainment solutions, using tomtom technology.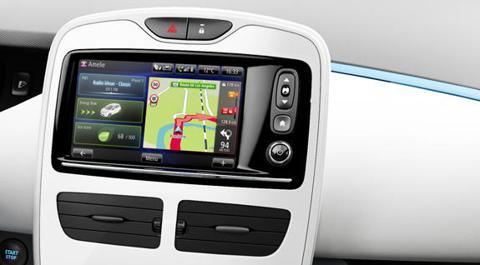 This has lead to signing Toyota and Mercedes to use TomTom traffic information in all their cars, starting the second half of 2013 (Toyota) and 2014 (Mercedes). TomTom will also offer maps, traffic information and routing software to all Peugeot and Citroen cars starting 2015, and cars by Qoros a new Chinese manufacturer. Qoros will be the first customer to use TomTom traffic information which will be released in China this year.
Automotive revenue has been in decline because of slumpy car sales in northern Europe and dramaticly decreased carsales in southern Europe. However, I expect TomTom Automotive revenue to increase due to recently signed deals with carmanufacturers, as mentioned above. Also the connected car market is expected to triple by 2018.
Licensing represents 15% of TomTom revenue. The TomTom Licensing business unit licenses maps and traffic information to global handset manufacturers like BlackBerry, Apple, Samsung, navigation device manufacturer MitAC and application developers like Intel owned Telmap, Telenav and MapQuest.
In October 2012 an ex BoA analyst wrote an extensive strategic rationale why Apple would or should want to acquire TomToms licensing business. The map licensing market is expected to grow by 14% in the coming years.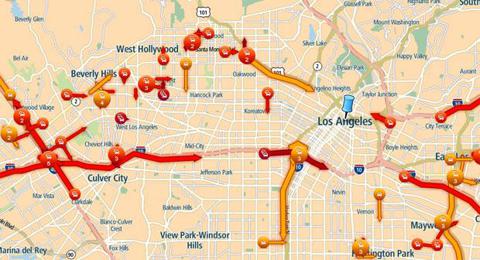 TomTom also licenses traffic information to cities who want to improve their traffic management.
Why split the company in seperate units?
40-50% of TomTom's revenue is derived from content and services, like maps and traffic information. On the EBIT level this contribution is far higher, as Content & Services on average have a 200% higher gross margin than the other 60% of the business.
Content and services revenue is also poised to grow due to contract wins with automotive customers and collaboration with Apple that is likely to broaden. At some point hardware sales are not important for TomTom on the EBIT level, while decreasing hardware revenues are still overshadowing the company as a whole.
TomTom might be able to divest some of its hardware business or start to spinn off the Consumer division's 'Personal Navigation Devices' (PND), as Philips has done with its tv development. Maybe a partnership with Asian manufacturer MiTAC can be found.
There could be other reasons to split the company, though. Apple, Samsung or other handset manufacturers might be interested to acquire the Licensing part of TomTom's business. Where the strategic maps and traffic assets lie. They might not be interested in owning the rest of the company, like the consumer side.
The automotive devision, with its contracts with numerous car manufacturers can be an interesting target for suppliers of technology to the automotive industry like Harman or Continental. Garmin could also be interested, they are eyeing the automotive industry and already acquired German navigation expert Navigon, to buy them into relationships with the Volkswagen group.
The business solutions part can remain a profitable and growing business in its own right. The Consumer side of the business might be spun off, but for now they can wait and see if their new product meets the required consumer interest. Alongside with their new sports watches line and navigation applications for iOS and Android.
No dividend, but small acquisitions and R&D
In a few weeks TomTom will report their 2nd quarter earnings report. In this report TomTom will report a net cash position. After acquiring global map maker Tele Atlas for 2.9 billion Euros (USD 3.8 bn), which loaded the company in a huge debt in the midst of a financial crisis, they have managed to deleverage and become cash positive for the first time in 6 years.
Note that TomTom currently trades at a market cap of 900 million, because of insecurity among investors about their future. A marketcap 3 times smaller than they payed to fully own and create global maps.
During the last three years, TomTom has been cutting costs to meet repayment oligations to its financiers. Now that the company is in a net cash position, some analysts suggested TomTom might be paying a dividend.
A dividend is not going to happen soon though, according to TomTom's CFO. Instead of paying a dividend, TomTom wants to do some small bolt on acquisitions, increase their marketing and R&D efforts and further improve their balance sheet. Some of these acquisitions can be technological, and some can be cash generative. Which suggests TomTom might be able to strengthen its market position, balance sheet and profitability. Something investors might appreciate even more than a dividend.
The figures below gives some insight in how much TomTom can increase their R&D and marketing after redemption is done:
2012 Repayments: 140 million
2012 Research and development expenses: 166 million
2012 Marketing expenses: 57 million
Disclosure: I am long OTCPK:TMOAF.