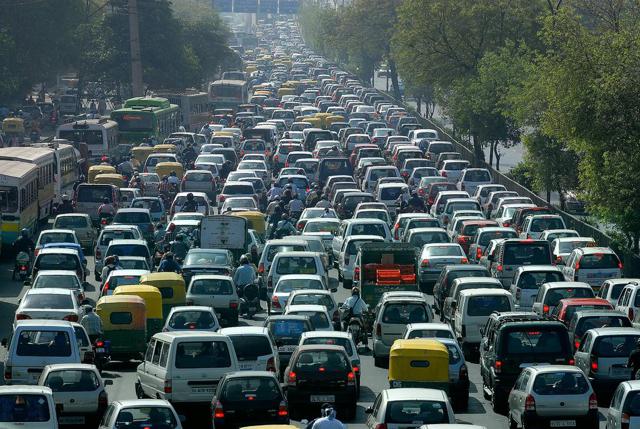 TomTom, leader in traffic information
TomTom reported Q1 results yesterday, with a stable revenue and 3% decrease in gross margin due to strengthening of the US dollar. Management re-iterated it's guidance of a 5% revenue growth year on year. Revenue growth is expected in the second half of 2015 on the back of new consumer products, which will be presented on a 'consumer launch event' on April 29th in Amsterdam.
Management discussed their earnings with analysts, who were anxious to hear TomTom's response to the news that their biggest competitor in the automotive space, Nokia Here, is for sale. Bloomberg and analysts blogs suggested possible interest from Uber, Microsoft, a consortium of three German carmakers, Facebook, and private equity.
Highlights:
on HERE
Management does not want to speculate who will be the future owner of Nokia Here. One analyst suggested: If the sale takes a long time, could that lead to increased opportunities to sign deals with carmakers, who are uncertain about HERE's future and commitment to carmanufacturers? Management of TomTom stated that they follow developments closely, but it's too early to tell. We are only at the first stage of a bidding proces.
Management tried to sound as calm and understated as possible, but obviously these are interesting times. [According to an analyst it is rumored that Harman Int. has recently been showing interest in acquiring TomTom. Maybe because Harman sees take-rates of digital maps in cars increase strongly, because they want to grow in services rather than hardware and because of a research agreement between TomTom and Volkswagen on developing technology for autonomous cars.]
on differences and similarities with Nokia maps
Analysts tried to assess TomTom maps assets value when compared with Nokia Maps. CEO comments:
* in terms of coverage (countries, roads) both are quite similar
* Nokia currently has a higher marketshare in automotive (estimated: 70%/30%) but TomTom are enjoying share gains
* TomTom claims to have an edge in automated mapmaking and automated processing of sensor and probe (Apple) data.
"We know how much we spend internally (on mapmaking), we have a good estimate of what others are spending. And then if you look at the end results then I think it's safe to say for us that we are a lot more efficient. We get more bang-for-buck, than any other mapmaker. The thing that we are really trying to get across is that map making in the old days - in the old way - is not going to work, it's too expensive. We need to find more effective ways of doing that. And we'll affect these platforms to deliver those maps and maintain those maps and do that to a high degree of automation. That's where we've been focusing on."
on Automotive bookings
Automotive book-to-bill is 200%. TomTom now bills 110 million per year, and booked 220 million of orders in 2014. There is a time lap of two years between booking an order and shipping to new cars. Management thus expects their revenue "to grow significantly" from 2016 and onwards, based on planned deliveries that start in Q4 of this year. Bookings in 2015 are expected to exceed bookings in 2014. So that will come out at 220 million+.
on Technology
Good progress has been made with migrating country databases to a new map-making platform. "This new platform technology is fundamental to our future and will transform our digital map process from a quarterly batch process to one in which our map is continuously releasable and that can swiftly and automatically process sensor and cloud source data".
on Bosch and Volkswagen
The letter of intent between Volkswagen research and TomTom to create maps for automated driving has come to a new stage. "There's a number of tests that are being performed. The maps that you need for Highly Automated Driving is very close to making first production samples, as a result of our partnership".
Bosch is TomTom's partner in bringing driver assistance systems (ADAS*) features to the market. Together with Bosch, TomTom is working on processing information from sensors on cars in an automated way. "Results are promising".
[*about ADAS: "This enables Bosch to develop more advanced applications including intelligent cruise control, upcoming curve alerts, and jam tail warnings, which are all critical components for car manufacturers developing the latest standard in automated driving systems" (from: tomtom.com/automotive).]
on Building a scalable business
CEO Goddijn: "I think it's important to understand that we are building platform products. Software components, technology components that are used by the third-party developers which can be tier 1s or independent software developers who can use those components to quickly build navigations solutions for connected cars. So in that perspective the business scales infinitely. Now, at the same time, we have more customers, you have more customers' demands for specifics, for specials and what have you. So it's not linear, it's not completely scalable, but you know this business can grow very substantially while having to add a little overhead. That's the whole principle how we build this business and how we structure it and that and that seems to work."
Other, non maps and automotive related bites
on Consumer revenue
Personal navigation devices (PND) revenue continues to decline modestly. Sports revenue expected to double (new product releases underway - GoPro-like action camera's rumoured). As a result, total Consumer revenue (PND + sports) are trending up.
on Licensing revenue
Licensing revenue was up 3 million in the quarter. Mainly due to higher revenue from traffic licensing, including their US based customer Clear Channel.
on Telematics revenue and acquired businesses
Telematics, the business that targets fleet owners, continues to grow at the same pace.
Three acquired businesses are based on earn-out of management. Earn-out refers to a pricing structure where the sellers must "earn" part of the purchase price based on their performance following the acquisition. In this case management of acquired businesses have a target to converting the installed bases (27.000 users per acquisition) to TomTom's own WEBFLEET platform, over a period that takes about 18 months. A low percentage (2-5%) of subscribers were lost from that.
on Gross margin
Strengthening of the US dollar has a 3% negative impact on gross margins. This effect will disappear as everyone in the business is facing this problem and will adjust pricing accordingly. Average selling prices are expected to rise in the coming quarters. Also market share gains in PND were experienced at the end of the quarter. Weakening of the euro is helping exports to some extent.
Conclusion
This year TomTom grows 3 out of 4 businesses and next year probably 4 out of 4, when the automotive business starts to 'grow significantly', based on roll-out of orders booked in 2014.
For investors (and TomTom) the most interesting will be who becomes the future owner of Nokia HERE. This acquisition can represent an enormous upside for the stock if the price will be 2bn Euro (book value) or higher. Investors will then revaluate TomTom's mapping assets who are similar. TomTom's total enterprise value - of which maps are just one part - is now at 1.7 BN euro. This includes TomTom's Telematics and Consumer business, which Nokia does not have.
It can also represent opportunities or threats, depending on who acquires Nokia HERE. Microsoft, UBER or private equity should not hinder TomTom in their growth aspirations or could even leave them some room to grow in markets they are not interested in.
If Apple acquires Nokia HERE, it would mean a big loss of a customer (Apple uses TomTom data), but it would also drive carmakers from Nokia to TomTom, as some carmakers are not so keen on working too closely with Silicon Valley tech giants. If a consortium of carmakers acquires HERE it would be the other way around. TomTom might lose some business in the auto space, but it will also drive TomTom deeper in the hands of Apple and their CarPlay initiative.
Either way, TomTom will then be the only independent mapmaker left in the business; with 'acquisition target' written all over it.
Opportunities or threats? What do you think?
Disclosure: The author is long TMOAF.