By Harish Mali, SNL Financial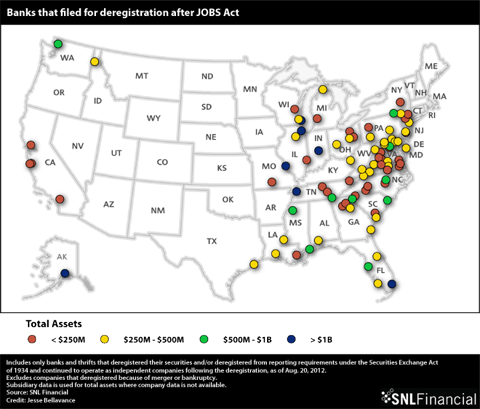 Twenty-five more community banks have deregistered their common stock with the SEC in the last three months, increasing the total number of deregistration filings to 87 since the JOBS Act was signed into law April 5.
The Jumpstart Our Business Startups Act increased the threshold under which a bank or bank holding company may terminate registration of a security to 1,200 shareholders of record from 300. It also raised the threshold requiring companies to register under the Exchange Act to 2,000 shareholders from 500.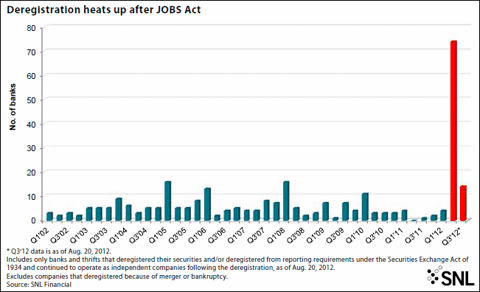 Soon after the enactment, many community banks queued up to gain freedom from reporting to regulators and to cut down compliance costs. A total of 87 banks have filed for deregistration after the JOBS Act. That is greater than the total number of banks that deregistered in the last 18 quarters before the JOBS Act, excluding the banks that deregistered because of merger or bankruptcy.
All of these recent filers had more than 300 shareholders on record, which was the old threshold. That implies that none of them would have qualified to exit in the absence of the JOBS Act. Of these, 70 are small community banks with less than $500 million in assets and only seven had more than $1 billion in assets.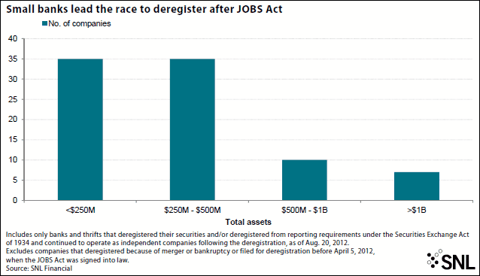 Most of the deregistering banks have plans to continue to trade on the OTC Bulletin Board, and they assured investors that financial information will continue to be available on a timely basis through company websites and regulatory filings like call reports.
Raleigh, N.C.-based North State Bancorp was one such company to file a Form 15 on Aug. 1. Larry Barbour, the company's CEO, said in a press release dated July 24, "The decision to deregister from the SEC was driven by a desire to achieve substantial annual savings by reducing the accounting, legal and administrative costs associated with being an SEC registrant. Annual savings are estimated to be approximately $150,000 to $200,000 per year. We believe deregistration will not affect trading in our common stock, which we expect will continue to be quoted on the Over the Counter Bulletin Board."
Anchorage, Alaska-based First National Bank Alaska is the largest bank in the herd to file for deregistration, with total assets of $2.9 billion at June 30. The bank expects to generate annual savings by reducing accounting, legal and administrative costs.
Another recent volunteer to apply is Oak Creek, Wis.-based Tri City Bankshares Corp., which filed Aug. 8. The company described the regulatory change as a big win for community banks as eliminating the SEC reporting requirements would result in significant savings in professional fees for auditing and legal services, and it would reduce time spent by management and staff to prepare, review and file reports.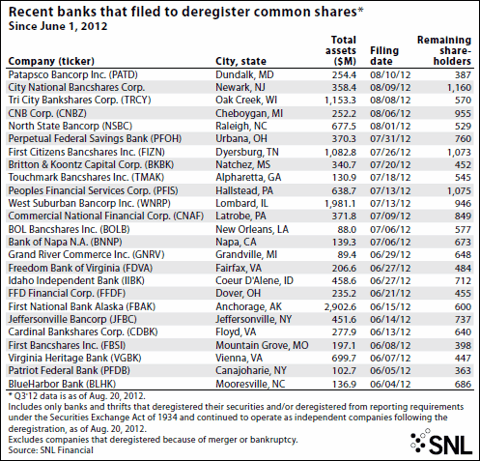 According to SNL data, there are 213 major-exchange traded banks and thrifts in U.S. with fewer than 1,200 shareholders at a record date later than June 30, 2011, and that filed their securities with a filing agency. These banks have median assets of $831.6 million, and more than half of them have less than $1 billion in assets.

Disclosure: I have no positions in any stocks mentioned, and no plans to initiate any positions within the next 72 hours.