Ex-Employees Are Surprised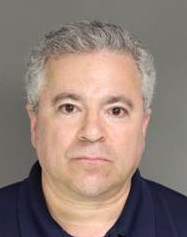 Charles K. Schwartz
CEO Allied Health Care Services
Born: September 18, 1953
Weight: 185 Pounds
Hair Color: Gray
Eye Color: Brown
Complexion: Light
(mug shot: Essex County Corrections Facility)
Charles K. Schwartz, 56, of Sparta, N.J., was arrested September 1st by special agents of the FBI at Allied Health Care Services offices in Orange, New Jersey. He was charged with $87 Million Fraud Millions in Loans Based on Phony Medical Equipment Lease Agreements.
September 8th he was granted $2 million bail with a surety bond to be secured by real property with several restrictions, but remains in Essex County Jail, according to the Essex County Corrections Warden's Office. Most of his real property, except reportedly for his residence, is held as collateral by Sun National Bank, Vineland, New Jersey where he guaranteed over $15 million, as well as 24 bank complaints, including liens, as well as the FBI has testimony from the seller of equipment that the equipment never existed. There are other government entities who also have potential claims.
The ex-employees were surprised by his arrest:
"It's terrible when you give a company your all; you figure if you work hard that there's no reason why you would suddenly be out of a job. Then poof, in comes the SWAT team with machine guns, moving fast, taking over, and life as you know it changes immediately, though no fault of your own. We were all scared to death. "
As the many banks and leasing companies could not find information on the internet, neither could the employees. Allied Health is a very common name and a search at best might bring up Allied Health Care Services, Orange, New Jersey. The company never had a web site. Charles Schwartz is such a common name, a search would have not found any early stories written by Leasing News, let alone all the bogus leasing. It was a major surprise to the ex-employees Leasing News spoke with:
"We still haven't even been paid for the last week of work. I'm not very hopeful, but the trustee does say we will be paid. This situation left all of us in quite a bind. Our medical benefits naturally are gone; it's real scary."
As to the actual number of respirators in use, Leasing News through a broker working on the package in March, 2010, received these answers from Charles K. Schwartz, who relayed them:
"How many Lifecare units do you have on lease and or own outright?
"4,425 Half are leased and they own the other half."
"How many people are using these units and what do they pay each month per unit?
1,450 to 1,475 patients and he said that most have 2 to 3 units each for back-up."
When ex-employees were asked by Leasing News for a guess of how many patients on respirators were being services, it was a far number from what was allegedly leased.
"If I had to guess, I'd say around 50 patients, each with at least 2 units. Certainly, the number of oxygen recipients is way higher, not counting CPAP & BiPAP."
"CPAP is Continuous Positive Airway Pressure device, it's what you sleep with on your face if you're diagnosed with sleep apnea, keeps the airway open. BiPAP is the same, just with some extra settings. These devices, along with ventilators and oxygen, require constant maintenance and upkeep by licensed respiratory therapists. A second machine is required in case the first fails. They are all rent to purchase."
"We specialized in respiratory, but dealt with all types of Durable Medical Equipment. Everything from walkers, wheelchairs, hospital beds, adult diapers, and the like. We had 22 employees including customer service, office management, billers, respiratory therapists, file clerks, salespeople and drivers/technicians."
Another ex-employee told Leasing News: "I believe one of our respiratory therapists has been hired at AtHome. (The trustee had AtHome appointed to take care of Allied customers-editor.) I would assume he should be able to assist them in identifying all the ventilator patients."
The FBI indictment alleges a $67 million fraud, and the inside knowledge from the vendor indicates perhaps all his invoices were fraudulent.
The Allied Health Care Services 2008 Federal Income Tax return (1) shows $349,126 pension fund. In the course of its journalist investigation, creditors told Leasing News they never verified this as pensions were not considered a company asset. Several of the ex-employees were asked if they were aware of its disposition. Here is one reply:

"I haven't heard anything about the pension fund; the general belief is that it is gone. The last I heard, the trustee was 'looking into it.' He has been very nice, responding to questions. I am sure he has his hands full."
In related news, six of the 19 leasing firms or banks who have filed against Allied Health Care Services have closed their complaint as both the business and personal bankruptcy may precede the action.
In the matter of De Lage Landen vs. Bruce Donner and Donner Medical, the attorney for the defense argues jurisdiction, harm, and other factors that De Lage Landen is in Pennsylvania and Donner is in New Jersey and Donner had an arrangement with Allied Health Care Services.
(1) 2008 Allied Health Care Services Federal Income Tax Return:
http://leasingnews.org/PDF/Allied_2008_Corporate_Return.pdf
FBI Legal Complaint (testimony from vendor included):
http://leasingnews.org/PDF/Schwartz8208complaint.pdf

Schwartz Bail Requirements:
http://leasingnews.org/PDF/Schwartz8202bail.pdf
Donner Medical Equipment Position to Dismiss Charges:
http://leasingnews.org/PDF/Donner_Medical.pdf
Disclosure:
no position