The amount of money deposited in bank accounts reached a new high of $10.3 trillion on June 30 - an increase of $139 billion in the first six months of this year despite decreasing interest rates, Dan Geller, PH.D., executive vice President of Market Rates Insight reports.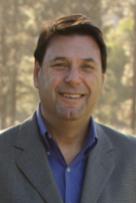 Dan Geller, PhD
"In the current economic environment, the greater the amount of money deposited in banks, the lower interest rates will go." said Dan Geller, Ph.D. Executive Vice President at Market Rates Insight, "as long as lending is soft, deposited money is becoming more and more expensive to banks since they have to pay interest on the increased amount of deposits, as well as deposit insurance to the FDIC."
The highest increase in account balance occurred in regular savings accounts, which increased by $192 billion to a new record amount of $1.7 trillion. Money Market accounts showed a modest increase of $16 billion to a new record of $4.0 trillion. The increase in deposit balances occurred even though interest rate currently paid on Savings accounts is only 0.13 percent; and on money market accounts only 0.12 percent.
All other major account types experienced a decline in balances during the first six months of this year. The largest drop occurred in checking accounts, which decreased by $34 billion to a balance of $1.4 trillion. Certificate of deposits balance decreased by $16 billion to a total balance of $1.8 trillion. Interest rate currently paid on checking accounts is less than one-tenth of one percent (0.09%), and the average interest rate on all CD terms, from three months to five years, is 0.46 percent.
Despite these low interest rates, banks are making record profits from other products that they offer, as noted in the article above.
According to SNL Financial, the Federal Reserve are increasingly looking at cutting the rate the bank pays on reserves banks hold at the central bank. SNL examined which depositories are keeping the highest percentage of their tangible assets at the bank.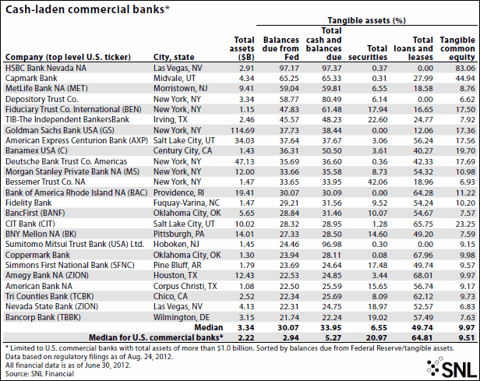 Disclosure: I have no positions in any stocks mentioned, and no plans to initiate any positions within the next 72 hours.