First Commercial is the fourth FDIC-insured institution in Minnesota to fail this year.
As reported in recent Bank Beats, U.S. bank closures are running at a much slower pace than in 2011. 70 banks had failed by this time last year.
In 2007, just three banks went under. That number jumped to 25 in 2008, after the meltdown, then jumped to 140 in 2009 and then To 157 banks, the most in any year since the savings and loan crisis two decades ago.
To compare today to the Great Depression, there were over 10,000 bank failures and thus the start of the FDIC. The crisis began when monster-sized banks couldn't make good on their bets in the fast-moving market of mortgage-backed securities they had helped create.
"As the economic depression deepened in the early 30s, and as farmers had less and less money to spend in town, banks began to fail at alarming rates. During the 20s, there was an average of 70 banks failing each year nationally. After the crash during the first 10 months of 1930, 744 banks failed - 10 times as many. In all, 9,000 banks failed during the decade of the 30s. It's estimated that 4,000 banks failed during the one year of 1933 alone. By 1933, depositors saw $140 billion disappear through bank failures."
After the crisis peaked, the biggest beneficiaries were the banks themselves as the "monster banks" gained record profits and swallowed even smaller banks."
http://www.livinghistoryfarm.org/farminginthe30s/money_08.html
Let's also great straight unemployment numbers in comparison to the Great Depression as "unemployment in the U.S. rose to 25%, and in some countries rose as high as 33%."
en.wikipedia.org/wiki/Great_Depression
The top four banks comparing the largest 50 banks and thrifts from ten years ago to today remain the same, but in different positions.
In the top ten of 2002, numbers 5,7,11 are no longer around: Wachovia, National City Corp. and Washington Mutual Inc.
JPMorgan Chase & Co. picked up the struggling Bear Stearns Cos. LLC and WaMu's banking operations, while Bank of America Corp. absorbed Merrill Lynch & Co. Inc., Countrywide Financial Corp. Wells Fargo & Co., meanwhile, roughly doubled in size when it bought the limping Wachovia, which a decade ago was the fifth-largest bank in the country and National City acquired by PNC Financial Service Group before it failed due to large mortgage losses.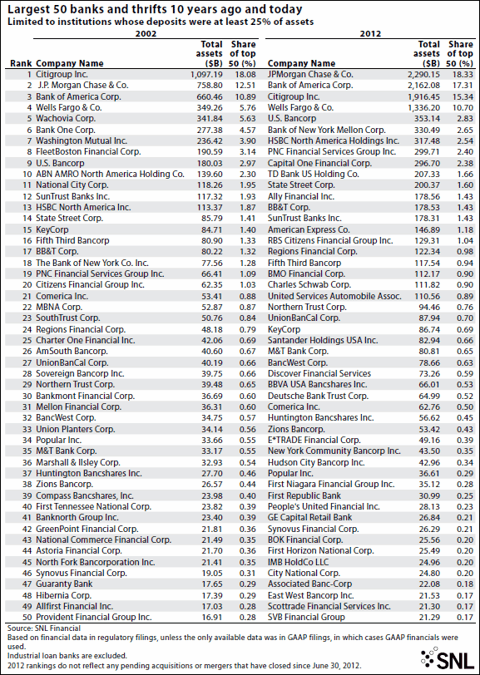 Disclosure: I have no positions in any stocks mentioned, and no plans to initiate any positions within the next 72 hours.