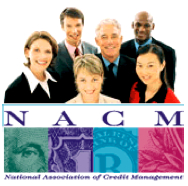 The National Association of Credit Managers (NACM) monthly index reported major improvements in both the manufacturing and service industries for October.
NACM also reported an increase in credit applications was coupled with fewer rejected ones, which is a solid sign for the future.
"The overall feeling is that credit is starting to loosen up again after the decline in the summer. Banks are getting a little more aggressive, but more importantly there is more credit being extended by companies seeking to capture more share from their consumers," said Chris Kuehl, PhD, economic advisor for the National Association of Credit Management (NACM).
"The amount of credit extended is back to levels previously set in May and dollar collections, which had already started to improve in September to 60, is now up to 61.9. "It is good news when either of the sectors starts to move in a positive direction, but activity in the favorable category generally signals a bigger set of gains in the overall economy," said Kuehl.
"This month saw solid activity in favorable factors for both the manufacturing and service sectors," NACM reported." Sales returned to levels not seen since May and is now above 60 again. Sales had been dropping steadily all summer and had been as low as 57.2, a reading not seen since December 2009.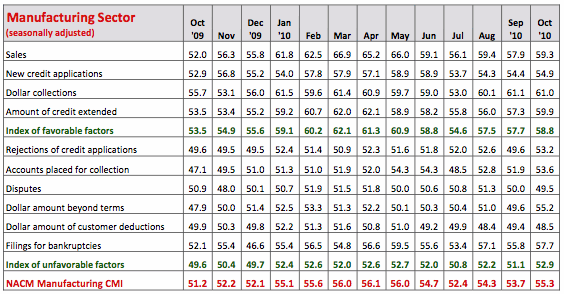 The boost in this factor occurred in both sectors.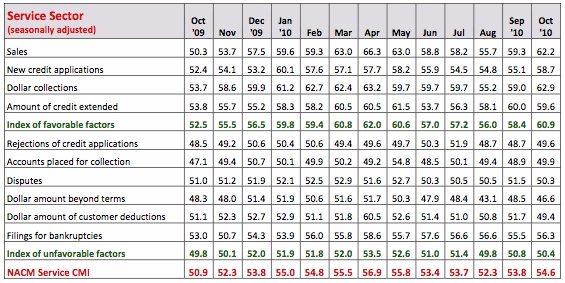 The NACM report indicated, "Improvement in unfavorable factors continued as well. These are the indicators that signal companies are struggling with debt. When they improve, there is a return to confidence in the business community as a whole. As disputes, bankruptcies and dollar exposure decline, there is evidence that companies are trying to catch up on debt, which is both a signal that business prospects have improved and that there is activity planned. An established pattern for these factors indicate that companies are seeking to get current with existing credit lines so they are in a position to ask for more in order to expand. This seems to be happening again, albeit at a subdued rate."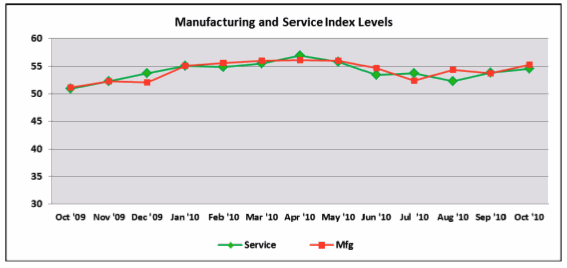 Full October NACM Index Report:
http://leasingnews.org/PDF/CMIcurrent.pdf
Disclosure:
no position