by Christopher Menkin
MLFI-25 New Business Volume (Year Over Year Comparison)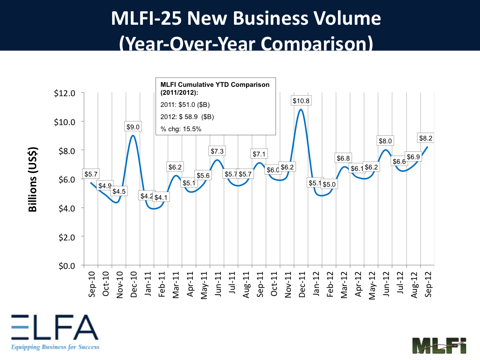 click to make larger
(Chart: ELFA)
The good news is the prediction of the Equipment Leasing and Finance Foundation that in 2013 the equipment finance market would grow from $628 billion to $740 billion looks very promising. (1) The Equipment Finance and Leasing Association September, 2012 numbers show a business volume increase of $8.2, as well as the third quarter was up.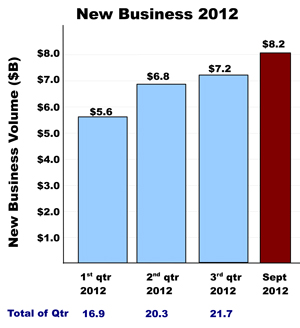 (Chart: Leasing News)
Compared to the previous year, September, 2012 shows
a 16% increase.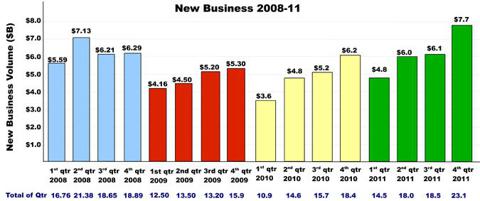 (Chart: Leasing News)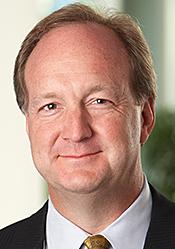 William Stephenson, Chairman, Global Vendor Finance, De Lage Landen International B.V. said: "Double digit improvement in several index categories is certainly a good sign for our industry."
Total Number of Employees
(Year Over Year Comparison)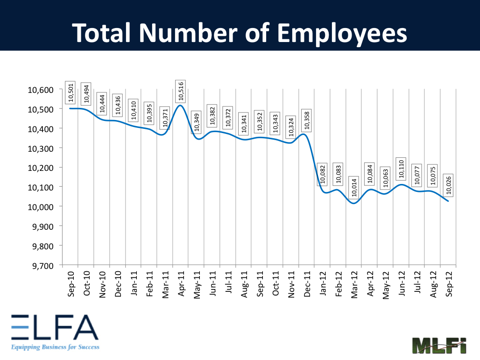 click image to make larger
(Chart: ELFA)
Before getting into the other statistics, which continues Mr. Stephenson's observation, would like to comment on what to me is interesting and what I think it indicates: the number of employees (year over year comparison), which reflects for the first time the ZRG Employment index, which also has fallen.
Why this is so interesting to me is there are many new leasing companies reported by Leasing News in the last six months, as well as regional and community banks getting active in the industry, covered by leasing news. Yes, there were some cut backs by GE Capital ( isn't there always). But what the less employee trend in combination to the positive improvement in business as well as new companies and new entrance means: perhaps the combination of trying to increase profits as well as the automation such as cloud and other innovations making operations, and even sales, less labor intensive. More people working at home, more laptops and digital devices than PC's, much better software, more ram at extremely low prices, much larger hard drive space as if they can't give it away, and the faster silicon valley chips (smaller and hotter) are changing the bank, finance, and leasing industry more than we realize.
We have entered a paradigm shift we think is social networking, but we are perhaps just entering it and don't fully realize the dynamics of digital phones, iPads, laptops, or what the Silicon Valley chip has created to the changes that are happening to economics and our business as part of it. Thus a divide to go back to the old ways or to move forward---in which the decision has already been made as brought to us by the Silicon Valley chip and satellites. (please see story on Tablet news. editor)
Back to Mr. Stephenson, as he notes the other charts echo the positive atmosphere being experienced by many of those of the ELFA MFLI-25 reporting companies:
Aging of Receivables: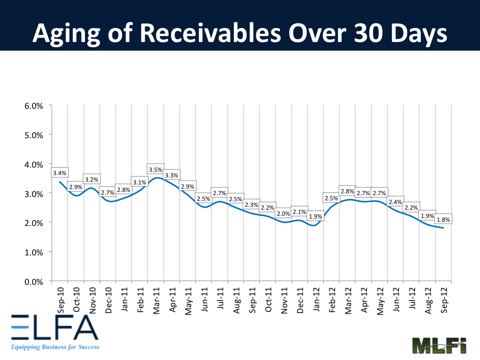 click to make larger
Average Losses (Charge-offs) as a % of net receivables
(Year Over Year Comparison)


click image to make larger
Credit Approval Ratios As % of all Decisions Submitted
(Year Over Year Comparison)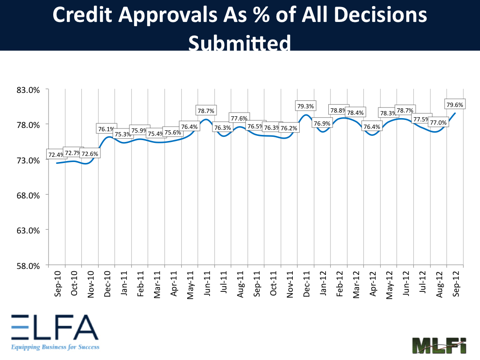 click image to make larger
Participants in the ELFA MLFI-25:
ADP Credit
BancorpSouth Equipment Finance
Bank of America
Bank of the West
BB&T Bank
BMO Harris Equipment Finance
Canon Financial Services
Caterpillar Financial Services
CIT
De Lage Landen Financial Services
Dell Financial Services
EverBank Commercial Finance
Fifth Third Equipment Finance, a City National Bank Company
First American Equipment Finance
GreatAmerica
Hitachi Credit America
HP Financial Services
Huntington Equipment Finance
John Deere Financial
Key Equipment Finance
M&T Bank
Marlin Leasing
Merchants Capital
PNC Equipment Finance
RBS Asset Finance
SG Equipment Finance
Siemens Financial Services
Stearns Bank
Suntrust
Susquehanna Commercial Finance
US Bancorp Equipment Finance
Verizon Capital
Volvo Financial Services
Wells Fargo Equipment Finance
Equipment Leasing & Finance Foundation Forecasts
Equip. Finance Sector to Surpass $740 Billion in 2013http://leasingnews.org/archives/Oct2012/10_24.htm#elff
Disclosure: I have no positions in any stocks mentioned, and no plans to initiate any positions within the next 72 hours.