Resource America (NASDAQ-REXI), Philadelphia, Pennyslvania, issued a press release with an announcement of $236 million of equity and debt capital to its "lease origination and servicing subsidiary, LEAF Commercial Capital."
Can this mean LEAF Financial can't access lease funding anymore under its own business platform. Notice also that they are capitalizing the new company with non-cash subordinated debt.
"LCC is a joint venture among LEAF, Resource Capital Corporation and Guggenheim Securities. Resource Capital and Guggenheim committed to investing over $44 million of capital in the form of preferred stock and subordinated debt, respectively, into LCC."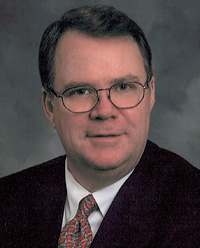 Crit DeMent, Chairman, CEO, LEAF Financial Corporation
and LEAF Commercial Capital
Again the statements from Crit DeMent, chairman and CEO of LEAF Financial, mention a "long range business plan," but at the time it doesn't explain why the company is down to about 15 in staff in Collections and another 5 in Litigation within Jim Grant Collections and Litigation department; that's about 1/3 of staff left, according to Leasing News sources.
DeMent says in the press release: "This increased capacity combined with LEAF's well established, programmatic access to the asset backed securitization market will allow us to continue to provide outstanding service to our many current equipment vendor partners and also to be able to take advantage of many new opportunities brought about by the recent dislocation in our industry. The increased ability to fund leases will also enhance the base from which LEAF continues to manage its partnership programs."
Questions remain, such as what is LEAF Financial going to be doing if Leaf Commercial (LCC) is doing the new lease originations and servicing? That's what Leaf Financial was doing. Certainly the addition of Guggenheim will add more oversight control over LEAF's business operations because they are going to be at risk. Does it also mean LEAF will become less competitive with higher money costs and more restrictive credit and operational policies?
Accessing funds through Leaf Commercial Capital is adding an extra layer of costs by bringing Guggenheim into the formula. On the surface this may look like Leaf is getting a breathe of fresh air, but with a higher costs of funds it and coming oversight, it may add not eliminate the difficulty to growing their already declining business model as evidenced by the employee layoffs that first began with the sales staff.
The facts remain that Bob Hunter, Executive Vice President of Sales & Marketing, on the Executive Board, is gone, Bill Conway laid off, Vice-President of Credit, Colleen White, Director of Operations laid off, and a host of others, as well as the 2009 SEC LEAF filings showed 377 employees; February down to 271; reportedly to 113 in July, closes down LEAF Specialty, 80 in Missouri, and with the latest cuts, what then is really the long range plan for LEAF Financial in Philadelphia. Will the spin off then be LEAF Commercial Credit as DeMent has done in the past.
Coda:
"Lease Equity Appreciation Fund II, under the guidance of LEAF Asset Management, has filed with the Securities and Exchange Commission to sell some of its limited partnership interests to raise up to $60 million for equipment leasing. With the sale proceeds, Lease Equity plans to purchase equipment for leasing and to acquire existing equipment portfolios from other lessors. The fund says that about 67 percent of its acquisitions could be financed through securitizations, and says it plans to focus on medical, industrial, and climate control equipment. LEAF has assembled a team of principles and executives with equipment leasing experience to run the fund once it enters the asset-backed securities market. LEAF Vice President of Finance and Treasurer Matthew Goldenberg, who joined the company last October, previously was the director of structured finance at DVI Financial Services. Crit DeMent and Miles Herman, previously of Fidelity Leasing, are slated to be principles at LEAF."
http://www.leasingnews.org/archives/June%202004/6-29-04.htm
 
Resource America Reports $8.6 million loss for Fiscal Yr. Ended:
http://www.leasingnews.org/archives/June%202004/6-29-04.htm
Disclosure:
I have no positions in any stocks mentioned, and no plans to initiate any positions within the next 72 hours.