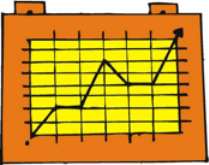 American History magazine in its February issue has an excellent article with graphs showing that around 1921 there were 31,000 banks, and by the time of the creation of the FDIC in 1933 there were 14,000---meaning 17,000 banks had failed. The next major group was from 1980 to 1995 where 2,800 banks failed, including 1,200 savings and loans.
So when we talk about bank failures, in the last four years to date there have been 343, with the most in 1910 at 157. These banks were insured and most taken over by other banks, all arranged by the FDIC and its programs, supported by bank insurance. There is no need to panic, except there are less community banks.
http://www.calculatorplus.com/savings/advice_failed_banks.html
(The above is a February 11, 2011 well documented article, recommended reading when you have the time. Editor)
The February American History magazine points out an interesting phenomenon in 1984, 28 banks had more than $10 billion in assets, and held more than a fourth of the industrial assets. Only two banks then have more than $100 billion in assets.
Today, 105 banks have3 more than $10 billion in assets and comprise 78% of the banking industry. 18 banks have more than $100 billion in assets.
The top five commercial banks (Bank of America, JP Morgan, Citigroup, Wells Fargo, US Bancorp) hold assets roughly equal to 60% of the nation's gross domestic product. This has been happening in many industries.
To understand more about what is happening today, it is a good idea to study the past, not the myths passed on the internet or spotted by politicians so many times you begin to believe it is the truth.
There are more articles here from previous issues, and recommend a subscription to the History Net magazines:
http://www.historynet.com/magazines/american_history