By Aarti Kanjani, SNL Financial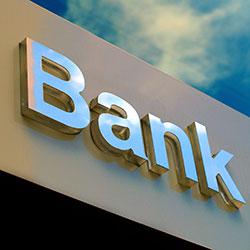 SNL defines the Texas ratio as the ratio of nonperforming assets plus loans 90 days or more past due, excluding delinquent government-guaranteed loans and OREO covered by loss-sharing agreements with the FDIC, to tangible equity and reserves.
Historically, banks operating with Texas ratios above 100% have tended to fail. Of the 195 banks and thrifts that had Texas ratios in excess of 100% as of Dec. 31, 2008, 135 had failed as of Dec. 13, 2012.
314 of the 7,192 active commercial and savings banks as of Dec. 14 operate with Texas ratios in excess of 100% at Sept. 30, compared to 332 at June 30, according to SNL Financial data. Most of these banks are small, and only 15 of the banks with Texas ratios greater than 100% as of Sept. 30 have more than $1 billion in assets.
The median Texas ratio for all commercial and savings banks was 14.73% at Sept. 30, down 80 basis points from June 30 and down 180 basis points from the year-ago quarter.
The largest bank with a Texas ratio above 100% was San Juan, Puerto Rico-based Doral Bank, with $7.70 billion in assets. Its Texas ratio stood at 132.16% at Sept. 30, down from 143.81% as of June 30.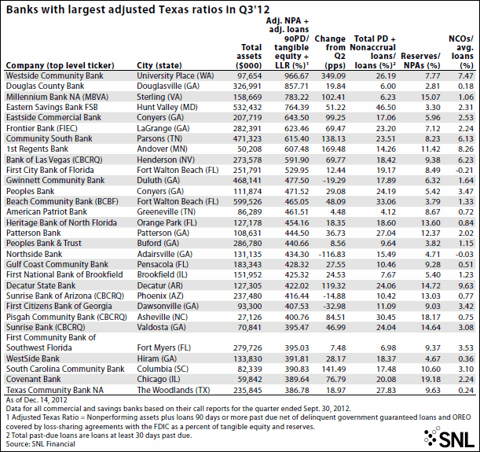 University Place, Wash.-based Westside Community Bank had the highest Texas ratio amongst the operating commercial and savings banks: 966.67%, up from 617.58% in the second quarter. 26.19% of the company's total loans were past due or nonaccruing. The company's loans were mostly commercial and real estate loans. A group of investors have agreed to invest $5.7 million to acquire Westside Community in a deal announced Aug. 8, 2012. Westside Banking Co. is the bank's parent company.
Douglasville, Ga.-based Douglas County Bank had the second-highest Texas ratio on the list: 857.71%, up from 837.87% in the prior quarter. Douglasville, Ga.-based Thornton Holding Co. Inc. is the company's parent. Almost half of the bank's total loans are commercial real estate loans.
The largest quarter-over-quarter decline in the Texas ratio belonged to Chicago-based American Metro Bank, a subsidiary of American Metro Bancorp Inc. The bank's Texas ratio fell to 375.70% at Sept. 30, from 864.22% at June 30.
Four of the largest 30 banks with Texas ratios above 100% on the list are subsidiaries of Lansing, Mich.-based Capitol Bancorp Ltd.: Bank of Las Vegas, Sunrise Bank of Arizona, Pisgah Community Bank and Sunrise Bank. Capitol Bancorp has filed for bankruptcy.

Disclosure: I have no positions in any stocks mentioned, and no plans to initiate any positions within the next 72 hours.