By Harish Mali and David Hayes, SNL Financial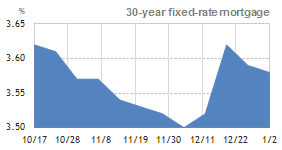 (Bank Rate wrote "Mortgage rates barely changed this week, despite a rally in the stock market after Congress finally reached an agreement and passed legislation to avoid going over the 'fiscal cliff.'
("The benchmark 30-year fixed-rate mortgage fell to 3.58 percent from 3.59 percent, according to the Bankrate.com national survey of large lenders. The mortgages in this week's survey had an average total of 0.35 discount and origination points. One year ago, the mortgage index stood at 4.18 percent; four weeks ago, it was 3.5 percent.
("The benchmark 15-year fixed-rate mortgage rose to 2.88 percent from 2.87 percent. The benchmark 5/1 adjustable-rate mortgage fell to 2.76 percent from 2.77 percent.)
The nation's mortgage rates have dropped even further since SNL's last analysis, helped by an accommodating Federal Reserve eager to fan the embers of a reluctant recovery. The average nationwide rate for a 30-year fixed mortgage was 3.51% on Dec. 19, with the average 15-year rate coming in at 2.93%. Both averages are significantly below the 3.85% 30-year rate and the 3.20% 15-year rate posted in the previous, late-June analysis.
The Federal Open Market Committee recently announced that it would begin purchasing $45 billion in longer-term Treasury's every month until the national unemployment rate declines to 6.5%. This is in addition to the $40 billion the committee is already spending buying mortgage-backed securities every month.
Would-be homebuyers in Alaska will be happy to know that their state boasts the nation's lowest average rates on both 15- and 30-year mortgages. Alaska's average 15-year mortgage rate was 2.63% and its average 30-year rate was 3.29%. Montana came in second place for both products, offering an average of 2.68% on a 15-year mortgage and 3.33% on a 30-year mortgage.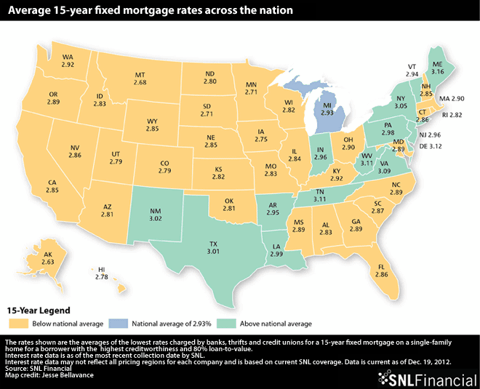 On the other end of the spectrum, Maine's 3.16% average rate for a 15-year mortgage was the highest of all 50 states followed by Delaware at 3.12%. The two states also posted the two highest average rates for 30-year mortgages with Delaware averaging 3.78% and Maine 3.73%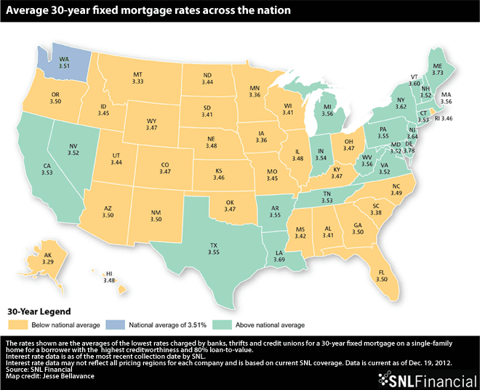 Spartanburg Regional Federal Credit Union led the nation with an average rate of 2.50% on a 30-year mortgage, beating out second place San Juan, Puerto Rico-based Scotiabank de Puerto Rico's 2.63%. Spartanburg's two branches are in northwestern South Carolina in Spartanburg and Duncan.
Scotiabank de Puerto Rico's 40-plus branches are all in Puerto Rico. The bank has grown significantly in the last few years from $1.53 billion at the end of 2008 to $6.30 billion at Sept. 30, 2012. This growth was primarily due to the bank's purchase of R-G Premier Bank of Puerto Rico after it failed in April 2010. The acquisition of R-G Premier significantly altered Scotiabank de Puerto Rico's loan books as well, as one- to four-family residential loans went from 21.58% of the company's total loans at March 31, 2010, to 56.35% at June 30, 2010. That concentration in one- to four-family mortgages has remained approximately the same ever since accounting for 50.39% of the company's total loans in the most recent quarter.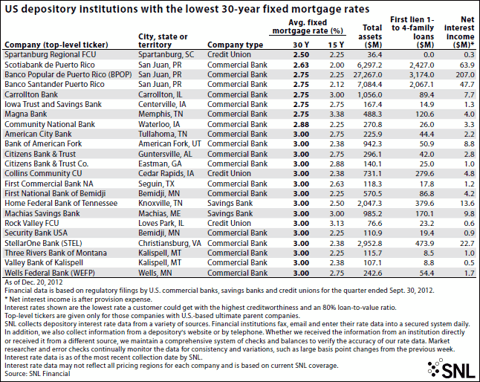 Scotiabank de Puerto Rico also tied for first with Canton, Ga.-based Cherokee Bank NA, with both offering an average rate of 2.00% on a 15-year fixed mortgage, the lowest rate in the country. Cherokee's three branches are all located just north of Atlanta alongside Interstate 575. Like Scotiabank, Cherokee's real estate lending has shifted over the years as well. Construction and land development loans accounted for 29.72% of the company's loan book at the end of 2008, but that number has since fallen to 10.60% as of Sept. 30, 2012. In contrast, Cherokee's one- to four-family residential loans rose from 17.72% to 27.28% over the same time frame.
Only six credit unions, including Spartanburg Regional FCU, made it on SNL's lists of banking institutions with the lowest mortgage rates. A separate SNL analysis recently revealed that, when compared to commercial banks and savings banks, credit unions, on average, offered the best rates in all product categories, except for mortgages.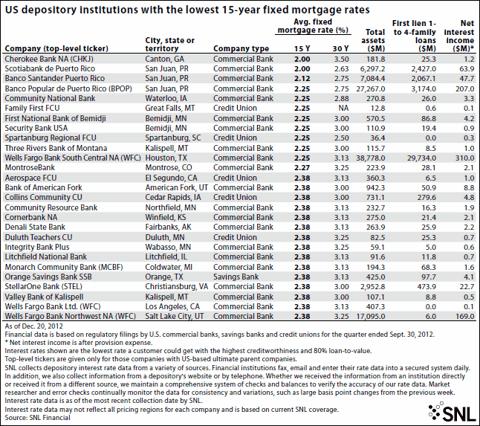 Disclosure: I have no positions in any stocks mentioned, and no plans to initiate any positions within the next 72 hours.