By Tahir Ali and Lindsey White, SNL Financial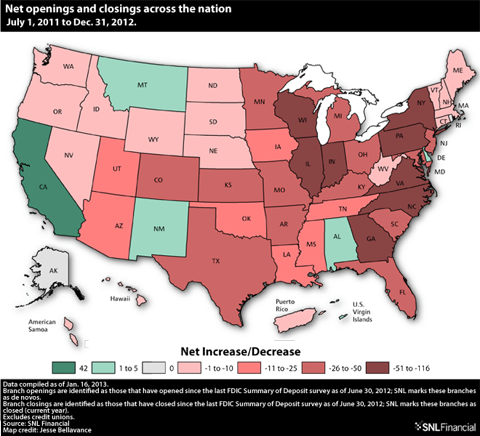 After a slight lull, bank branch closures spiked in the fourth quarter of 2012.
By now the story of declining branch counts should come as little surprise to most observers, as banks have long looked to cut costs and turned to new technology as an alternative to physical offices.
According to SNL data, banks shuttered more than 500 branches during the last three months of 2012 while opening 274, for a net decrease of 229 branches. This is more than double the net decrease that the industry experienced in the third quarter of 2012.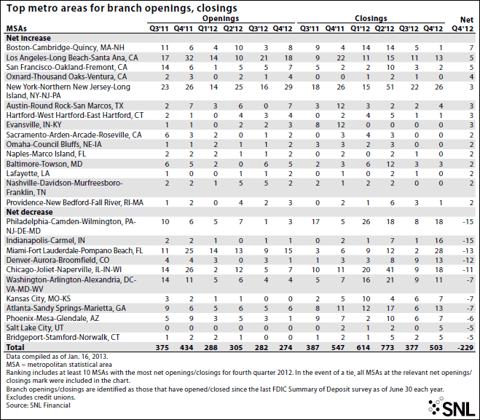 Michael Driscoll, senior vice president of the U.S. Financial Institutions Group at DBRS, said he would not be surprised to see this faster pace of branch closures continue. He suggested that the Federal Reserve's guidance that interest rates will stay lower longer than originally anticipated could have contributed to the heightened number of closures.
"With low interest rates, the value of deposits is much lower," Driscoll said. "So it makes much more economic sense to close branches at this point in the low-rate cycle, especially when you don't need the funding."
Banks do not need the funding because they are generally awash in deposits. As a result, many are actually trying to drive out higher-cost deposits, said Dennis Gibney, a managing director at FinPro.
"Realistically right now if you don't have asset generation capability - and what I mean by that is the ability to put on quality loans - there is virtually no spread or not an acceptable spread by taking in deposits and investing them in securities," Gibney said.
In the absence of loan growth, banks are reconsidering their franchises and trimming unprofitable branches. "You're going to see closures in slower-growth or declining markets. People are going to reallocate their cost and their capital investment to markets that have better growth prospects," Gibney told SNL. "In many instances people are targeting markets where they will have better loan generation capability."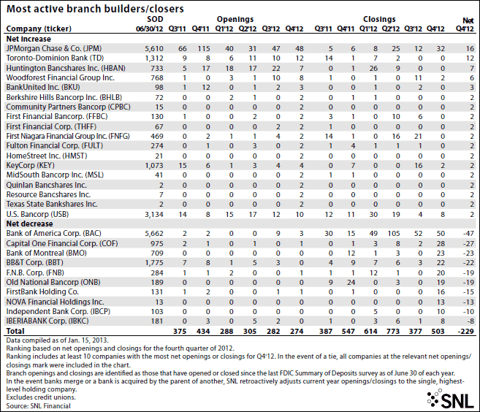 Disclosure: I have no positions in any stocks mentioned, and no plans to initiate any positions within the next 72 hours.