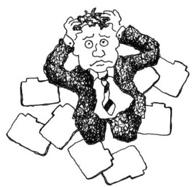 Many banks have plans when you maintain a certain balance or put money into a savings account, fees are reduced or the savings account fee is waived. When branches are taken over by new banks, the current checks are valid, usually 90 days, but new checks and cards will need to be issued. Often fees are less for those who remain, sometimes they are the same, and depending on the account, they may be raised.
The National Foundation for Credit Counseling conducted a March poll asking what would happen if their bank raised the fees on their checking accounts:
51%---Shop for another Bank

16%---Complaining to them

16%---Probably not notice

11%---Grin and bear it

6%--Close my account and being using a pre-paid debt card
The question on how many are paying bills on line was not asked, nor would they increase this, as often "on line" statements are less than paper.
Gail Cunningham, spokesperson for the National Foundation for Credit Counseling said, "Money is still tight in many households, with consumers watching how every penny is spent, including even seemingly small amounts such as bank fees."
It may be that consumers say one thing, but don't always do what they complain about.
Businesses have the same problem with increasing fees, but it is more cumbersome to move bank accounts and procedures, particularly if convenience of making deposits or personal or business loans are at the bank. In a manner, they are held more captive than consumers.
While many of the community banks look forward to keeping the new branches acquired from banks that failed, the larger banks have been in a cost cutting mode, such as Bank of America who said it would closed 43 branches in the first quarter of this year and made plans to close 68 "more underperforming branch offices" in the second quarter, including one in seven in North Carolina, including its current hometown of Charlotte.
The BofA closers appear to be in states where business and consumer business is declining due to the economy of the area, such as Michigan and New Jersey, according to the notices that were filed with the regulatory authorities.
BofA operated 6,011 branches at the end of 2009. By the end of 2014, the bank expects to have 5,345 branches operating.
Bank failures from January, 2008 to March, 2011 were 348; 123 branches in 2011; heaviest hit in the declining economic areas.
It is expensive to keep "brick buildings," thus moves to shopping centers and supermarkets, as one of the goals is to attract deposits, but if branches are to stay open in areas that are not seeing growth, fees will have to increase to pay for the operating costs as competition for good customers is quite keen, while poorer customers may be more expensive to service.
Tracking Bank Failures Map:
http://graphicsweb.wsj.com/documents/Failed-US-Banks.html
 
List of Bank Failures:
http://www.fdic.gov/bank/individual/failed/banklist.html