By Salman Aleem Khan and Tyler Hall, SNL Financial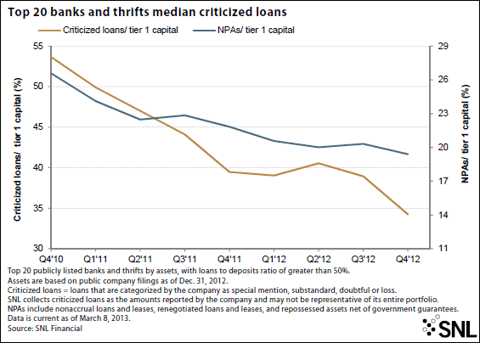 The 20 largest publicly traded banks and thrifts disclosed $266.66 billion worth of criticized loans as of Dec. 31, 2012, according to data collected by SNL from SEC filings. This figure has dropped by a hefty $69.91 billion since Dec. 31, 2010, as these big banks held a total of $336.57 billion criticized loans then.
JP Morgan Chase & Co. disclosed the highest amount of criticized loans as of Dec. 31, 2012, totaling $91.78 billion, which represents 12.51% of its total gross loans. Following it was Citigroup Inc., with $53.51 billion worth of criticized loans, which represent 8.04% of its total gross loan portfolio.
Bank of America Corp. was able to bring its criticized loans figure from $42.62 billion to $15.94 billion in the span of two years, which represents a 62% drop since Dec. 31, 2010. The company said in its 2012 Form 10-K: ''Total commercial utilized reservable criticized exposure decreased $11.3 billion, or 42 percent, in 2012 primarily in commercial real estate and U.S. commercial property types driven largely by continued pay downs, rating upgrades, charge-offs and sales outpacing downgrades.''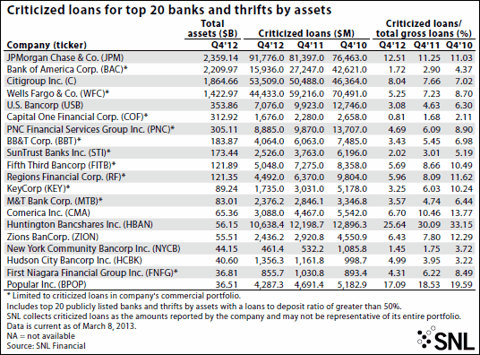 Huntington Bancshares Inc. had a total of $10.64 billion criticized loans, representing 25.64% of its gross loans, out of which $3.46 billion were classified as substandard, as of Dec. 31, 2012. Similarly, PNC Financial Services Group Inc. had $5.37 billion worth of substandard loans, which represent 60% of its commercial criticized loans, as of Dec. 31, 2012.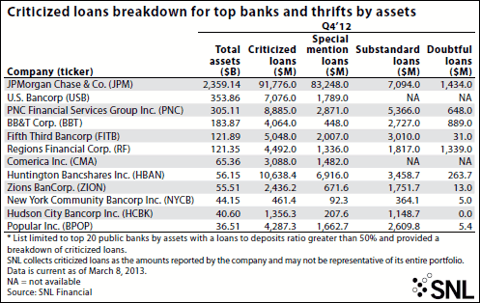 Disclosure: I have no positions in any stocks mentioned, and no plans to initiate any positions within the next 72 hours.