While Key Corp., Cleveland, Ohio (NYSE: KEY) reported net income from continuing operations of $184 million for the first quarter of 2011, there was good news and bad news for their leasing division. Losses are down, but so are sales, reflecting the many announcements in Leasing News "New Hires" of sales leaving the company and going to work for other leasing entities, coupled with new positions announced at Key Equipment Finance.
Commercial Leasing (in millions)
| | |
| --- | --- |
| First Quarter, 2011 | 6,335 |
| 4th Quarter, 2010 | 6,484 |
| First Quarter, 2010 | 7,195 |
Charge offs
 
| | |
| --- | --- |
| 1st Quarter, 2011 | 42 |
| 4th Quarter, 2010 | 64 |
| 3rd Quarter, 2010 | 84 |
| 2nd Quarter, 2010 | 83 |
| 1st Quarter, 2010 | 99 |
The charge offs should then be contrasted with the FDIC filing leasing finance receivables losses of $62.49 million 2011, $106.5 million 2010, and $62.4 million 2009.
Key Corp. otherwise had a lot of bragging to make as:
Net interest margin at 3.25% for the first quarter of 2011

Nonperforming loans declined $183 million to 1.82% of period-end loans

Nonperforming assets declined $249 million

Loan loss reserve at 2.83% of total period-end loans

Net charge-offs declined to $193 million, or 1.59% of average loan balances, for the first quarter of 2011

Repurchased $2.5 billion of preferred stock related to participation in TARP
Pres.-CEO Elect Beth Money/Pres.-CEO Henry Meyer
"We expect to build 40 new branches in 2011, having opened 8 of those new branches in the first quarter and 77 others in the previous two calendar years," Key's President and Chief Operating Officer and CEO-elect, Beth Mooney, told reporters. "In addition, Key originated approximately $6.9 billion in new or renewed lending commitments to consumers and businesses during the first quarter, which is up from $5.3 billion for the same period last year."
Current President and CEO Henry Meyer, looking like he was happy to be leaving the bank in good hands with Ms. Money as CEO, explained, "...when we're looking at branches today, we're really looking at stores that are going to take in retail deposits but also make small-business and middle-market loans be attractive to private banking and a more, a different clientele there. So it's really a more holistic approach to the Community bank than it is just a retail deposit play."
The bank obviously wants to get more involved in the communities where its branches are located.
The change in mixture of products can be seen in the following two charts from the SEC filing: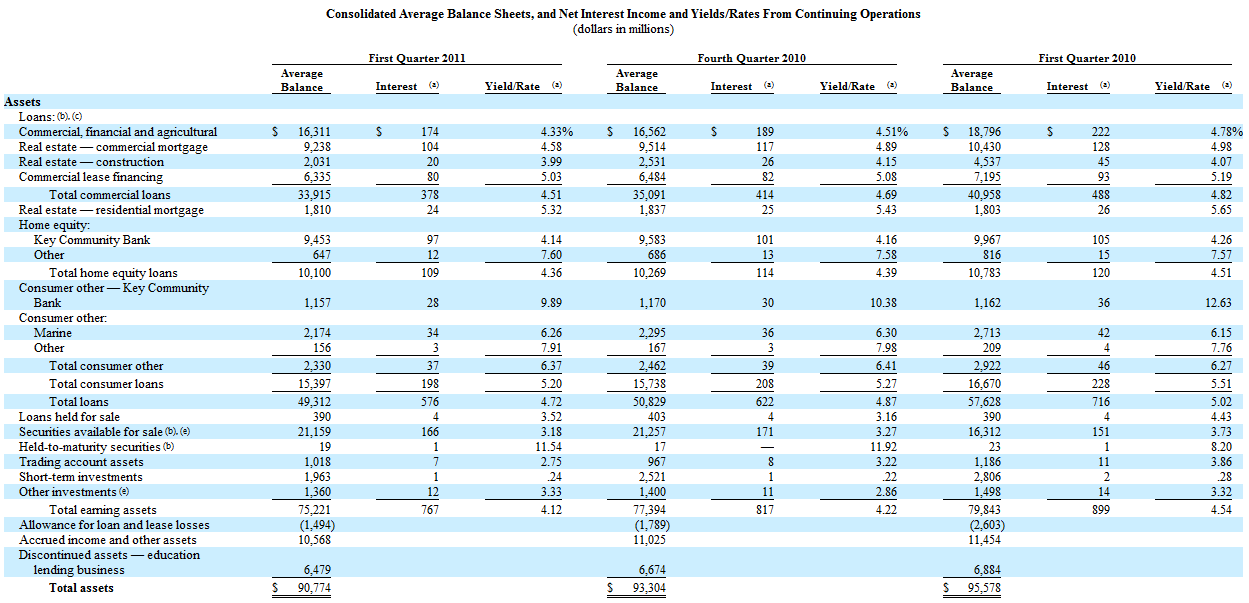 (click here to view larger)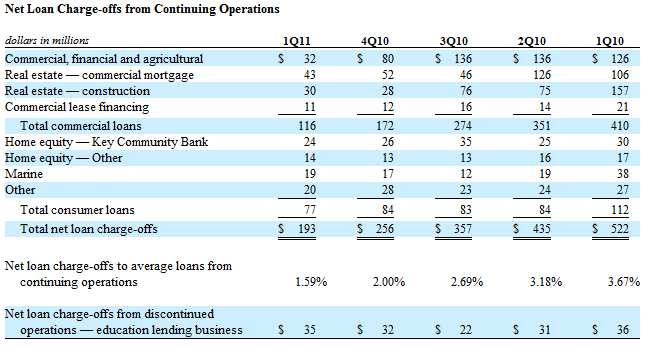 8K Key Filing:
http://www.leasingnews.org/PDF/Key8K_41811.pdf
Transcript of telephone conference with reporters:
https://seekingalpha.com/article/264125-keycorp-s-ceo-discusses-q1-2011-results-earnings-call-transcript?source=yahoo