by Neil Morstad, OneWorld Business Finance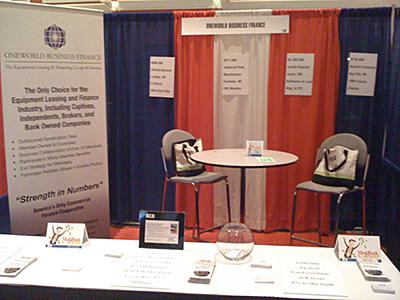 The Independent Community Bankers of America convention in Las Vegas, Nevada last week attracted 1900 attendees representing over 900 companies including 200 exhibitors. Attendees had the opportunity to attend sessions representing topics integral to the evolving community banking industry such as regulations and exams, revenue and growth, compliance and risk management, "C-suite" management, and lending and technology.
The ICBA brought technology to all attendees via a mobile app. The app kept attendees updated with alerts, announcements, and exhibitor events. It included a networking feature to allow attendees to keep in touch with any old or new friend also using the app.
The prevailing attitude was one of optimism and striving for a free and balanced economic environment. Cam Fine, President of ICBA, gave an impassioned speech about how ICBA has consistently overcome the naysayers, the David over Goliath, and will continue to do so. Incoming ICBA Chairman Bill Loving established as his primary goal regulatory relief for community banks through ICBA's new Plan for Prosperity.
Key-note speaker FDIC Chairman Martin Gruenberg began speaking about the improving banking system on the heels of the worst financial crises ever in the United States. Factors that contributed to failed financial institutions included very rapid growth, concentration on high-risk loans, and reliance on brokered deposits. These factors are not typical of a successful community bank. He recommended that for a community bank to remain viable, it must have stable business relationships, stay in its local market, and stick with its expertise. He ended by saying community banks are critical to the recovery and success of the US financial system.
It was interesting to note how prolific the community banks have become entrenched in this country. Gruenberg stated that 46% of all small business and farming loans insured by the FDIC are done through the community banking system. Further, he said there are hundreds of counties in the US that only have a community bank to rely upon. Interesting too was Cam Fine lamenting about how the community banks are paying for the sins of the big banks that are "too big to fail, too big to jail." A number of bankers I spoke with agreed that even after a bank examination is completed, an unending list of regulatory requirements is waiting to be addressed.
OneWorld has found an advantage being an ICBA Preferred Service Provider. It was a three-year, arduous approval process but it lends instant credibility to OneWorld's capabilities. When OneWorld refers a lease opportunity to a bank, it not only gives the bank a chance to build its asset base but also its customer base. Community banks are a bit more conservative than many traditional lease funding sources. Generally, banks expect to see personal guaranties on closely-held companies and prefer a down payment. Conversely, banks can financially benefit by sending deals the other direction, to OneWorld, and earn a fee on funded transactions. Referring deals provides an opportunity for a banker to fulfill their customer's financial needs and avoids customers from shopping elsewhere. There was emphasis at the convention for community banks to offer services that generate more fee income and lease referrals support that initiative.
Next year's annual convention will be held March 2-6 in Hawaii.
-
Neil Morstad
VP Operations
OneWorld Business Finance,
The Equipment Leasing & Financing Coop of America
nmorstad@oneworldbusinessfinance.com
Disclosure: I have no positions in any stocks mentioned, and no plans to initiate any positions within the next 72 hours.