By Sam Carr and Tyler Hall, SNL Financial
(SNL Financial released its annual ranking of top 100 best performing banks. Here is the category less than $500 million in assets:)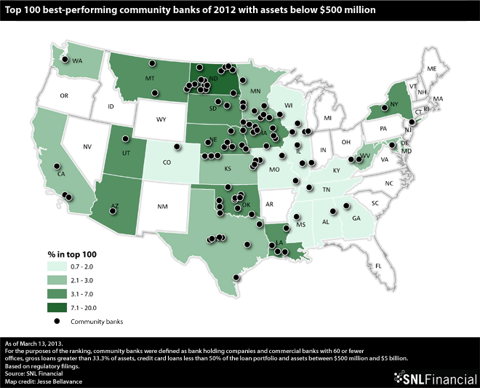 For this ranking, SNL looked at commercial banks with less than $500 million in assets, 60 or fewer offices and loan portfolios greater than one-third of their total assets. Additionally, the banks' loan portfolios had to consist of less than 50% credit card loans, and no more than half of the banks' revenue could be from nontraditional banking activities. Companies with a parent with more than $500 million in assets were also excluded, except for those whose parent grew to more than $500 million in 2012 but have not yet filed on a consolidated basis. Moreover, banks had to be well-capitalized according to regulatory standards.
Based on the above criteria, 4,180 banks were eligible for the rankings. Companies meeting the criteria received scores based on their rank in each of the following six metrics: pretax return on average tangible assets, net charge-offs as a percent of average loans, efficiency ratio, adjusted Texas ratio, net interest margin and loan growth.
From a state perspective, in addition to taking the top spot, booming North Dakota also placed 13 other banks in the top 100 best-performing banks, the most of any state. With only 70 banks headquartered in the state eligible for the ranking, North Dakota had the highest concentration of banks making the list. Additionally, the Midwest as a whole had a strong showing accounting for 59 of the top 100 banks. Outside the Midwest, Oklahoma, Texas, and Louisiana accounted for 10, eight, and four top-performing community banks, respectively.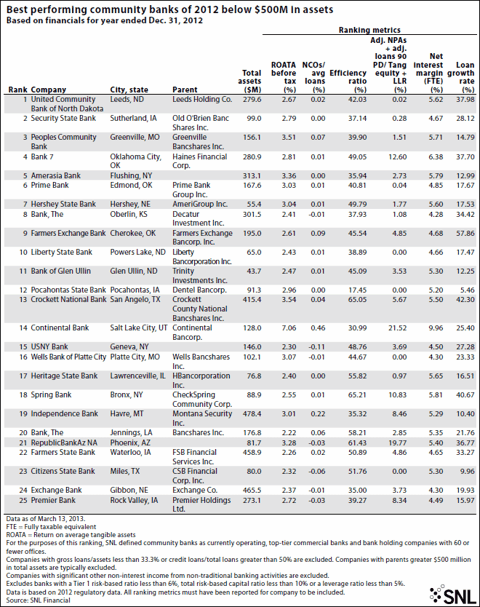 United Community Bank of North Dakota topped SNL's annual ranking of the top-performing community banks with assets less than $500 million. With a performance that would make fellow North Dakotan Phil Jackson proud, the Leeds, N.D.-based bank, which placed No. 29 in last year's ranking, boosted its return on assets and net interest margin, increased efficiency, and grew loans by nearly 38% from the prior year. Asset quality continued to be a source of strength as net charge-offs decreased 28 basis points to 0.02% over the same period, though its adjusted Texas ratio increased year over year by 1 basis point to 0.02%.
The 100-year-old company, led and majority-owned by CEO DeWayne Streyle and Vice President Keith Streyle, has four branches well-situated to serve customers in the eastern edges of the energy-booming regions of the Bakken shale formation in the Williston Basin. The bank's loan growth and changing loan composition are a testament to the shifting economic priorities of the region which is experiencing a large influx of workers combined with a short supply of housing. United Community Bank of North Dakota's loan book shows that agriculture production and farm loan concentrations have been declining while construction and land development loans and multifamily property loans have grown to 9.77% and 9.82% of total loans, respectively, from less than 4% and 3% in 2008.
First runner-up was Sutherland, IA-based Security State Bank which is up from No. 48 in the 2011 ranking, followed by Greenville, MO-based Peoples Community Bank whose third-ranking is unchanged from the prior year. Flushing, NY-based Amerasia Bank, previously ranked as 2011's top performing community bank within its size bracket, dropped to No. 5 while other familiar top 10 finishers Oklahoma City-based Bank 7 and Edmond, Okla.-based Prime Bank dropped to fourth, and sixth, respectively.

Disclosure: I have no positions in any stocks mentioned, and no plans to initiate any positions within the next 72 hours.