By Sam Carr and Tyler Hall, SNL Financial
(SNL Financial released its annual ranking of top 100 best
performing banks. Here is the category for community banks
with assets between $500 million and $5 billion).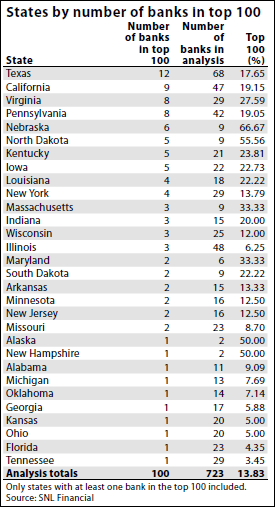 Texas was home to the most banks in the top 100 in 2011 with 12. The Lone Star State also had the most banks, 68, in the analysis. Nebraska had six of nine banks in the analysis wind up in the top 100, which was good for the highest concentration by percentage.
To compile this ranking, SNL defined community banks as institutions with between $500 million and $5 billion in assets and with 60 or fewer offices. Also, at least one-third of the banks' balance sheets must be composed of loans, and they cannot have more than half of their loans in credit cards. Banks with a majority of revenue derived from nontraditional banking activities or that were not well-capitalized were excluded.
SNL ranked companies at the bank holding company level if consolidated data was reported. Otherwise, commercial bank subsidiary data was used. Thrifts were excluded. Based on the described criteria, 723 companies were eligible for the rankings.
Out of the Georgia darkness, there is a light. Atlanta-based State Bank Financial Corp. ranked highest among SNL's annual list of best-performing community banks between $500 million and $5 billion in assets for 2011.
SNL ranked the best-performing community banks using six core financial performance metrics that focus on profitability, asset quality and growth for the 12-month period ended December 31, 2011. The metrics used were: return on average tangible assets before tax, net charge-offs as a percentage of average loans, adjusted Texas ratio, efficiency ratio, net interest margin and loan growth. SNL measured each company's standard deviation from the mean of each metric. The standard deviations, which are each equally weighted, were added together to calculate a performance score for each company.
Despite being based in a state that has seen 77 failures since 2008, State Bank Financial took advantage of the situation and consumed 12 of its fallen peers through failed-bank transactions over that time period, including two in 2011.
State Bank Financial Chairman and CEO Joseph Evans said during the bank's fourth-quarter 2011 earnings conference call that its strong capital position gives the bank a strong platform to continue to grow. Evans, who has more than 30 years of experience in banking, has been steering the company since 2009. State Bank Financial ranked in the top five on efficiency and NIM of the best-performing 100. The company was able to lower its cost of funds by growing its noninterest-bearing deposits and actively managing its interest-bearing deposits.
Houston-based AFNB Holdings Inc. finished second in the overall annual ranking. The Asian-American-focused bank also participated in an FDIC-assisted transaction, which translated into a $40 million gain on bargain purchase for the year. This gain helped give it the highest return on average tangible assets before taxes of the top 100.
Coming in third behind AFNB Holdings was Bossier City, La.-based Citizens National Bank NA. Although it was less efficient than many others in the top 100, it received a big boost from excellent asset quality and loan growth largely generated from its acquisition of Citizens Bankshares of Springhill Inc.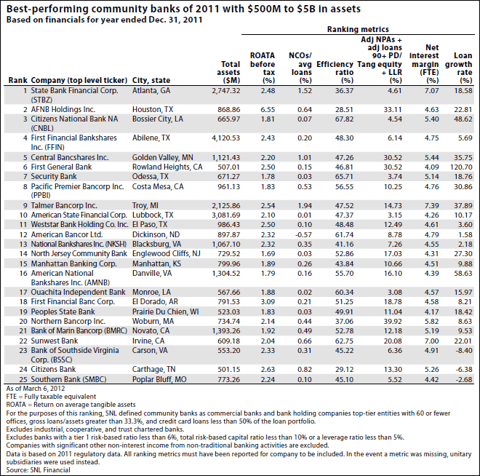 Forty of the top 100 community banks are publicly traded or have a publicly traded parent. Somerset, Pa.-based Somerset Trust Holding Co. posted the highest one-year return to shareholders, 59.77%. Only seven on the list are trading below tangible book value. The cheapest is Middletown, N.Y.-based Orange County Bancorp Inc., which is ranked 100th and is trading at 81.1% of tangible book. Poplar Bluff, Mo.-based Southern Missouri Bancorp Inc. is the cheapest as a multiple of earnings, trading at just 6.3x earnings.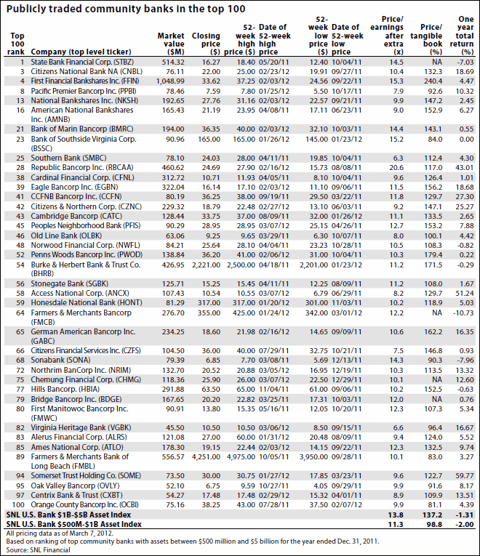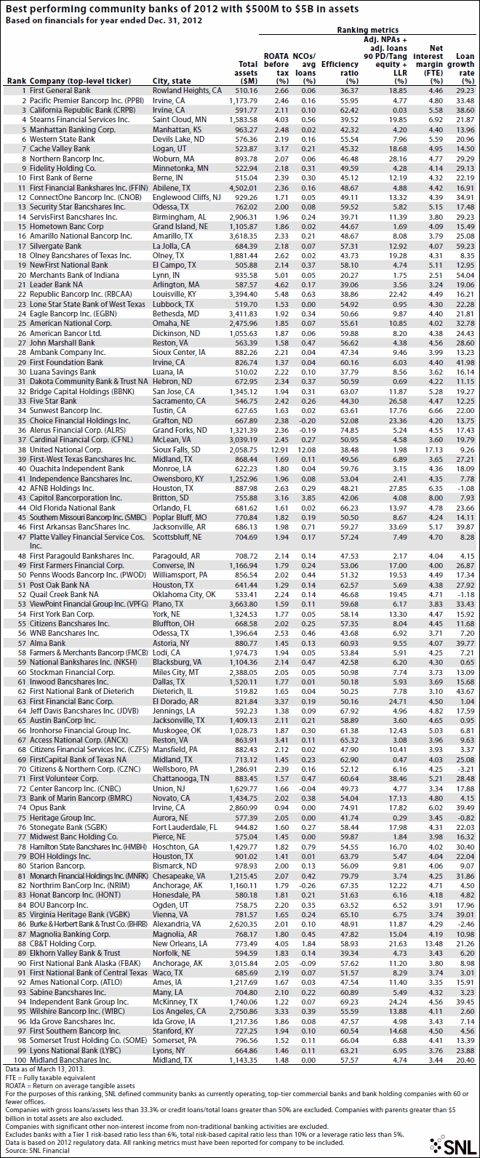 Disclosure: I have no positions in any stocks mentioned, and no plans to initiate any positions within the next 72 hours.